Serbia halts arms exports after US sanctioned the country's spy chief for alleged illegal arms trade
Serbia's government has decided to ban arms export for 30 days just days after the United States imposed sanctions on the Balkan country's intelligence chief over alleged involvement in criminal activities including illegal arms shipment
Serbia halts arms exports after US sanctioned the country's spy chief for alleged illegal arms trade
Show all 3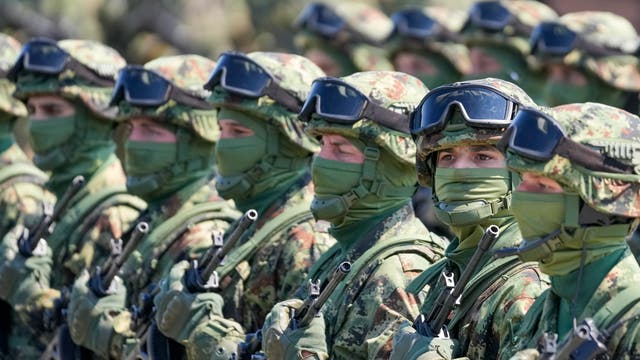 Serbia suspended all arms exports for 30 days, the defense minister said Friday, just days after the United States imposed sanctions on the Balkan country's intelligence chief over alleged illegal arms deals and other criminal activities.
Defense Minister Miloš Vučević said that the export ban is necessary in order to fulfill the needs of the Serbian army and boost its combat readiness amid the simmering crisis in the Balkan region.
"It does not mean Serbia is going to war or calling for war, but we are looking at all security risks and challenges," Vučević said.
Serbian President Aleksandar Vučić first announced the move several days ago. He cited "internal security" in Serbia as the reason for the ban while tensions simmer with neighboring Kosovo, a former Serbian province whose 2008 declaration of independence Belgrade doesn't recognize.
Vučević said the decision will be reviewed after 30 days.
Serbia is formally seeking European Union membership, but it has refused to join Western sanctions against Russia. The U.S. and EU officials recently have stepped up efforts to get Serbia and Kosovo to reach an agreement, fearing possible new instability in Europe while the war continues in Ukraine.
Serbia has faced accusations that it was exporting weapons to countries under international ban, or to Russia and Ukraine. Vučević denied the reports.
"They keep accusing us that we sold to one side or the other," he said.
The United States this week said the head of Serbia's intelligence agency, Aleksandar Vulin, "has been implicated in transnational organized crime, illegal narcotics operations, and misuse of public office."
"Vulin has maintained a mutually beneficial relationship with U.S.-designated Serbian arms dealer Slobodan Tesic, helping ensure that Tesic's illegal arms shipments can move freely across Serbia's borders."
Serbia has promised to investigate U.S. claims. The Organized Crime Prosecutor's office said Friday they will seek information and "concrete evidence" against Vulin from the U.S, the state RTS television reported.
Vulin, a close associated of Vučić, is known for his pro-Russia stance. He was appointed spy chief for the Balkan state last year after previously serving as both the minister of defense and interior.
Last August, Vulin visited Moscow, a rare visit by a European state official that reflected Belgrade's continued ties with Moscow despite its condemnation of the invasion of Ukraine. Vulin then told Russian Foreign Minister Sergey Lavrov that "Serbia is the only state in Europe that didn't introduce sanctions and was not part of the anti-Russian hysteria."
Vučić has said that Washington imposed sanctions because of Vulin's position on Russia, and not crime and corruption. Vulin's ouster has been among the demands of weekslong street protests in Serbia that erupted in the wake of two mass shootings in early May.
There has been no reaction from Vulin to the sanctions, while his Movement of Socialists party has described the measures against their boss as an attack on Serbia, accusing the U.S. of "raping the truth."
The U.S. so far has imposed sanctions on a number of officials from the Balkans accused of corruption and seen as threatening peace and stability in the region following the wars in the 1990s, and for helping "advance Russia's malign activities in Serbia and the region."