Saudi deputy crown prince calls Donald Trump a 'true friend of Muslims' after White House meeting
Prince Mohammad bin Salman defends US President over immigration ban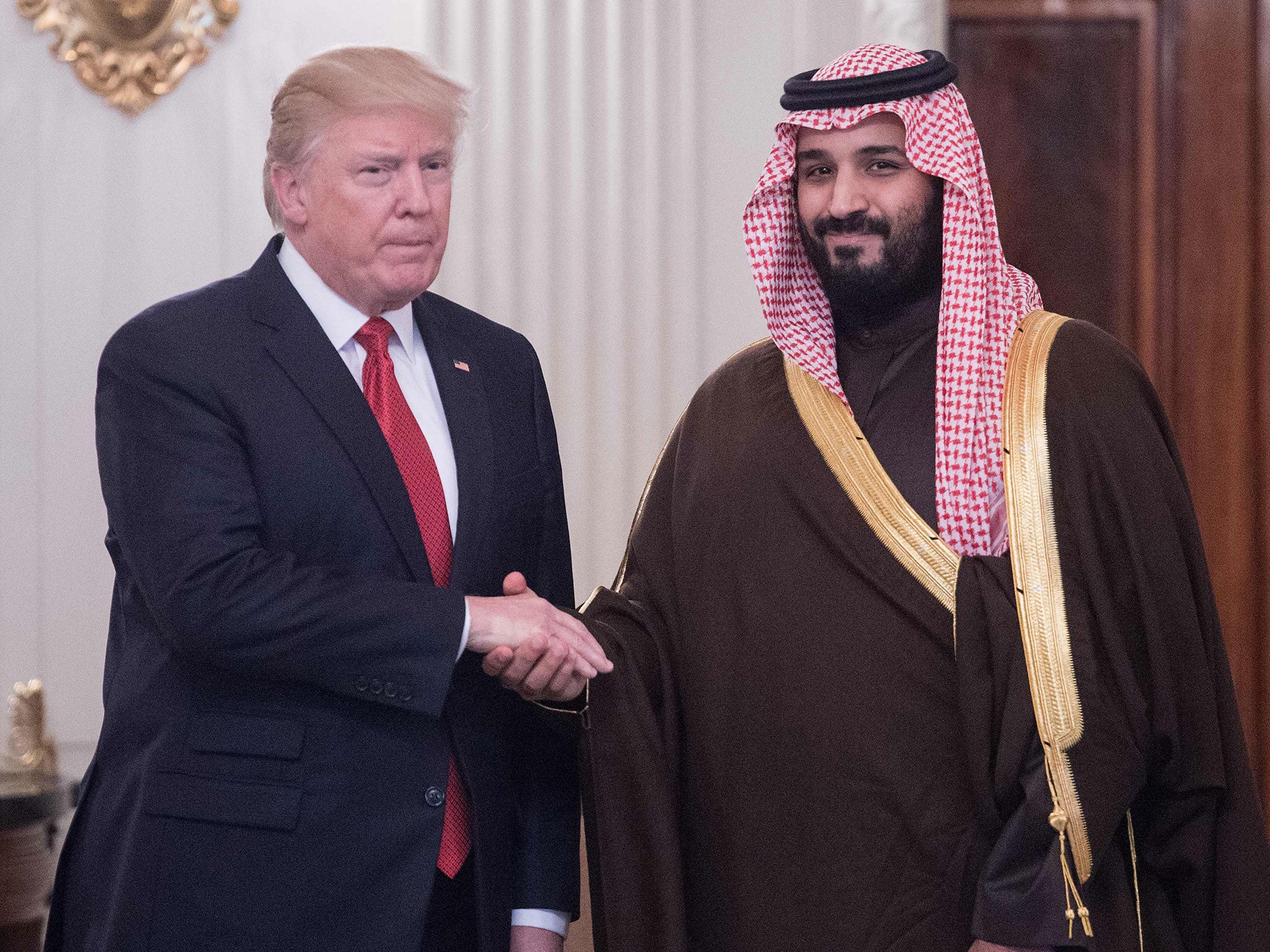 Saudi Arabia's deputy crown prince has hailed Donald Trump as a "true friend of Muslims" and said he does not believe the President's controversial immigration ban targets Islam.
A senior adviser to Prince Mohammad bin Salman said the meeting marked a "historical turning point" in US-Saudi relations, which worsened under Barack Obama's administration because of the nuclear agreement struck with Iran.
A statement said the prince's visit had put "things on the right track" and marked a significant shift across politics, security and the economy.
"All of this is due to President Trump's great understanding of the importance of relations between the two countries and his clear sight of problems in the region," it continued, according to Bloomberg.
"Saudi Arabia does not believe that [the immigration ban]is targeting Muslim countries or the religion of Islam.
"This measure is a sovereign decision aimed at preventing terrorists from entering the United States of America.
"President Trump expressed his deep respect for the religion of Islam, considering it one of the divine religions that came with great human principles kidnapped by radical groups."
Saudi Arabia has been accused of fuelling Islamist extremism with its adherence to fundamentalist Wahhabism and funding foreign mosques and schools that spread the ideology, sparking criticism from German intelligence services in a recent report.
Saudi foreign minister: Donald Trump 'is a friend to everybody'
Mr Trump was criticised for omitting the Kingdom from the six predominantly Muslim countries included in his second attempted immigration ban.
It claims to be "protecting the nation from foreign terrorist entry into the United States" but opponents have pointed out that the nations linked to most atrocities, including Saudi Arabia, Pakistan and Egypt, are not barred.
Almost 3,000 people died in the attacks on 11 September 2001, the world's deadliest ever terror attack, which was carried out by 15 hijackers from Saudi Arabia, two from the United Arab Emirates, one from Egypt and one from Lebanon.
The countries included Mr Trump's travel ban – Syria, Iran, Libya, Somalia, Sudan and Yemen – only have a handful of citizens involved in terror attacks on US soil but the White House argues the countries prevent an increased threat because of activity by Isis and al-Qaeda linked groups.
Prince Mohammad, who is also the Saudi defence minister, told the President his intelligence services had received information on a terror plot against the US.
A spokesperson said he expressed his "satisfaction with the positive attitude and clarifications he heard from President Trump about his stance on Islam", adding: "President Trump has an unprecedented and serious intention to work with the Muslim world and to achieve its interests and Prince Mohammed considers his Excellency as a true friend of Muslims."
The two leaders held talks in the Oval Office, with Vice President Mike Pence, Mr Trump's senior adviser and son-in-law, Jared Kushner, chief of staff Reince Priebus and strategist Steve Bannon also present.
Separately, the Secretary of State Rex Tillerson received Saudi foreign minister Arabia Adel bin Ahmed Al-Jubeir, for talks on economic ties, combating extremism and the wars in Syria, Yemen, Libya and Iraq.
Saudi Arabia, which follows Sunni Islam as a state religion, views its main threat to be Shia Iran, which Mr Trump has frequently targeted while opposing the landmark nuclear deal struck in 2015.
He claimed to put Tehran "on notice" following a ballistic missile test in February, with Ayatollah Ali Khamenei responding by calling nationwide protests where anti-US demonstrators burned flags and shouted "death to America".
"Prince Mohammed bin Salman has stressed how bad and very dangerous the nuclear deal is on the region," his spokesperson said, claiming weapon development would continue.
"The President and the Deputy Crown Prince share the same views on the gravity of the Iranian expansionist moves in the region.
"Iran is trying to gain its legitimacy in the Islamic world by supporting terrorist organisations."
As part of Saudi Arabia and Iran's ongoing proxy war, the two nations are backing opposing sides in Syria and Yemen, accusing each other of terrorism and war crimes while denying interference.
10 examples of Saudi Arabia's human rights abuses
Show all 10
They are also both accused of a litany of human rights abuses, including executions and Sharia-inspired justice systems, as well as crackdowns on freedom of speech and religion.
The issues were not mentioned in statements by the White House or Riyadh, with the Saudi spokesperson saying "huge Saudi investments" in the US and "exceptional opportunities" for American companies were discussed.
Prince Mohammad is leading a drive to revive finances by diversifying the economy away from a reliance on falling crude oil revenues, selling a stake in state oil giant Saudi Aramco and promoting the private sector.
The senior adviser said the leaders discussed the "successful Saudi experience of setting up a border protection system" on the Saudi-Iraq border that has prevented migration and smuggling.
Trump has vowed to start work quickly on his own barrier along the nearly 2,000-mile US-Mexico border to prevent illegal immigrants and drugs from crossing to the north.
Saudi Arabia had viewed the Obama administration with unease, angered over the Iran deal and Mr Obama's suspension of some US weapons sales to the Saudis in response to thousands of civilian casualties in Yemen.
US officials said Mr Trump was considering ending that ban and approving the sale of guidance systems made by Raytheon Co - a move already approved by the State Department.
Update: A typographical error in the original version of this article wrongly stated that 15 of the 9/11 hijackers came from Yemen. It has now been corrected to say they were Saudi citizens.
Join our commenting forum
Join thought-provoking conversations, follow other Independent readers and see their replies