Saudi Arabia gave Donald Trump 83 gifts including swords, daggers and artwork of himself
Presents to the President include two robes lined with fur - one from a cheetah and the other from a rare white tiger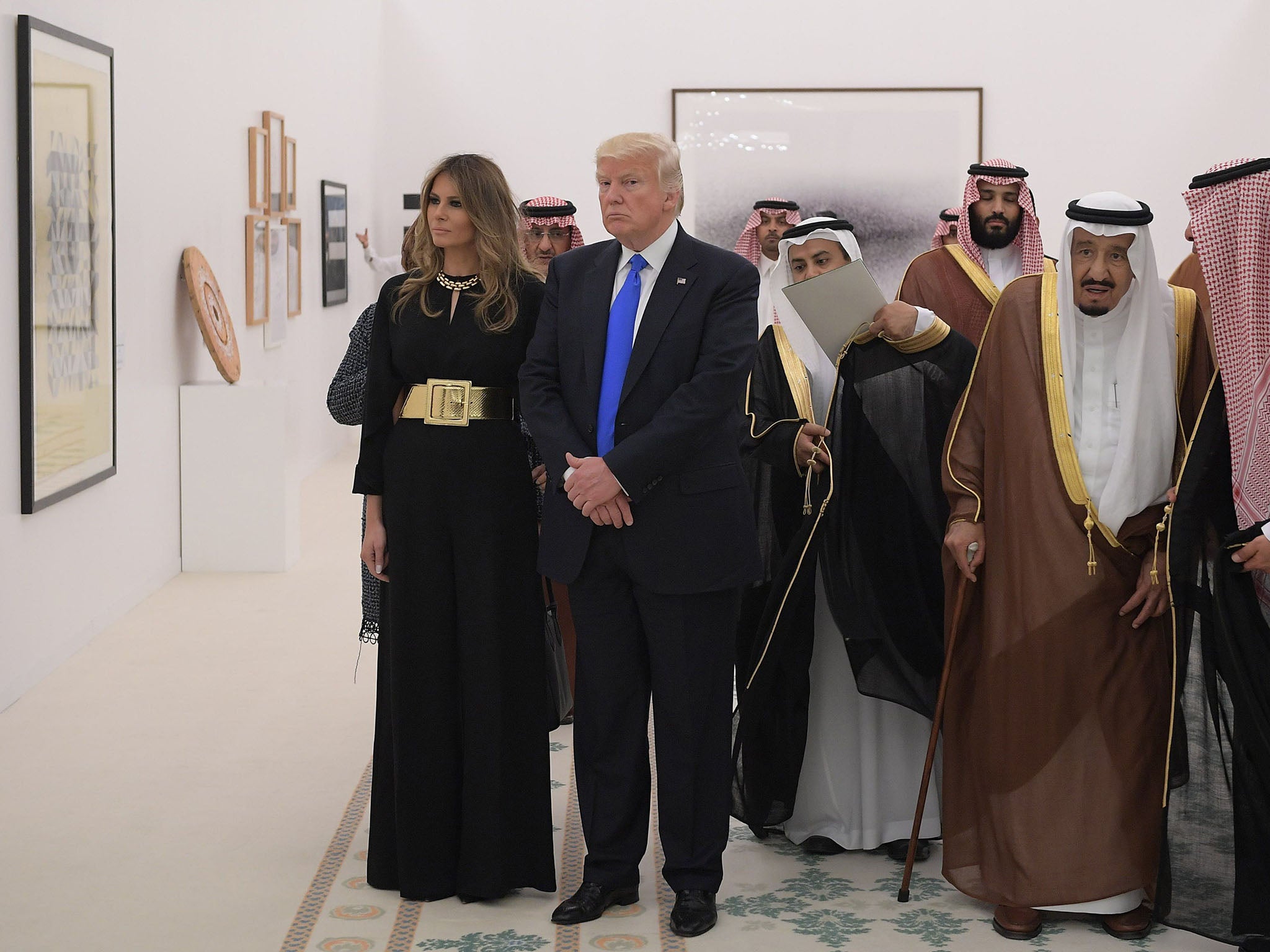 Saudi Arabia gave Donald Trump 83 gifts including an artwork of himself and a robe lined with cheetah fur during his state visit to the kingdom, it has emerged.
Mr Trump made his first foreign visit as president to the Gulf state in May, where he lavished praise on the "magnificent" country during a keynote address.
And the response to a Freedom of Information request lodged by The Daily Beast revealed the White House accepted gifts also included a wool robe lined with white tiger fur, nine pairs of leather sandals and a number of swords, daggers and holsters.
A number of traditional Saudi Arabian outfits and head scarves also featured among the gifts
The trip proved controversial after the US President failed to address Saudi Arabia's record on human rights in his keynote speech, instead saying: "We are not here to tell other people how to live, what to do, who to be, or how to worship."
During the visit, Mr Trump announced a $110bn (£77bn) arms deal with the country expected to be worth a total of $350 billion (£269bn) over 10 years.
Despite being critical of the Gulf nation in his presidential campaign, the 71-year-old broke with the presidential tradition of visiting Canada or Mexico first and was accused of using the visit to Saudi to shift focus away from domestic uproar over his firing of FBI director James Comey.
The President fired Mr Comey at the start of May, claiming he was "not able to effectively lead the bureau". Critics claimed the dismissal was linked to Mr Comey's role in investigating Mr Trump's allies over alleged dealings with Russia during the 2016 election.
News of the Saudi gifts comes as the President turns his focus to North Korea, as international condemnation of their nuclear weapons testing escalates.
Donald Trump's international Presidential trips
Show all 22
The US President and South Korean president, Moon Jae-in, have agreed to "maximise pressure" on North Korea, with Mr Trump approving a weapons deal with Seoul worth billions of dollars.
North Korea has threatened to send "more gift packages" if the US continues to put pressure on the regime.
Join our commenting forum
Join thought-provoking conversations, follow other Independent readers and see their replies