Democrats accuse Russia of 'relentless assault' on democracies around the world
Senators warn US is vulnerable to attack under Donald Trump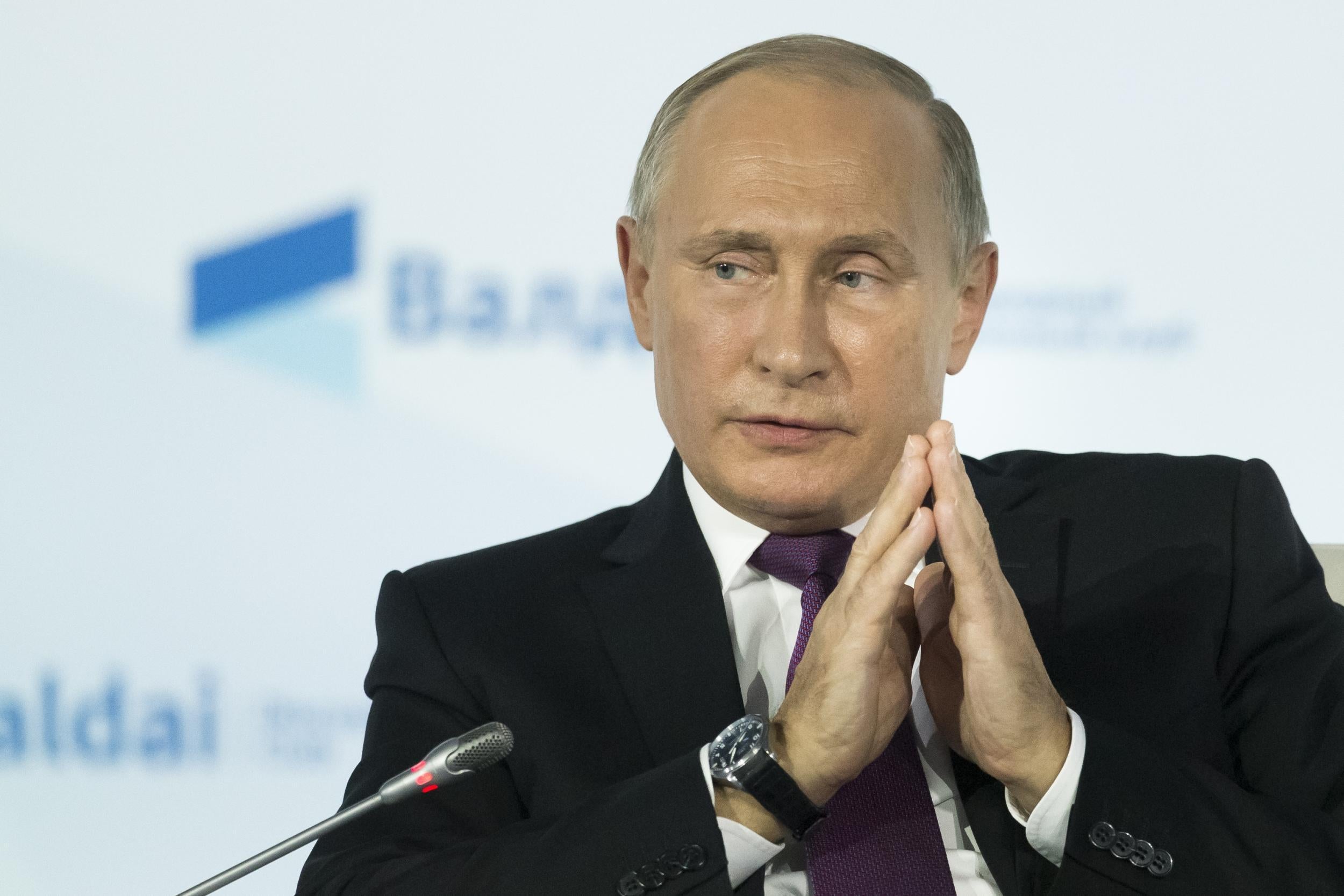 Democrats in the US Congress have accused Russia of a "relentless assault" on democracies worldwide and faulted President Donald Trump for failing to address it.
A new report from the Senate Foreign Intelligence Committee contains more than 200 pages of information on Russia's alleged interference operations over the last 20 years. It singles out Mr Trump for a lack of leadership on the issue and calls for a stronger Congressional response.
The report was commissioned by the top Democrat on the committee, Senator Ben Cardin, and released a year after three US intelligence agencies jointly accused Russia of interfering in the 2016 US election to benefit Mr Trump. Its release comes as FBI and congressional probes into any potential ties between Trump campaign officials and Russia continue.
"We knew after the 2016 elections that we were vulnerable, but the 2016 elections were just a small part of Russia's overall design; Mr Putin's design to try to compromise democratic institutions," Mr Cardin said at the report's public release.
Republican co-chair Bob Corker – a frequent Trump critic – did not sign on to the report. In a statement, Mr Corker's spokesman Micah Johnson said the Senator would review the report, but no further full committee activity was planned.
The biggest names involved in the Trump-Russia investigation
Show all 17
The report – which cites open source documents and interviews with European diplomats and government officials – details Russian operations in 19 European nations, including Britain, France, and Germany.
Facebook officials told committee members that the same Russian trolls who stirred up controversy on American social media pages before the US election pursued a similar strategy in the lead-up to France's 2017 election, and likely before Germany's, as well.
Russian-leaning Twitter accounts also started tweeting "misinformation and fringe viewpoints" before Finland's 2015 parliamentary elections, the report claims. Other tactics included spreading malicious information, threatening countries' energy security, and using hackers to steal information.
Michael Wolff: Trump presidency will end if Russia investigation touches on his finances
The report praises many European nations for their response to the alleged attacks, but claims the US lacks "a coherent, comprehensive and coordinated approach" to handling the issue – largely because of Mr Trump's failure to address it.
"Never before has a US President so clearly ignored such a grave and growing threat to US national security," the report says.
The authors suggest Mr Trump create an inter-agency "fusion cell" to coordinate the country's response to Russian activities, similar to the National Counterterrorism Centre that was created after 9/11. It also suggests deploying FBI investigators to embassies in vulnerable European countries, and increasing the amount of aid provided to promote democracy in Europe.
Mr Trump has previously downplayed Russia's role in the 2016 election and suggested he believed Mr Putin when the Russian leader denied interfering. Mr Trump has since clarified these comments, saying he believes "very much" in the US intelligence agencies.
The President has also vociferously denied any allegations of collusion between his campaign and Russia. He defended himself again on Wednesday, in a press conference with Norwegian Prime Minister Erna Solberg, calling allegations of collusion a "Democrat hoax".
"I've been in office now for 11 months," Mr Trump said. "For 11 months, they've had this phoney cloud over this administration – over our government – and it has hurt our government."
When asked about whether he would be prepared to face an interview by Special Counsel Robert Mueller, who is leading the federal probe, Mr Trump said it "seems unlikely".
Mr Trump said "we'll see what happens" when asked about reports his legal team were anticipating such a request,
"When they have no collusion and nobody's found any collusion at any level, it seems unlikely that you'd even have an interview," Mr Trump said
Mr Trump's personal lawyer, Michael Cohen, filed a lawsuit against BuzzFeed News that day for publishing a dossier that links the Trump campaign to Russia.
This is the first report from any Congressional body on Russian interference in US election. The Senate Intelligence Committee plans on publishing its findings on Russia's role in the 2016 election at a later date.
Additional reporting by agencies
Join our commenting forum
Join thought-provoking conversations, follow other Independent readers and see their replies