Giuliani is expected to turn himself in on Georgia 2020 election indictment charges
Rudy Giuliani is expected to turn himself in at a jail in Atlanta on charges related to efforts to overturn the results of the 2020 presidential election in Georgia
Giuliani is expected to turn himself in on Georgia 2020 election indictment charges
Show all 5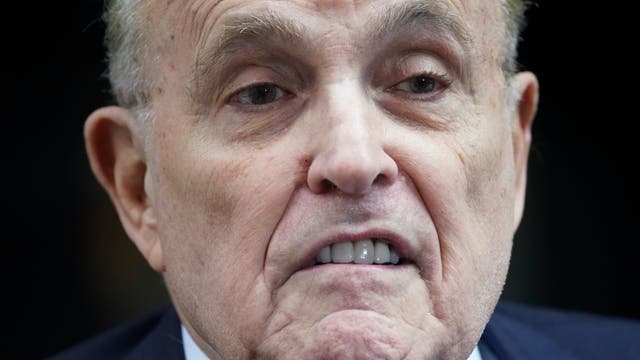 Rudy Giuliani is expected to turn himself in at a jail in Atlanta on Wednesday on charges related to efforts to overturn then-President Donald Trump's loss in the 2020 presidential election in Georgia.
The former New York mayor was indicted last week along with Trump and 17 others. Fulton County District Attorney Fani Willis said they participated in a wide-ranging conspiracy to subvert the will of the voters after the Republican president lost to Democrat Joe Biden in November 2020. Giuliani faces charges related to his work as a lawyer for Trump after the general election.
"I'm feeling very, very good about it because I feel like I am defending the rights of all Americans, as I did so many times as a United States attorney," Giuliani told reporters as he left his apartment in New York on Wednesday, adding that he is "fighting for justice" and has been since he first started representing Trump.
Trump, the early front-runner in the 2024 Republican presidential primary, has said he plans to turn himself in at the Fulton County Jail on Thursday. His bond has been set at $200,000. He and his allies have characterized the investigation as politically motivated and have heavily criticized Willis, a Democrat.
Giuliani criticized the indictment of lawyers who had worked for Trump and said the justice system was being politicized. He also highlighted the fact that some of the people indicted are not household names.
"Donald Trump told you this: They weren't just coming for him or me," Giuliani said. "Now they've indicted people in this case I don't even know who they are. These are just regular people making a normal living."
David Shafer, who's a former Georgia Republican Party chair, and Cathy Latham, who's accused of participating in a breach of election equipment in rural Coffee County and serving as one of 16 fake electors for Trump, turned themselves in early Wednesday morning. Attorney John Eastman, who pushed a plan to keep Trump in power, and Scott Hall, a bail bondsman who was accused of participating in a breach of election equipment in Coffee County, turned themselves in Tuesday.