Ron Paul tweets then deletes racist cartoon about cultural marxism amid backlash
The former legislator has repeatedly claimed he was not aware of shocking content published in his name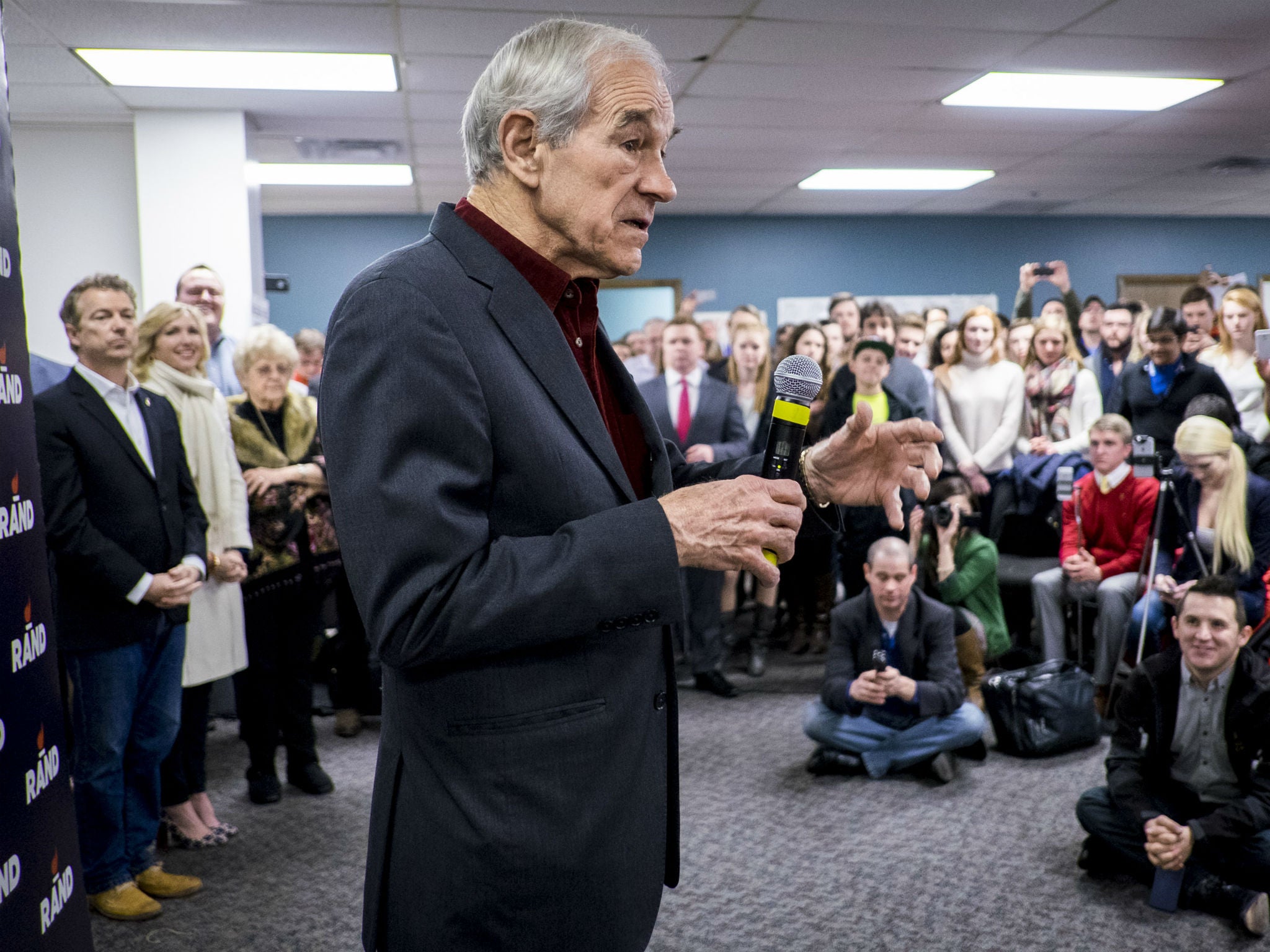 Former presidential candidate Ron Paul has blamed a member of his staff for the appearance of a racist cartoon depicting a group of minorities attacking Uncle Sam on his Twitter account, which was swiftly deleted amid a widespread backlash.
The cartoon shows a group of men punching Uncle Sam with a giant red fist bearing a hammer and sickle. The men all feature racist stereotypes — one is Asian with slanted eyes, another is Jewish with a hooked nose, an African-American is drawn with exaggerated lips and a man with brown skin appears similar to a Neanderthal — and are shouting in unison "Cultural Marxism!"
The caption read "Are you stunned by what has become of American culture? Well, it's not an accident. You've probably heard of 'Cultural Marxism,' but do you know what it means?" with a link to a since-deleted post on Mr Paul's Facebook account.
Mr Paul, the father of current Republican senator Rand Paul, ran for president on the Libertarian Party ticket in 1988 before campaigning for the Republican nomination in both 2008 and 2012.
The Texas Republican denied being aware of the cartoon and said the post was deleted after he noticed it online.
"Earlier today a staff member inadvertently posted an offensive cartoon on my social media," Mr Paul wrote in a Facebook post. "I do not make my own social media posts and when I discovered the mistake it was immediately deleted."
This isn't the first time the former presidential candidate has had to defend himself against accusations of racist content. Mr Paul also denied ever being aware of a series of racially-tinged quotes from several newsletters he created in the 1990s.
World news in pictures
Show all 50
Those newsletters all featured his name — Ron Paul's freedom Report, the Ron Paul Survival Report, the Ron Paul Political Report and the Ron Paul Investment Letter — and were published by the Ron Paul & Associates corporation.
In one example, a writer blamed African-Americans for the L.A. riots, writing, "Order was only restored in L.A. when it came time for the blacks to pick up their welfare checks three days after rioting began."
A quote from the Ron Paul Survival Report newsletter once read, "If you have ever been robbed by a black teenaged male, you know how unbelievably fleet-footed they can be."
Mr Paul has claimed that he did not know the identity of the author of those posts. Speaking to CNN in 2011, Mr Paul said "I never read that stuff. I was probably aware of it 10 years after it was written, and it's been going on 20 years that people have pestered me about this."
"I'm not a racist," he told the same network in 2008. "As a matter of fact, Rosa Parks is one of my heroes, Martin Luther King is a hero—because they practised the libertarian principle of civil disobedience, non-violence."
Join our commenting forum
Join thought-provoking conversations, follow other Independent readers and see their replies