The DeSantis campaign was en route to fundraisers amid a campaign slump – when four vehicles in the motorcade crashed
The governor's motorcade was involved in a minor incident when four vehicles crashed into each other on I-75 South in Tennessee as they were heading to fundraisers amid funding problems, Gustaf Kilander and John Bowden report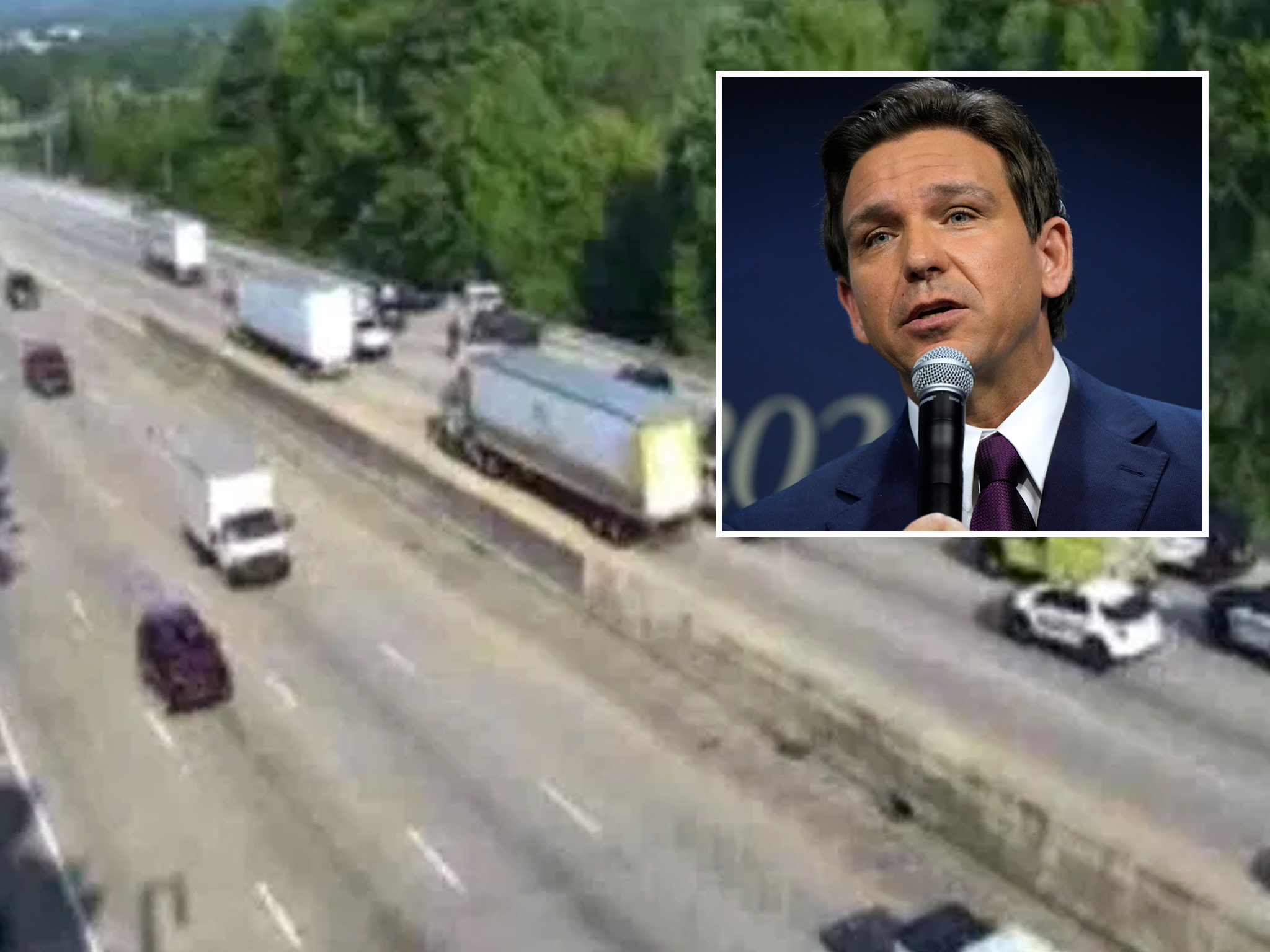 The floundering campaign of Florida Governor Ron DeSantis was on its way to scramble for more cash all over Tennessee when the journey came to an abrupt stop.
The motorcade transporting the governor and presidential candidate was involved in a crash on Tuesday morning, leaving one staffer with a minor injury. The governor was uninjured.
Here's everything we know so far:
"This morning, the governor was in a car accident while traveling to an event in Chattanooga, Tennessee. He and his team are uninjured. We appreciate the prayers and well wishes of the nation for his continued protection while on the campaign trail," spokesperson Bryan Griffin said in a statement.
Mr DeSantis was set to attend fundraisers in Chattanooga, Knoxville, and Nashville on Tuesday as his campaign is reported to be struggling both in terms of funding and poll numbers.
Motorcade vehicles crashed into each other as traffic slowed
The crash took place on I-75 South close to the 2.8-mile marker, south of the 153 exit, according to News Channel 9.
Chattanooga Police told the outlet that a previous crash caused the incident with the motorcade. Other motorists crashed after drivers were forced to quickly brake to allow an animal, possibly a dog, to cross the highway.
Following that crash, three vehicles in the governor's motorcade ended up in a dead-end collision as they slowed down to avoid the original collision.
Law enforcement said one of the staffers suffered a minor injury. Mr DeSantis and his staff continued their journey to the fundraisers.
Ron DeSantis: CCTV shows emergency services attending car crash scene
Campaign has blown 40 per cent of donations
The incident and Mr DeSantis's string of fresh fundraisers come amid reports that he had blown 40 per cent of his campaign donations on private jets and fancy campaign dinners.
His campaign advisers took the rare (and sometimes fatal) step of acknowledging mismanagement of the Florida governor's presidential bid this weekend, as reports revealed that he is burning through cash with little to show for it.
Top staff meet restless donors as campaign compared to Jeb Bush
The Florida governor's top staff and advisers were in Utah on Sunday where, according to Politico, they appeared in front of dozens of restless campaign donors who have expressed concern about a return on their investments and the overall trajectory of Mr DeSantis's bid for the White House.
The meeting comes as the DeSantis campaign is beginning to draw comparisons to the well-financed eventual flop that was the Jeb Bush 2016 campaign, the last bid by a Republican governor of Florida to win a GOP primary against Donald Trump.
Indeed, Mr DeSantis has earned some of those comparisons, given that he continues to trail far behind Mr Trump in all available polling and now sees other Republican candidates in a much better position to dethrone him than he is to usurp the former president's mantle of the frontrunner.
Donations spent too freely
On Sunday, aides including campaign manager Generra Peck admitted that the governor's bid was spending donations too freely, in particular faulting the event planning team which saw a number of firings this past week.
According to The New York Times, the DeSantis campaign has already spent 40 per cent of the donations it has raised directly in the first six weeks of his campaign — though that number does not count the war chest controlled by the Never Back Down PAC, the governor's vehicle for outside spending.
Among the steeper expenditures which apparently led to the recent staff shakeup have included fancy retreats for donors and supporters.
DeSantis has spent virtually nothing on major television ad buys
The campaign's cash burn rate is notable given that Mr DeSantis has spent virtually nothing on major television ad buys, which are typically among the priciest (but still often necessary) investments a successful primary operation must make. The New York Times highlighted Mr DeSantis's propensity for flying to events via chartered private jets as another reason for the high spending.
But campaign officials gave little other information to donors on Sunday regarding what new strategies the governor's team would employ, other than pledging to "let Ron be Ron". They did express confidence in Ms Peck's leadership of the operation, according to Politico. On Monday, however, one of those changes was made public: the promotion of digital director Ethan Eilon to deputy campaign manager.
Campaign attempts to rebrand as 'insurgent' bid
"The important thing that everyone realized here is the first family has complete faith in Generra and the team," Florida-based conservative lobbyist Nick Iarossi, who attended the meeting, told Politico after it occurred.
"The team is going to continue to evaluate the direction, be nimble, make changes as necessary," he said. "But the team is solidly behind her, the donors are solidly behind her. And this insurgent campaign that's being run is going to allow us to be more efficient going forward."
Mr DeSantis continues to trail Mr Trump even in his home state of Florida — to say nothing of states like Iowa, where his campaign has made significant investments and worked hard to woo local leaders, like Republican Governor Kim Reynolds.
Campaign officials declined to comment on the spending rate of the governor's presidential bid, giving the Times instead a snarky statement about Mr DeSantis not being the candidate of the media and political establishments.
"The media and D.C. elites have already picked their candidates — Joe Biden and Donald Trump," Andrew Romeo told the newspaper. "Ron DeSantis has never been the favorite or the darling of the establishment, and he has won because of it every time."
Join our commenting forum
Join thought-provoking conversations, follow other Independent readers and see their replies