DeSantis steps up dire warning to GOP about distraction from Biden, amid Trump's latest indictment
Florida Gov. Ron DeSantis is increasingly pressing Republican voters to avoid the temptation to refight the 2020 election next year, even as former President Donald Trump remains the dominant favorite for the 2024 GOP nomination on a message of persecution
DeSantis steps up dire warning to GOP about distraction from Biden, amid Trump's latest indictment
Show all 5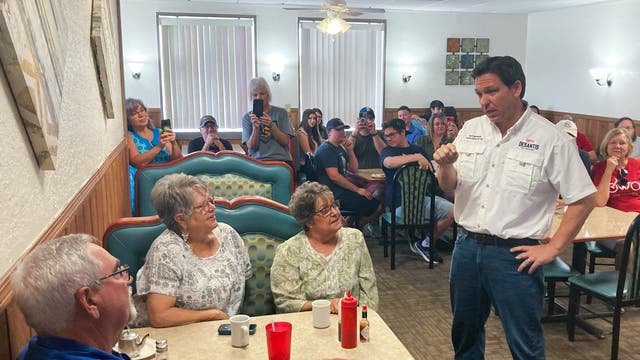 Florida Gov. Ron DeSantis is increasingly urging Republicans to avoid the temptation to refight the 2020 election next year, even as former President Donald Trump remains the dominant favorite for the 2024 GOP nomination on a message of vindicating his defeat.
Though DeSantis recently cast doubt on the false theories about the 2020 election at the heart of Trump's federal indictment, DeSantis is saying in early-voting states that any focus except on defeating Democratic President Joe Biden would be dire for his party.
"If that is the choice, we are going to win and we are going to win across the country," DeSantis told reporters Saturday after a campaign stop in northern Iowa. "If the election is a referendum on other things that are not forward-looking, then I'm afraid Republicans will lose."
DeSantis was on the second of a two-day trip across Iowa, pressing his recent record in Florida of conservative education, abortion and gender policy, and an equally GOP crowd-pleasing agenda for the nation.
He ignited applause at a Saturday morning event in Cedar Falls promoting a balanced budget amendment, term limits for Congress and promising his audience of about 100 that he would declare a national emergency and dispatch the military to the U.S.-Mexico border upon taking office.
His labor to spur the party forward stood in sharp contrast to the Trump campaign's release of an on-line ad attacking Justice Department special counsel Jack Smith, who led the investigation that culminated in an indictment charging Trump with four felony counts related to his effort to reverse his 2020 election loss. The charges include conspiracy to defraud the U.S. government and conspiracy to obstruct an official proceeding.
Likewise, he boasted at an Alabama Republican Party fundraising dinner Friday that the indictment was a political asset. "Any time they file an indictment, we go way up in the polls," Trump told his audience in Montgomery, Alabama. "One more indictment, and this election is closed out. Nobody has even a chance."
Still, DeSantis has gone marginally further in recent days in discussing Trump's defeat, though more typically when talking to the media after campaign events than during events with voters, many of whom remain sympathetic to Trump.
During Saturday morning campaign events, he blasted "weaponization" of federal agencies, a term that resonates with Republicans sympathetic to the belief that the Justice Department has persecuted Trump.
But after a stop to meet voters at a small-town restaurant, DeSantis sidestepped when asked if he would have certified the 2020 Electoral College vote as former Vice President Mike Pence did the day the pro-Trump rioters attacked and breached the Capitol.
DeSantis responded that Vice President Kamala Harris does not have the power to overturn the 2024 results, which Congress made explicit by passing an act after the 2020 election that says a vice president has no role in validating a presidential election results beyond acting as a figurehead who oversees the counting process.
In January 2025, "the electoral votes will be submitted and Kamala Harris will certify. She's not going to have the opportunity to overrule what the American people say," he said in a brief press conference. "I don't think that Kamala Harris has that authority."
On Friday, DeSantis, who has often pivoted away from questions about whether the 2020 election was legitimate, went a little further when asked about it, suggesting Trump's false claim that he actually beat Biden was "unsubstantiated."
But DeSantis minced no words to his audience packed into a meeting room at a Pizza Ranch restaurant in Grinnell.
"The time for excuses for Republicans is over," he said firmly. "It's time to get the job done."