NOT REAL NEWS: A look at what didn't happen this week
Social media users shared a range of false claims this week
NOT REAL NEWS: A look at what didn't happen this week
Show all 3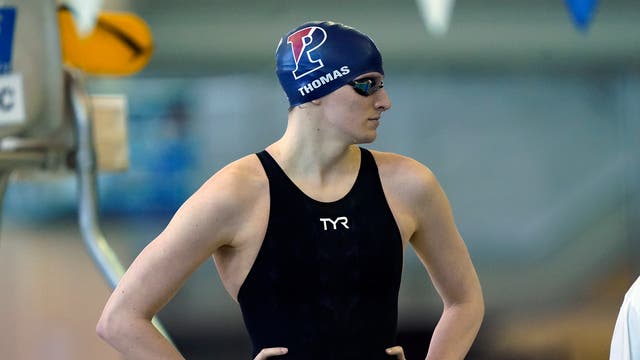 A roundup of some of the most popular but completely untrue stories and visuals of the week. None of these are legit, even though they were shared widely on social media. The Associated Press checked them out. Here are the facts:
___
No, Trump is not facing the death penalty on his latest federal charges, as some online claim
CLAIM: Former President Donald Trump is facing the death penalty on federal charges filed against him in Washington, D.C., on Tuesday related to his efforts to overturn the results of the 2020 election.
THE FACTS: Trump's possible sentence if convicted does not include the death penalty, the Justice Department and a legal expert confirmed. One of the four charges — conspiracy against rights — can be eligible for the death penalty, but only if the violation results in death or other aggravating factors. As the indictment does not hold Trump responsible for any deaths, the former president is not facing capital punishment. As Trump pleaded not guilty on all four charges in federal court on Thursday, some on social media spread falsehoods about the maximum sentence he could receive if convicted. "There is little doubt that a DC jury will convict Trump of the felonies Biden's DOJ has leveled against him," reads one tweet. "The only question is whether Trump will be sentenced to death. Trump can run from prison ONLY if he's alive." But Trump is not facing the death penalty for any of the charges in his most recent indictment. Peter Carr, a spokesperson for Justice Department special counsel Jack Smith's office, told The Associated Press that claims otherwise are "not accurate" because "the indictment does not contain the special findings required." Smith indicted the former president on Tuesday of trying to subvert the will of voters and obstruct the certification of Democrat Joe Biden's victory before Jan. 6, 2021, when a mob of supporters stormed the U.S. Capitol in a violent clash with law enforcement. He faces charges of conspiracy to defraud the U.S., conspiracy to obstruct an official proceeding, obstruction of an official proceeding and conspiracy to prevent others from carrying out their constitutional rights. The fourth charge, known in the U.S. Code as conspiracy against rights, can be eligible for the death penalty or life in prison, but only if the violation results in death or other aggravating factors such as kidnapping or sexual abuse. Five people died in the Jan. 6 attack and its aftermath, including Trump supporter Ashli Babbitt, who was shot by police as she tried to enter a room off the House chamber. But the indictment doesn't hold Trump responsible for any of these deaths. Carr said that Trump could receive a maximum of 10 years in prison if convicted of conspiracy against rights, up to five for the conspiracy to defraud charge and up to 20 for each of the obstruction charges. Daniel Richman, a professor of law at Columbia University who specializes in federal criminal law, confirmed that capital punishment is not on the table, stating that "there is zero basis to believe at this point that is a possibility." He wrote in an email that the indictment "makes no effort" to connect Trump's actions to deaths on Jan. 6 or to any other aggravating factors. He added that there is no reason to believe the Justice Department filed the required notice to seek the death penalty, nor that it has any plans to do so.
—- Associated Press writer Melissa Goldin in New York contributed this report.
___
'Barbie' is a hit. But it didn't make more money in a day than Ron DeSantis has ever raised
CLAIM: The "Barbie" movie raised more money in one day than Florida Gov. Ron DeSantis has his entire life.
THE FACTS: "Barbie" brought in about $48.2 million in North American theaters for its opening, plus another $22.3 million in early screenings the night before, according to data from Warner Bros. DeSantis has raised more than that during his decade of political campaigns for Congress, Florida governor and now president. But social media posts are falsely claiming otherwise. "Barbie raised more at box office in one day than Ron DeSantis fundraised his entire life," reads the post. During its opening weekend, "Barbie" saw a massive $155 million in ticket sales from North American theaters from 4,243 locations, breaking the first weekend record for a film directed by a woman. But in terms of a single day, the $48.2 million brought in opening day July 21 does not surpass DeSantis' fundraising over the years, even if one includes pre-screenings from the night before, which would bring the haul to $70.5 million. As he runs for president, DeSantis has so far raised about $20.5 million, according to the most recent Federal Election Commission data. That's in addition to about $7.1 million that DeSantis raised for his congressional runs, according to OpenSecrets.org, a nonpartisan research group that tracks money in U.S. politics. DeSantis first ran for Congress in 2012 and served for three terms before launching his bid for governor in 2018. Peter Quist, deputy research director for OpenSecrets, noted in an email to the AP that DeSantis' fundraising total for the Florida governorship depends on whether one counts only his official campaign committee or includes a closely linked political action committee. DeSantis raised about $271 million while running for governor in 2018 and 2022, according to FollowTheMoney.org, OpenSecrets' state data website. But Quist noted that DeSantis' official campaign committee raised about $56.8 million of that total, while a state PAC raised the rest. "We credit that fundraising to his 2022 campaign because Florida state campaign finance laws allow politicians for state offices to essentially run a PAC, which can spend on ads to support the candidate," Quist said. Looking at his political career in the aggregate, DeSantis has raised at least $84.4 million between his runs for Congress, Florida governor and president — but that total reaches $298.6 million if his Florida state PAC is included.
— Associated Press writer Angelo Fichera in New Jersey contributed this report.
___
Obama's bandaged fingers don't suggest a role in his chef's death. It's golf tape for blisters
CLAIM: Bandages around former President Barack Obama's hand are suspicious and suggest he was involved in the death of his personal chef last month.
THE FACTS: An Obama spokesperson said the Democrat was wearing golfer's tape on his left hand, as photos have shown him doing many times over the years. Golfing experts confirmed the former president is wearing the tape properly and that golfers routinely use it to avoid blisters and split calluses. Yet images of Obama golfing on Martha's Vineyard have sparked a fresh round of misleading speculation around the drowning of Tafari Campbell in the waters by the former president's summer home on the Massachusetts island. The pictures, which were originally published by The Daily Mail on July 28, show Obama as he hit the links at the Vineyard Golf Club that day, clad in a polo shirt with white shorts, hat and sneakers. He also has a white glove on his right hand but his left one is gloveless, revealing bandages on two of his fingers. "This is the very first picture taken of Barack Hussein Obama just days after his personal chef, Tafari Campbell, mysteriously died in 3 feet of water at Obama's home in Martha's Vineyard," reads one Instagram post that shared the images. "Cuts on his hands. As if he got into a fight. VERY odd." But Obama, an avid golfer, has been photographed numerous times over the years wearing similar finger coverings while out on the fairway, particularly during his family's summer getaways to Martha's Vineyard. A search of the AP's online archive turned up AP photos from August 2015, in which the president wrapped his left middle finger in two bandages as he golfed at Farm Neck Golf Club in Oak Bluffs. He returned to Farm Neck Golf Club later that month and was also photographed wearingfinger wraps, but this time they were not just on his middle finger but also on his ring finger. Going back further, the AP photographed Obama in 2014 at the Farm Neck Golf Club with a single bandage on his left middle finger, and in 2010 he was seen wearing a similar bandage while playing golf. Eric Schultz, an Obama spokesperson, confirmed the bandages are actually golfer's tape and that using them has been "standard practice for him for many years." The tape helps golfers prevent painful blisters or split calluses, explained Brad Woodger, owner of the Royal and Ancient Chappaquiddick Links, another golf course on Martha's Vineyard. The placement of Obama's wraps — one above the knuckle of his middle finger, another below the knuckle and a third above the knuckle on his ring finger — is also fairly typical, he added. "The friction and movement of the club can cause blisters in certain contact spots on the hand (I tend to get them on between my thumb and forefinger)," Woodger wrote in an email. Steve Eisenberg, a PGA-certified golf pro and president of Golf Concepts Consulting in Fort Myers, Florida, concurred, adding that blisters tend to develop if a person is playing for long stretches or hasn't played in a while.
— Associated Press writer Philip Marcelo in New York contributed this report.
___
No, prosecutors did not drop all charges against Sam Bankman-Fried
CLAIM: The Department of Justice has dropped all charges against FTX founder Sam Bankman-Fried, who is accused of cheating investors and looting customer deposits on the cryptocurrency trading platform.
THE FACTS: Federal prosecutors said last week that they are no longer pursuing one campaign finance charge against Bankman-Fried, but confirmed he still faces a criminal trial in October on other charges. He also faces charges that could result in a second trial next year. But some social media users are falsely claiming that the DOJ has given up on the case entirely, insinuating that it was because of his past political donations. One post on X, formerly known as Twitter, reads in part: "DOJ drops all charges against SBF." The post, which had more than 7,000 likes, went on to point out that he was a prolific donor in the 2022 midterm elections. However, Nicholas Biase, a spokesperson for the United States Attorney's Office for the Southern District of New York, confirmed that Bankman-Fried remains criminally charged, as indicated on the public docket. "The only count the Government will not pursue is count 8, the campaign finance charge," Biase told the AP in an email. "The defendant faces trial on the remaining indictment and superseding indictment in October of this year and February of 2024." Federal prosecutors told the judge they were dropping the charge because the government in the Bahamas didn't consider it to be part of Bankman-Fried's extradition to the U.S. in December. They would not pursue it at the trial in keeping with U.S. treaty obligations to the Bahamas. Bankman-Fried still faces seven charges in October from the original indictment filed last year, which include defrauding customers, and lenders. He also faces a second trial in 2024 on other charges filed in a superseding indictment earlier this year, including conspiracy to violate the anti-bribery provisions of the Foreign Corrupt Practices Act. As the AP reported, the campaign finance charge pertained to the government's allegation that Bankman-Fried had enabled over $100 million siphoned from Alameda Research — his cryptocurrency hedge fund trading firm — to fund unlawful political contributions. Prosecutors alleged in an indictment that Bankman-Fried made the contributions to improve his personal standing in Washington, D.C., to increase FTX's profile and to "curry favor with candidates" who might help pass legislation favorable to FTX. Bankman-Fried has pleaded not guilty to the charges.
— Associated Press writer Karena Phan in Los Angeles contributed this report.
___
Find AP Fact Checks here: https://apnews.com/APFactCheck
___
Follow @APFactCheck on Twitter: https://twitter.com/APFactCheck