Rod Rosenstein: Republicans begin impeachment process against deputy attorney general overseeing probe into Russian election meddling
Questions remain over whether there is enough support in the party to pass it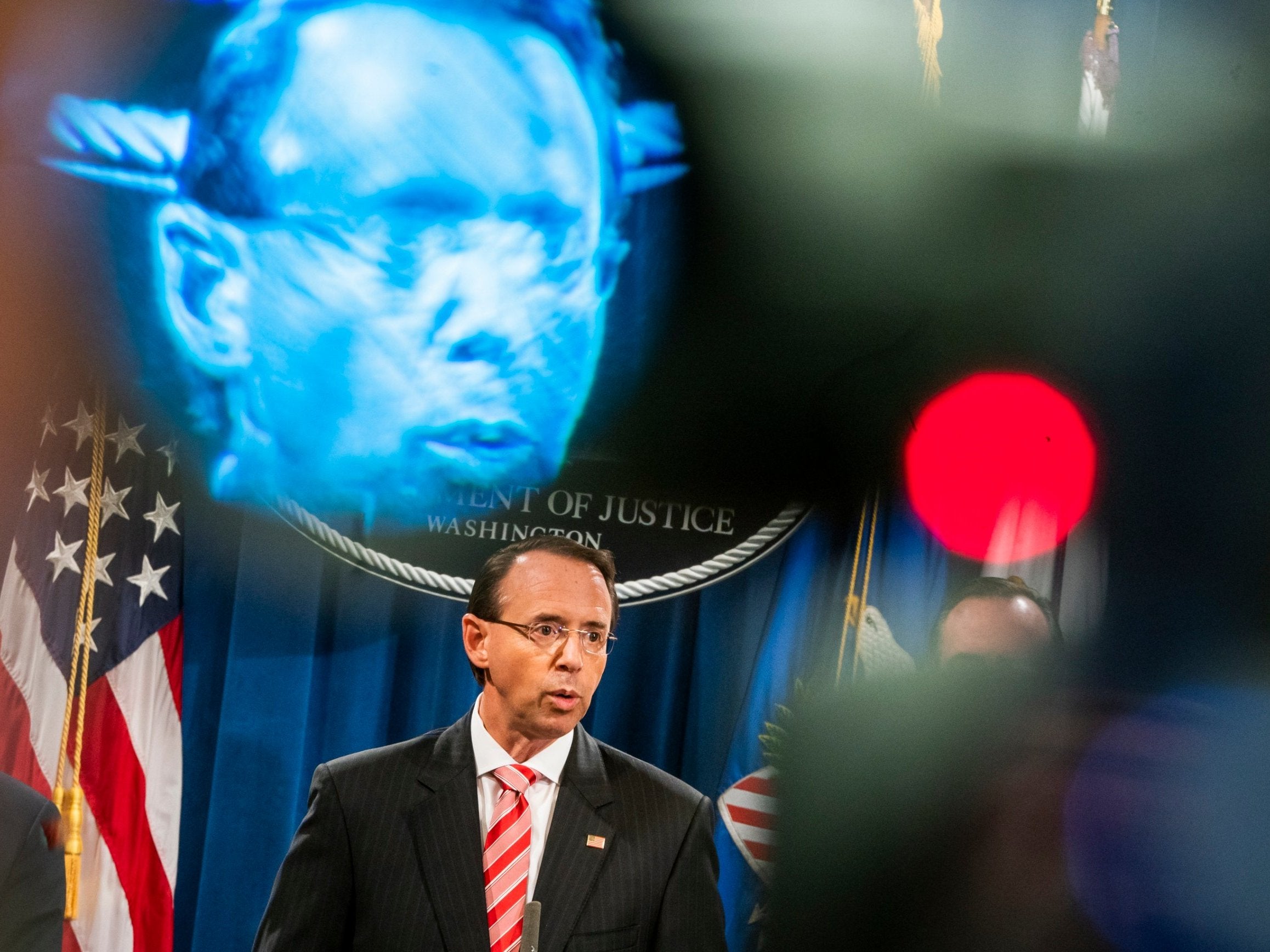 Republicans in the US Congress have begun impeachment proceedings against Rod Rosenstein, the deputy attorney general overseeing Robert Mueller's investigation into Russian meddling in the 2016 presidential election.
A group of 11 House Republicans who introduced the resolution have criticised Mr Rosenstein for not being responsive enough as they have requested documents related to the Russia investigation and a closed investigation into Democrat Hillary Clinton's emails.
It is unclear whether there will be enough support in the party to pass it, as Republican leaders have not publicly backed the effort.
The articles were introduced by North Carolina representative Mark Meadows and Ohio representative Jim Jordan, frequent critics of the Justice Department.
The introduction does not trigger an immediate vote, but both men could make moves on the House floor to force a vote later this week or when the House returns from its five-week recess in September.
The move came two hours after Republicans met with Justice Department officials who have been working to provide documents to several congressional committees about decisions made during the 2016 presidential campaign.
Donald Trump's first year: in pictures
Show all 29
The department has provided congressmen and women with more than 800,000 documents, but Mr Meadows said there was still "frustration" with how Justice has handled the oversight requests.
However, Republican leaders including Paul Ryan, the House speaker, have said in recent weeks that they are satisfied with the Justice Department's work.
Democrats have criticised Republican efforts to pressure the Justice Department in recent months, saying they are attempts to undermine Mueller's investigation.
Additional reporting by AP
Join our commenting forum
Join thought-provoking conversations, follow other Independent readers and see their replies