Slovakia election pits a pro-Russia former prime minister against a liberal pro-West newcomer
Slovakia holds an early parliamentary election on Saturday that pits populist former Prime Minister Robert Fico who campaigned on a clear pro-Russia and anti-American message against a liberal pro-West newcomer
Slovakia election pits a pro-Russia former prime minister against a liberal pro-West newcomer
Show all 6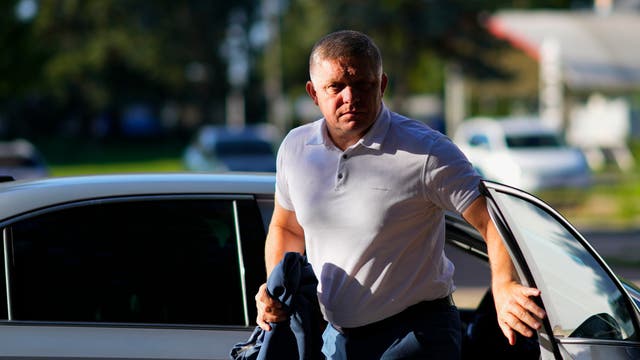 Slovakia holds an early parliamentary election on Saturday that pits populist former Prime Minister Robert Fico, who campaigned on a clear pro-Russia and anti-American message, against a liberal pro-West newcomer.
Fico and his leftist Smer, or Direction, party vowed to reverse Slovakia's military support for neighboring Ukraine in Russia's war, if his attempt to return to power is successful.
Slovakia's vote is a key test that could put the country on a new course away from Kyiv and towards Moscow, threatening to break a fragile unity in the European Union and NATO.
Fico's main challenger is the relatively new liberal pro-West Progressive Slovakia. The winner of the vote traditionally gets the first chance to create a government.
A total of 150 seats in the Parliament are up for grab in the vote.
SNAP BALLOT
The populist Ordinary People party won the 2020 election with an anti-corruption ticket, and party leader Igor Matovič struck a deal to govern with the pro-business Freedom and Solidarity party, the conservative For People party, and another populist group, We Are Family.
The coalition collapsed in December after losing a parliamentary no-confidence vote, the latest step in a long-term political crisis caused by bickering among the coalition partners over a number of issues, including the state's response to the coronavirus pandemic and how to tackle soaring inflation driven by high energy prices amid Russia's full-scale invasion of Ukraine.
The government lost a parliamentary majority after Freedom and Solidarity withdrew from it in September 2022 last year and requested the no-confidence vote.
The coalition was a staunch supporter of Ukraine, donating arms to the Ukrainian army while opening its border with neighboring Ukraine to refugees fleeing the war with Russia.
The country is currently headed by a caretaker government.
FICO TURNS EASTWARD
Fico, 59, opposes EU sanctions on Russia, questions whether Ukraine can force out the invading Russian troops and wants to block Ukraine from joining NATO.
He proposes that instead of sending arms to Kyiv, the EU and the U.S. should use their influence to force Russia and Ukraine to strike a compromise peace deal.
His return to power could lead Slovakia to abandon its democratic course in other ways, following the path of Hungary under Prime Minister Viktor Orbán and to a lesser extent of Poland under the Law and Justice party.
He has a clear source for his inspiration.
"War always comes from the West," Fico said at a rally. "And freedom and peace always come from the East."
Fico repeats Russian President Vladimir Putin's unsupported claim that the Ukrainian government runs a Nazi state from which ethnic Russians in the country's east needed protection. Ukrainian President Volodymyr Zelenskyy is Jewish and has lost relatives in the Holocaust.
Known for foul-mouthed tirades against journalists, Fico campaigned against immigration and LGBTQ+ rights and threatened to dismiss investigators from the National Criminal Agency and the special prosecutor who deals with the most serious crimes and corruption.
After Smer lost the 2020 vote, the four-party coalition made fighting corruption a key focus. Dozens of senior officials, police officers, judges, prosecutors, politicians and business people, many linked to Smer, have been convicted of corruption and other crimes. Fico himself faced criminal charges last year for creating a criminal group and misuse of power.
Fico led Slovakia from 2006 to 2010 and again from 2012 to 2018.
WESTERN-MINDED CHALLENGER
Progressive Slovakia sees the country's future firmly in the EU and NATO.
The party vowed to continue Slovakia's support for Ukraine and is a rare example among the major parties in the conservative Roman-Catholic stronghold that is in favor of LGBTQ+ rights.
Popular among the young people, the party won the 2019 European Parliament election in Slovakia in coalition with the Together party after gaining more than 20% of the vote. But it narrowly failed to win parliamentary seats in the 2020 ballot.
The party is led by Michal Simecka, a European Parliament vice president. Liberal President Zuzana Caputova was deputy head of the party before running for president. After trailing Smer in second place, some of the latest polls show that Progressive Slovakia's support is surging and fighting neck and neck with Smer for the lead.
WHAT'S AHEAD
No party is expected to win a governing majority and a coalition government will need to be formed.
Fico said he hopes to join forces with Hlas, or the Voice, which is expected to finish in third place. It's led by Peter Pellegrini, Fico's former deputy at Smer.
Pellegrini replaced Fico as prime minister after he was forced to resign by the major anti-government street protests following the 2018 slayings of journalist Jan Kuciak and his fiancee.
The two parted ways after the 2020 election loss.
Two other anti-West forces remain in hand for Fico's possible coalition.
The Republic is a far-right group that might finish fourth, according to some polls. It is led by former members of the openly neo-Nazi People's Party Our Slovakia whose members use Nazi salutes and want Slovakia out of the EU and NATO. Its possible participation in the government would send shockwaves through Europe.
The ultranationalist Slovak National Party is the other one.
Four other political groups and parties might surpass a 5% threshold necessary to win parliamentary seats. Their results will be key to determine the chances of Smer, or Progressive Slovakia, to form a ruling coalition.