Who is Rob Goldstone, the eccentric British man who set up Donald Trump Jr with a Russian Lawyer?
The music publicist represents at least one key Russian pop star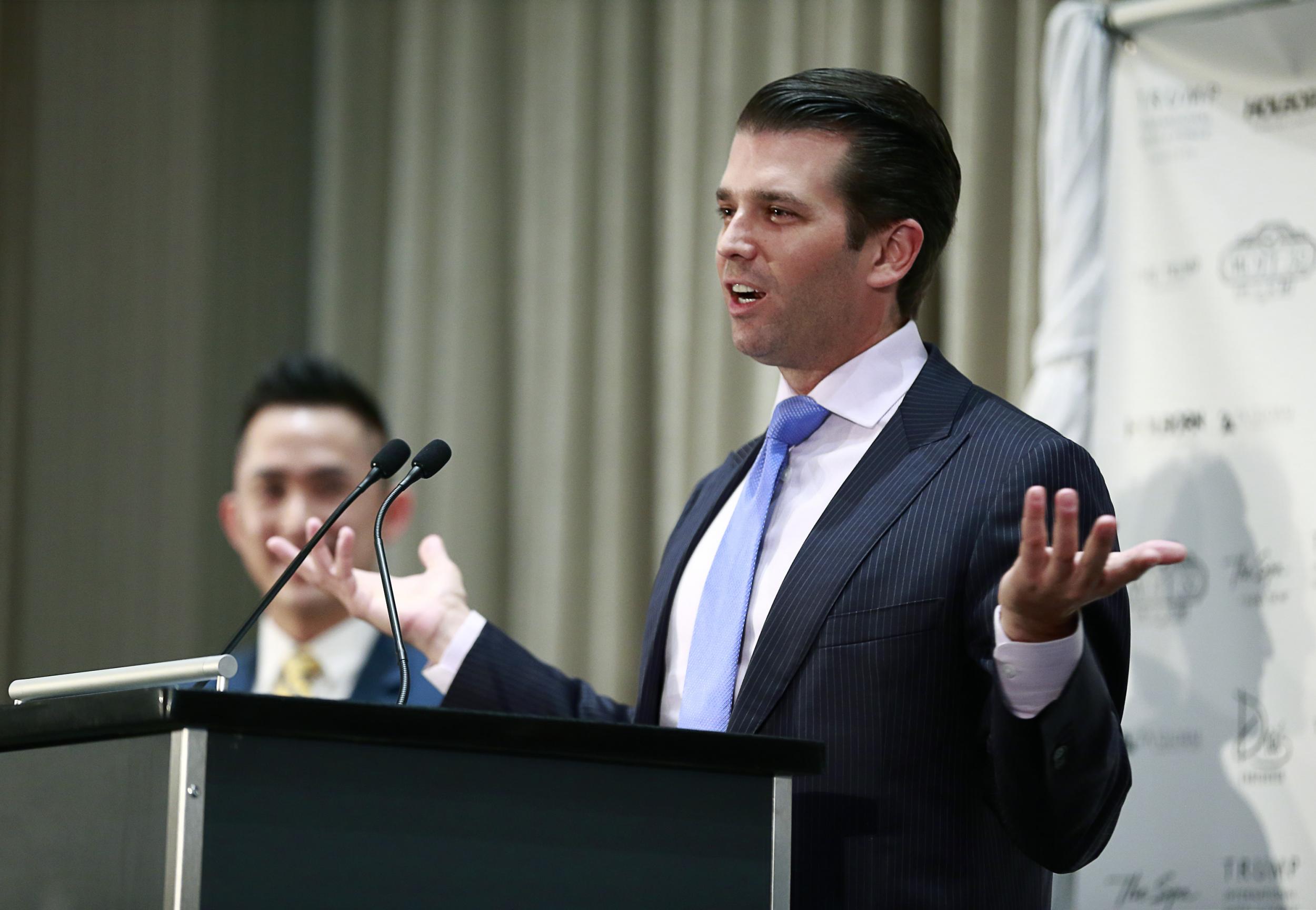 A British music publicist has found his name in international headlines after emails showed he played an integral role in facilitating a meeting between members of Donald Trump's inner circle and a Kremlin-connected lawyer who claimed to have damaging information on Hillary Clinton.
The emails were sent in June of last year — before Mr Trump formally became the Republican nominee — and played out between Rob Goldstone, the publicist, and Donald Trump Jr, Mr Trump's eldest son.
"This is obviously very high level and sensitive information but is part of Russia and its government's support for Mr Trump," Mr Goldstone said in one of the emails.
It's unclear if the meeting — which included Mr Trump Jr, campaign manager at the time Paul Manafort, and Mr Trump's son-in-law Jared Kushner — actually yielded damaging information on Ms Clinton. Mr Trump Jr contends that the meeting focused on other matters, and that there was no damaging information presented during their meeting.
But, who is Mr Goldstone, the publicist who played a key role in facilitating a meeting between the Trump campaign and Russian lawyer Natalia Veselnitskaya that critics of the President's campaign say is a "smoking gun" that shows the Trump campaign colluded with Russia during the 2016 election?
The biggest names involved in the Trump-Russia investigation
Show all 17
The connection to the Russia
Social media posts by Mr Goldstone show that he has frequently gone to Russia on business, although his accounts have been turned private since his involvement in the meeting has become known.
That includes at least 19 trips since the spring of 2013. In one post, he called Russia his second home.
In Russia he represents Emin Agalarov, a pop star and son of a Russian billionaire with close ties to Vladimir Putin. His father, Aras Agalarov, has been called the "Donald Trump of Russia."
Why that pop star matters
Mr Goldstone reportedly reached out to Mr Trump Jr at the behest of Mr Agalarov.
The President have been connected to the Agalarovs since at least 2013, when the Miss Universe pageant was held in Moscow. Both of the Agalarovs had said they'd like to bring the pageant to Moscow, and Mr Trump owned the event at the time.
At that time Mr Trump was hoping to build a Trump Tower in Moscow — and the Agalarovs were in a position to help. The deal never went through.
The Agalarovs say they still enjoy a good relationship with the President
They've praised his ability to lead large organisations, and have pursued continued ties with the family even after the 2016 election. They've also cited the president's loyalty, and note that he won't "forget his friends" in the White House.
Mr Goldstone's support of Mr Trump's campaign and his social media use
The music publicist clearly believes in the President. In past Instagram posts, he can be seen wearing one of Mr Trump's signature "Make America Great Again" baseball caps.
In a photo from March 2016, a photo of himself with Mr Agalarov and Mr Trump shows them eating dinner in Los Vegas.
Mr Goldstone also seems to have a flair for the eccentric. Posts on his social media accounts showed him wearing a range of hats - a chef hat, captain's hat, and a wrestling mask, for instance. Videos posted on social media showed him conducting impromptu performances for his followers. A photograph posted just a day after last year's election, Mr Goldstone is seen wearing a shirt with the word "Russia" in bright red.
"Hedging Bets," the caption read.
Join our commenting forum
Join thought-provoking conversations, follow other Independent readers and see their replies