Senator Rick Scott set to face a challenger in a test for Florida's Democrats
Former Democratic U.S. Rep. Debbie Mucarsel-Powell will seek the nomination to challenge Republican Sen. Rick Scott in 2024
Ex-Florida congresswoman to challenge Republican Sen. Rick Scott in a test for the state's Democrats
Show all 2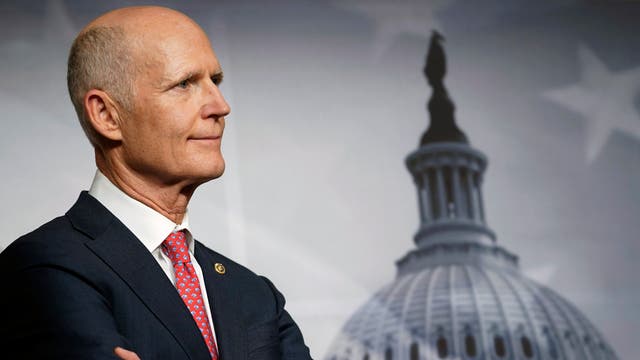 Former Democratic U.S. Rep. Debbie Mucarsel-Powell announced Tuesday she will seek the nomination to challenge Republican Sen. Rick Scott in 2024, a campaign that will be a test to see if Florida Democrats can fare better during a presidential election in a state that has become increasingly Republican.
Mucarsel-Powell defeated a Republican incumbent to win her only term in Congress in 2018. Two years later, though, she lost to Miami-Dade County Mayor Carlos Gimenez, relinquishing the seat that has switched parties several times in recent elections.
"We are at a moment in time where our democracy is at stake, our rights are being violated," she told The Associated Press. "Everything I know about Rick Scott is that he's always put himself first. He never looks out for Florida families or anybody else."
Scott served two terms as governor, winning both times with less than 50% of the vote. He was elected to the Senate in 2018, defeating incumbent Democrat Bill Nelson by about 10,000 votes out of more than 8 million cast. Scott was picked to lead the GOP's political efforts for the 2022 Senate races, a campaign that failed to capture a Republican majority.
He has also been discussed as a potential presidential candidate. But he sought reelection as three other Floridians seek the White House: former President Donald Trump, Gov. Ron DeSantis and Miami Mayor Francis Suarez.
Scott has never run in a presidential election year, when Democrats turn out in higher numbers. That might not be enough in a state where Republicans have taken a sizable lead in voter registration after decades of Democratic dominance. In 2022, Republican Sen. Marco Rubio won reelection by more than 16 percentage points and DeSantis by nearly 20.
Scott's campaign said Mucarsel-Powell is a "radical puppet" of Washington's Democratic leadership.
"Which is why the voters of South Florida booted her out of office the first chance they got. Floridians already rejected her once and they will reject her again," Scott spokeswoman Priscilla Ivasco said in a news release.
Scott is the wealthiest serving senator. He began his business career with two doughnut shops in Kansas City, Missouri, and eventually became CEO of the nation's largest private hospital chain. He resigned his position at Columbia/HCA before the company paid a $1.7 billion fine for Medicaid fraud.
Scott is worth more than $250 million and has shown in each election that he doesn't mind spending his own money to push himself to victory. He spent more than $63 million of his own money to defeat Nelson in 2018.
Mucarsel-Powell was born in Ecuador and moved to the Miami area when she was 14. She lived in a one-bedroom apartment with her family as a teenager, working at a doughnut shop to help with expenses. She later worked with nonprofits and in higher education.
Their experience selling doughnuts speaks a lot about their backgrounds, she said.
"That's the difference, right?. That was his business. I was the minimum wage employee that had just arrived from Ecuador who worked to help make ends meet. I guess that's everything you need to know about this race," Mucarsel-Powell said.
Mucarsel-Powell will first have to win a primary. Her main challenger at the moment is Phil Ehr, a retired Navy commander from Pensacola who left the Republican Party in 2017. Ehr has twice unsuccessfully run for the U.S. House seat held by Republican Matt Gaetz in one of the most conservative areas of the state.
Mucarsel-Powell has been encouraged to run by some of the party's top leaders.
"It's been very sad for me, and painful, to see how divided this country has become, how polarized this country has become, how people in positions of power — politicians — are trying to demonize fellow Americans just for the fact that they think differently than they do," she said. "It's very dangerous."
___
For more AP coverage of the 2024 elections: https://apnews.com/hub/election-2024