Republican congressman accused of taking direction from Kremlin to attack Putin critic in Senate hearing
Dana Rohrabacher's visits to Moscow have often been subjects of controversy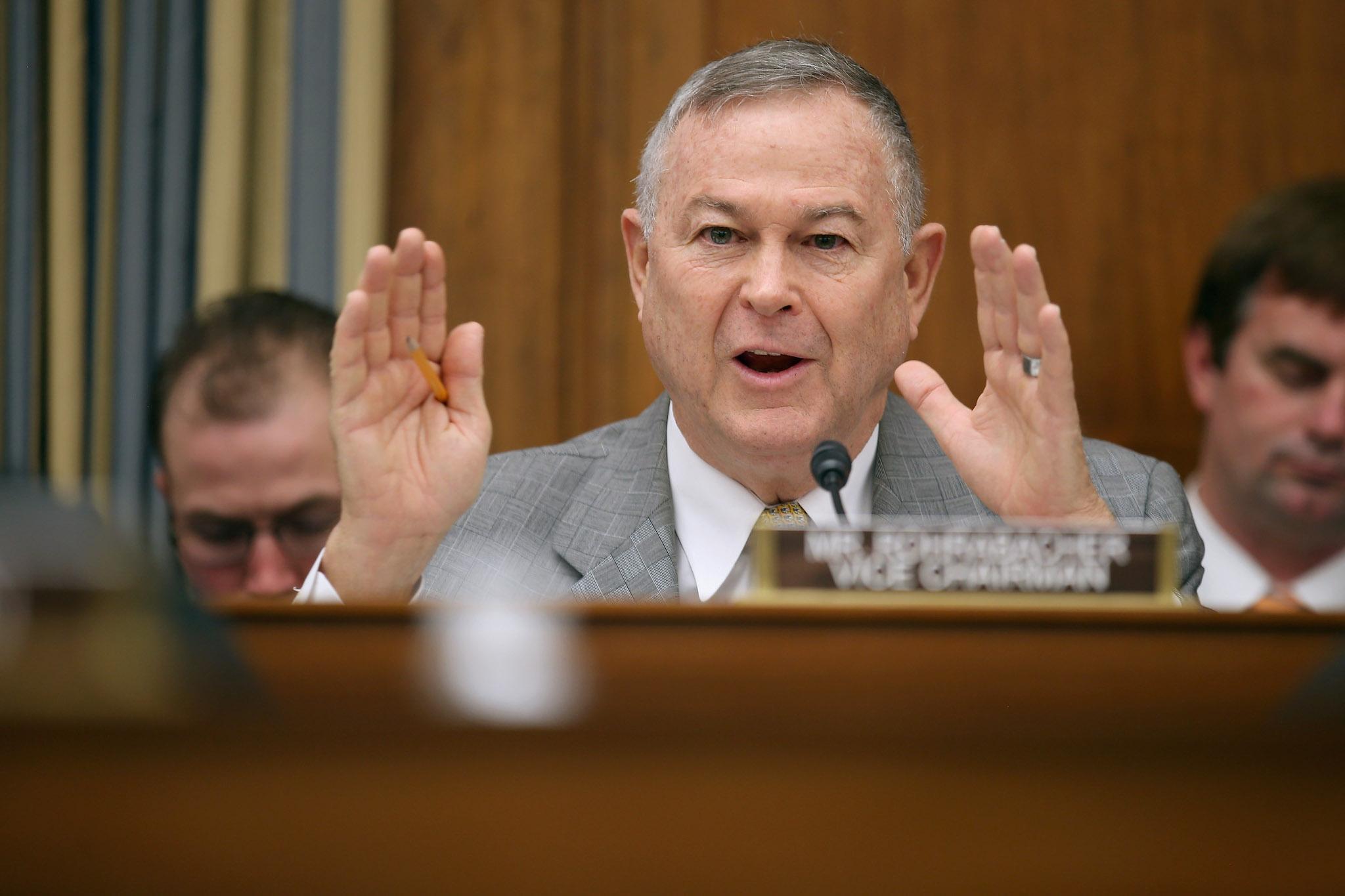 A Republican congressman has been accused of taking direction from the Kremlin after receiving information from the Russian government to use against a prominent critic of Vladimir Putin.
Representative Dana Rohrabacher – possibly the most Russia-friendly Republican member of Congress – was reportedly set to confront anti-Putin businessman Bill Browder months after leading a congressional delegation to Moscow.
While meeting with Viktor Grin, the Prosecutor General of Russia, Mr Rohrabacher was handed materials critical of the Magnitsky Act, the 2012 bill imposing sanctions on Russian officials. Mr Grin had been one those sanctioned by the US as part of the law.
Mr Rohrabacher's trip to Russia has been revisited in recent days following revelations that Donald Trump Jr's meeting with Russians in June 2016 may have been part of an anti-Magnitsky campaign potentially set into motion by the Russian government.
At a congressional hearing, Mr Rohrabacher was apparently going to confront Mr Browder with a feature-length film that viciously attacks him and the Magnitsky Act.
The hearing was scheduled for mid-June 2016 by the House Foreign Affairs Subcommittee on Europe, which Mr Rohrabacher is the chair of, but was cancelled when senior Republicans intervened and agreed to hold a full committee hearing with a Moscow-sympathetic witness, The Daily Beast has reported.
An email reviewed by news outlet showed that before the 14 June hearing,"US Policy Toward Putin's Russia", Mr Rohrabacher's staff received pro-Kremlin briefings against Mr Browder and Mr Browder's tax attorney Sergei Magnitsky from a lawyer who was working with Natalia Veselnitskaya.
Ms Veselnitskaya has been central in the efforts to overturn the Magnitsky Act, which blacklists suspected Russian human rights abusers. The law was passed in 2012 as a result of Mr Browder's efforts to get the US to hold a group of Russians responsible for the mysterious 2009 death in jail of Mr Magnitsky.
In 2006, after ten years doing business in Russia, Mr Browder – the chief executive and co-founder of Hermitage Capital Management – had been blacklisted by the Russian government as a "threat to national security". Mr Browder claims that he and those he employed were targeted by Russian President Vladimir Putin once they began crusading against the corruption of the Russian government.
In the days after Congress passed the Magnitsky Act, Russia retaliated by banning American citizens from adopting Russian orphans.
The biggest names involved in the Trump-Russia investigation
Show all 17
Ms Veselnitskaya's name was thrown into the spotlight last week when it came to light that she was the Kremlin-connected lawyer Mr Trump Jr met with during the presidential campaign. According to emails released by the President's son, Mr Trump Jr was told that she would provide him with incriminating material on his father's opponent Hillary Clinton – an offer to which he responded by saying "I love it".
Donald Trump's son-in-law, Jared Kushner, and the Trump campaign's then-charmain, Paul Manafort, also attended the meeting.
Despite the claim that we would be given damaging information about Ms Clinton, Mr Trump Jr said Ms Veselnitskaya spoke during their 9 June meeting mostly about Russian adoptions and the Magnitsky Act.
The following week, Ms Veselnitskaya attended a screening of the film, which she had helped promote, that criticised Mr Browder and US sanctions on Russians.
Mr Rohrabacher's office is reported to have also actively promoted the screen of the movie at the Newseum in Washington, DC, even after House Foreign Affairs Committee chairman Ed Royce had prohibited the congressman from showing the film in Congress.
Invitations to attend the movie screening were sent from the subcommittee office by Catharine O'Neill, a Republican intern on Mr Rohrabacher's committee. Her email promised that the movie would convince viewers that Magnitsky, who was murdered in a Russian prison cell, was no hero, The Daily Beast said.
Mr Rohrabacher press secretary, Ken Grubbs, told the news outlet: "That invitation was not from our office."
"O'Neill was an unpaid intern on the committee staff. Paul denies asking her to send the invitations," he added, referring to the congressman's staff director, Paul Behrends.
Mr Rohrabacher's office was given the film by the Prosecutor General's office in Moscow.
News outlets have also reported that Rinat Akhmetshin, a former Soviet military counterintelligence officer, also attended the meeting between Mr Trump Jr and Ms Veselnitskaya.
Mr Akhmetshin, now a lobbyist in Washington, has met with Mr Rohrabacher at least twice about US relations with Russia. He reportedly lobbied the congressman to help remove Mr Magnitsky's name from a global anti-corruption law.
Mr Rohrabacher's office did not respond to The Independent's request for comment.
Join our commenting forum
Join thought-provoking conversations, follow other Independent readers and see their replies