The Republican candidates have learned from Trump's legal woes and are condemning Jan 6 – aside from Vivek Ramaswamy
The former vice president had a standout moment at the first Republican debate as he put himself forward as the defender of the Constitution, Gustaf Kilander writes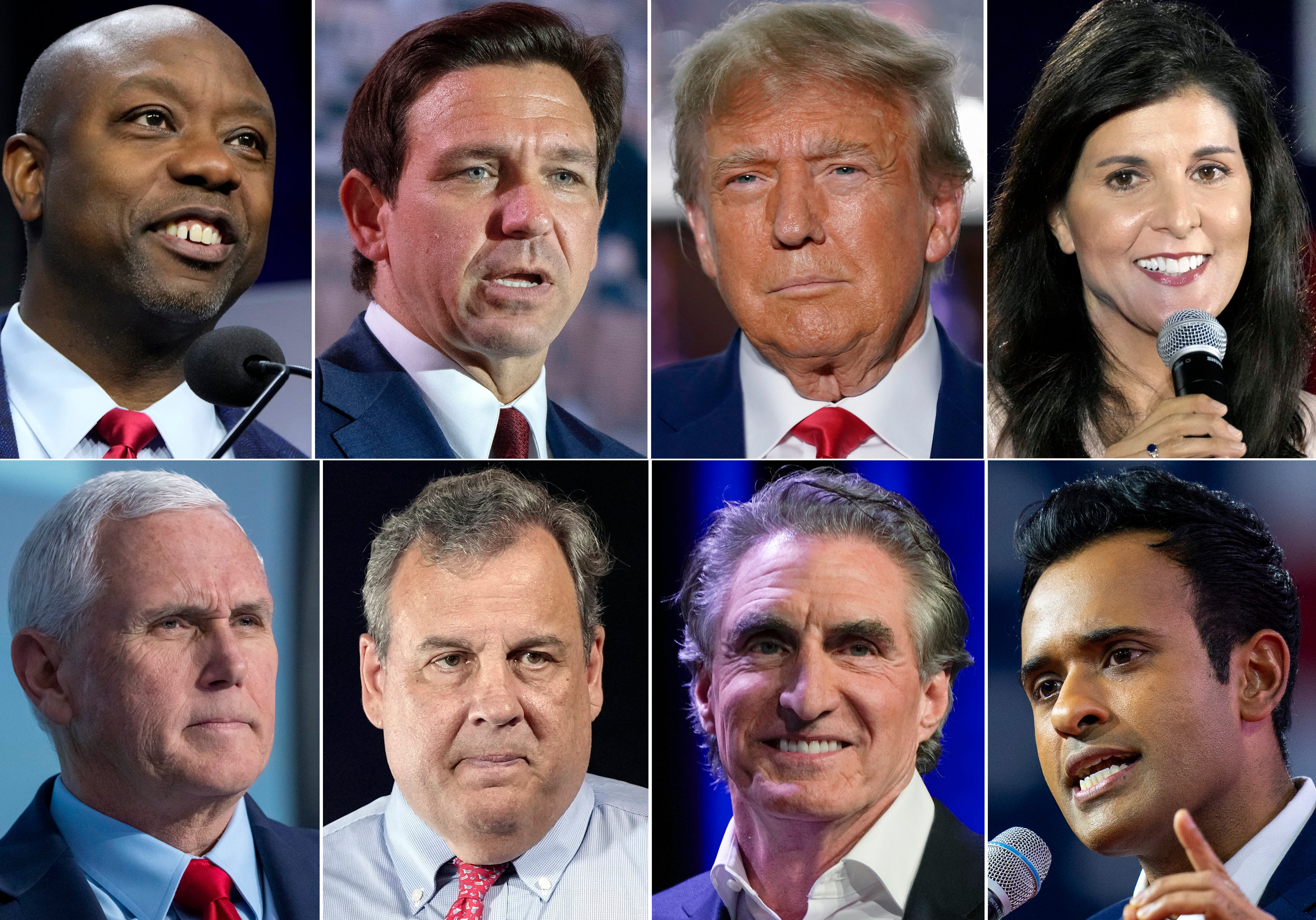 All but one of the Republican candidates appeared to have learned from former President Donald Trump's deepening legal woes as they appeared for the first Republican primary debate in Milwaukee.
Former Vice President and 2024 candidate Mike Pence stood firmly behind his decision to certify President Joe Biden's 2020 election victory despite mounting pressure from Mr Trump and his supporters, which included violent threats to his life.
Mr Pence was praised by the candidates next to him on the debate stage, apart from entrepreneur Vivek Ramaswamy, who came out swinging with conspiracy theories making the rounds on rightwing social media on a variety of topics.
Mr Ramaswamy instead called on Mr Pence to commit to pardoning Mr Trump.
"I'm the only candidate on the stage with the courage to move our nation forward," Mr Ramaswamy argued.
Mr Trump was indicted on 1 August for his efforts to overturn the election. The indictment included four counts against him and was based on a lot of information unearthed by the now-shuttered House Select Committee investigating the riot.
Announcing the charges against Mr Trump, Special Counsel Jack Smith said: "The attack on our nation's Capitol on January 6, 2021, was an unprecedented assault on the seat of American democracy."
"It was fueled by lies, lies by the defendant targeted at obstructing a bedrock function of the US government – the nation's process of collecting, counting and certifying the results of the presidential election," he added.
This is a rundown of what the GOP presidential candidates have said about the January 6 insurrection:
Donald Trump
Mr Trump has used the riot to spread an alternative reality in which patriotic Americans fought against a massive fraud imposed on the public.
He has promised pardons for the rioters, claiming that they're political prisoners persecuted for their beliefs and not for the violent rampage that ensued after Mr Trump's speech on January 6. He has argued that the investigation into his actions is politically motivated. He has been going after President Joe Biden and Attorney General Merrick Garland, and has repeatedly called Mr Smith "deranged".
Mr Trump is clinging to the lie that the 2020 election was stolen even as he faces mounting legal problems stemming from his actions connected to those falsehoods both at the federal level and at the state level in Georgia.
During an interview with former Fox News host Tucker Carlson broadcast on 23 August, Mr Trump repeated his lies about the 2020 election and the violent crowd on January 6.
"People in that crowd said it was the most beautiful day they've ever experienced. There was love in that crowd. There was love and unity," he said. "I have never seen such spirit and such passion and such love. And I've also never seen, simultaneously, and from the same people, such hatred of what they've done to our country."
Just months after the riot, in March 2021, he told The Washington Post that the rioters were a "loving crowd" and that what took place was "too bad".
He claimed that the violent mob was "ushered in by the police… I mean, in all fairness – the Capitol Police were ushering people in. The Capitol Police were very friendly. You know, they were hugging and kissing".
Also in 2021, he erroneously told Fox Business Network's Maria Bartiromo that one million people had come to listen to him speak at the so-called "Stop the Steal" rally ahead of the riot.
"There was such love at that rally ... They felt the election was rigged. That's why they were there. And they were peaceful people. These were great people. The crowd was unbelievable," he claimed.
In October of that year, audio leaked to Axios of Mr Trump speaking to Jonathan Karl of ABC News.
Karl asked about Trump supporters chanting "Hang Mike Pence" at the rally, to which Mr Trump said it was "common sense" as his supporters genuinely believed that the election had been rigged.
Ron DeSantis
After trying to avoid answering if Mr Pence did the right thing on January 6 during the 23 August GOP debate and instead talking about the supposed "weaponisation" of the federal government, a seemingly frustrated Mr DeSantis said, "Mike did his duty, I got no beef with him".
The Florida governor said last month that the Capitol riot wasn't an "insurrection," instead calling it a "protest" which "ended up devolving, you know, in a way that was unfortunate, of course".
Speaking on a podcast hosted by comedian Russell Brand, Mr DeSantis said that the notion that January 6 "was a plan to somehow overthrow the government of the United States is not true, and it's something that the media had spun up".
"If somebody is honestly doing an insurrection against the US government, then prove that that's the case and I'll be happy to accept it, but all you're showing me is that there were a lot of protesters there and it ended up devolving, you know, in a way that were unfortunate, of course. But to say that they were seditionists is just wrong," he said.
In January 2022, he said at a press conference that it was "an insult to people" to refer to it as an insurrection when "nobody has been charged with that".
Six members of the far-right group the Oath Keepers and four members of the Proud Boys have been convicted of seditious conspiracy.
While campaigning in June in New Hampshire, Mr DeSantis said he "didn't enjoy seeing" the events of January 6 but added that "we've got to go forward on this stuff. We cannot be looking backwards".
In July, Mr DeSantis slammed Mr Trump's actions on that day.
He said Mr Trump "should have come out more forcefully" against the riot, but the governor questioned if the former president's actions rose to the level of a crime.
During a July press conference, Mr DeSantis said, "I think that we want to be in a situation where you don't have one side just constantly trying to put the other side in jail. And that's, unfortunately, what we're seeing now".
Vivek Ramaswamy
The tech entrepreneur appeared on Fox News last month saying that Mr Trump showed "bad judgment" but that that's "not the same thing as a crime".
"I would have made different judgments than Donald Trump made – that is why I'm running in this race for the presidency – the same race that he's in. Because I would have made different and, I believe, better judgments for the country," he said.
"But a bad judgment is not the same thing as a crime. And when we conflate the two, that sets a dangerous precedent for this country," he added. "I don't want to see us become some banana republic where the party in power uses police force to arrest its political opponents."
Mr Ramaswamy wrote in one of his books that Mr Trump inaccurately claimed that the 2020 election was stolen and subsequently raised millions from his supporters.
Six days after the riot, Mr Ramaswamy tweeted: "What Trump did last week was wrong. Downright abhorrent. Plain and simple."
Instead of condemning the riot, during the debate on 23 August, Mr Ramaswamy called on Mr Pence to commit to pardoning Mr Trump if elected.
Chris Christie
The former New Jersey Governor tweeted in July that Mr Trump's "conduct on January 6th proves he doesn't care about our country and our Constitution".
On CNN earlier this month, he said that Mr Trump asked his supporters "to march up to Capitol Hill to stop what was going on up there. He said he would march with them, but … I knew that if Donald Trump had a risk of breaking a fingernail, he's such a coward that he wouldn't go up to Capitol Hill".
"So he went back to the safety of the White House and sent those folks up there to do what they did, which was to create, many of them, violent conduct up on Capitol Hill," he added.
About a year after the riot, in February 2022, Mr Christie appeared on ABC's This Week, saying that "January 6 was a riot that was incited by Donald Trump in an effort to intimidate Mike Pence and the Congress".
"He actually told the truth by accident. He wanted the election to be overturned," Mr Christie said, adding that Mr Trump's actions were beneath the dignity of the White House.
"I think everything that he was saying from election night forward incited people to that level of anger," he previously told CNN.
During the debate on 23 August, Mr Christie praised Mr Pence, saying that "Mike Pence stood for the Constitution, and he deserves not grudging credit – He deserves our thanks as Americans for putting his oath of office and the Constitution of the United States before personal, political and unfair pressure".
"And the argument that we need to have in this party ... is we have to dispense with the person who said that we need to suspend the constitution to put forward his political career. Mike Pence said no, and he deserves credit for it," Mr Christie said in reference to Mr Trump.
Nikki Haley
During the debate on 23 August, Ms Haley said, "I do think that Vice President Pence did the right thing. And I do think that we need to give him credit for that".
"When it comes to whether President Trump should serve or not, I trust the American people – let them vote. Let them decide," she added. "It is time for a new generational conservative leader. We have to look at the fact that three-quarters of Americans don't want a rematch between Trump and Biden. And we have to face the fact that Trump is the most disliked politician in America. We can't win a general election that way".
The former South Carolina governor and UN ambassador said "It was not a beautiful day, it was a terrible day, and we don't ever want that to happen again," during a town hall in Iowa in May.
"I don't know enough about each individual [rioter] but that's my rule – if you break the law, you pay the price," she added, according to NBC.
Two days after the riot, she told the RNC that Mr Trump's "actions since Election Day will be judged harshly by history".
She later told Politico that Mr Trump "went down a path he shouldn't have, and we shouldn't have followed him, and we shouldn't have listened to him. And we can't let that ever happen again".
Join our commenting forum
Join thought-provoking conversations, follow other Independent readers and see their replies