'It's hard on our family': For these lawmakers with trans children, Republican attacks are personal
Elected officials combatting the onslaught of legislation targeting LGBT+ children are reclaiming a right-wing 'parent's rights' movement that has neglected their stories, they tell Alex Woodward
Friday 30 June 2023 11:40 EDT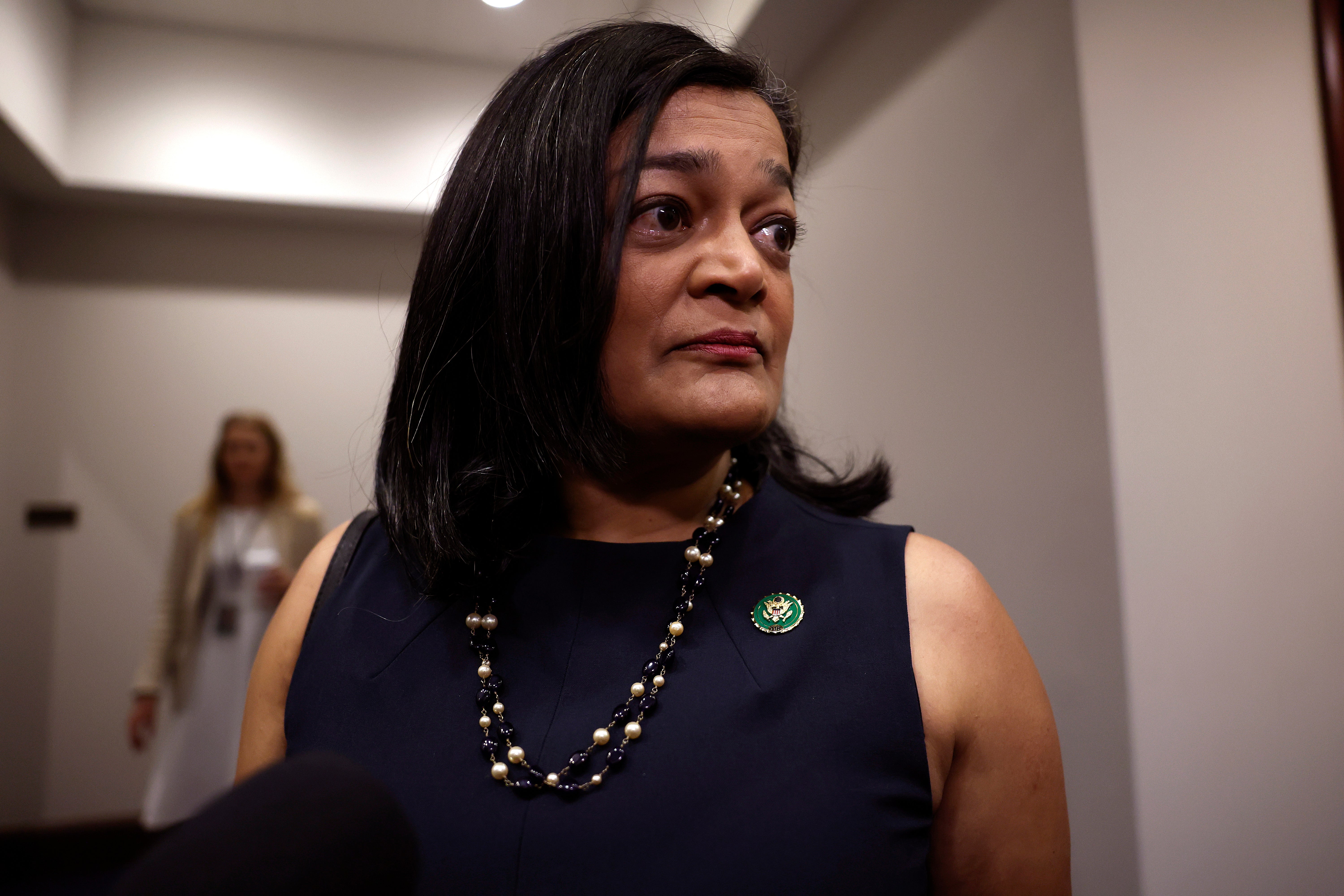 In 2019, for the first time, Pramila Jayapal shared with members of Congress the joy of her then-22-year-old child's "newfound freedom" embracing their gender identity.
"My child is finally free to be who they are," she wrote after a hearing. "With that freedom comes a responsibility, for us as legislators, to legislate with love and not fear."
Four years later, when her House colleagues introduced legislation to ban transgender women and girls from sports consistent with their gender, the congresswoman – the "proud mom of a trans kid" – shared the pain she felt against a wave of similar bills and the hateful rhetoric fuelling them.
"I know that when my daughter came out it was not an easy process," she said. "What she continues to see around her, and from politicians, unfortunately, is a condemning of who she is. We cannot allow that to happen."
Ms Jayapal is among parents in Congress and in state legislatures across the country combatting legislation to define the sports their children can play as themselves; the bathrooms, names or pronouns they can use; and what medically recommended and potentially life-saving medical care they can receive.
"It's really hard. It's hard on our family, it's hard on my daughter to see this – I think she has the comfort of community around her, that supports her, including her very fierce mother," Ms Jayapal tells The Independent.
"I have people, parents, and kids who come up to me … who just ask if they can hug me and start crying," she says. "Grown men, women and kids and people who just are really fearing for their safety and for their future."
One of the most prominent voices against sweeping legislation targeting LGBT+ people in Kentucky is Karen Berg, a state senator whose transgender son Henry died by suicide in late December. In Nebraska, where the state's unicameral legislature is the smallest in the country, with a small body of lawmakers who know one another intimately, state Senator Megan Hunt joined an epic filibuster to combat anti-trans legislation that would impact her 13-year-old trans son.
US Rep Katherine Clark, the Democratic Whip in the House of Representatives, has endured ongoing right-wing media scrutiny and social media harassment involving her trans daughter Riley. Now-former US Rep Marie Newman, whose daughter is trans, mounted a trans pride flag outside her office after far-right congresswoman Marjorie Taylor Greene unleashed a vitriolic string of transphobic statements.
Parents first, these lawmakers and others have centred the experience of their children and the lives of other trans and nonbinary Americans in their testimony and advocacy, reclaiming the so-called "parents' rights" movement that has sought to remove trans stories from public life altogether.
"I'm not gonna lie – I get really hot under the collar," Ms Jayapal says. "And I try to control myself. But it is personal. And it is also collective. It's both. And I see over and over again, that people across the country are just disgusted and shocked and saddened by what this Republican Party has resorted to."
LGBT+ Americans want to live "their full, authentic selves, and they want to be able to access all the same services that everyone wants," she says. "I'm never gonna stop fighting for them. And they can count on me to be there and to stand up for them and to push back and push forward."
A new wave of vitriol and 'baffling' legislation
In 2016, the day after Donald Trump's presidential victory, Marie Newman decided to run for Congress.
Her daughter, Evie, began transitioning two years earlier. Her fears of a coming tide of legislation targeting LGBT+ Americans, emboldened by the incoming administration, compelled her mother to run for office.
"The day after Trump was elected my daughter came downstairs and said, 'Mom, am I going to be safe?'" Ms Newman tells The Independent from her office in Chicago.
In the years after Trump's election and Ms Newman's two years in Congress, lawmakers across the country introduced a record number of bills targeting LGBT+ Americans as Republican officials weaponise anti-trans attacks for 2024 campaigns.
"It's baffling to me," Ms Newman says. "They're effectively creating a problem where there is nothing. They've created this weird and creepy solution for a zero problem."
By the end of May, state lawmakers had introduced more than 500 bills impacting LGBT+ people in 2023, including 220 bills specifically targeting trans and nonbinary Americans, according to an analysis from the Human Rights Campaign.
Republican members of Congress have also introduced federal legislation that mirrors some of the proposals dominating state capitols.
One measure would impose national restrictions on trans athletes, and another bill would impose a similar but more-expansive version of what critics have called state-level "Don't Say Gay" bills used to restrict classroom discussion of LGBT+ people and events.
Opponents of so-called "Don't Say Gay" laws have sparked fears that their broad scopes could effectively block discussion of LGBT+ people, history and events from state schools, and be weaponised against students, staff and their families under threat from potential lawsuits against school districts over perceived violations.
A federal version backed by more than 30 House Republicans would ban institutions that receive federal funds from hosting "sexually oriented" discussion, materials and events where children could be present.
Congresswoman with transgender daughter decries GOP 'attacks' on trans youth
Democratic members of Congress, meanwhile, have repeatedly introduced the Equality Act, which would amend the landmark Civil Rights Act of 1964 to add federal protections from discrimination on the basis of sexual orientation and gender identity.
The measure, which has the support of President Joe Biden, has been introduced five times in both chambers of Congress since 2015.
In her remarks to the House in 2021 in support of the legislation, Ms Newman said she recognised that from the moment her daughter came out as trans, she "would be living in a nation, where in most of its states, she would be discriminated against merely because [of] who she is."
"And yet it was the happiest day of my life, and my daughter has found her authentic self," she said.
Far-right US Rep Marjorie Taylor Greene of Georgia, among the most noxious voices against LGBT+ rights in Congress, has called the Equality Act "disgusting," "immoral" and "evil". Following Ms Newman's testimony, she intentionally misgendered the lawmaker's daughter.
Ms Newman, whose office was located directly across the hall from Ms Greene's, responded by hoisting a trans pride flag outside her door. Ms Greene replied with a poster outside her office reading: "There are TWO genders: Male & Female. Trust The Science!"
Ms Newman says she couldn't care less what kinds of posters Ms Greene hangs outside her office, but "what we can't have is lawmakers going after one another's families – that is not acceptable."
"The vitriol is unabashed now. We see lawmakers going after one another in the hallways in their offices, and they're on the floor, everywhere and then creating rallies – hate rallies," Ms Newman tells The Independent. "I'm worried about democracy, and I'm worried about our level of ability to live with one another. It's alarming."
'Their platform is hate'
Nebraska has a population of fewer than 2 million people. It is also the smallest legislature in the country, with only 49 members. All of state senator Megan Hunt's colleagues have met her child. Many of them have babysat for Ms Hunt or travelled with her family for legislative work.
"Many of you have helped me take care of him," she told lawmakers earlier this year as they considered legislation to outlaw gender-affirming healthcare for trans youth.
"And this bill, colleagues, is such an affront to me, personally, and would violate my rights to parent my child in Nebraska. And I just want to tell you that. I want to stop letting that go unsaid, actually," she said.
Her viral remarks dropped the facade of performative "civility" in legislative debates across the country, underscoring the attacks against her own family coming from members of a small body of lawmakers that she has known for years.
Much of that legislation has been drawn from a handful of conservative Christian special interest groups and right-wing lobbyists, working in tandem with state lawmakers to introduce nearly identical bills across the US.
The debates surrounding trans care are "totally cooked up to divide us, to put divisions in our country, and they don't even reflect what most people care about," Ms Hunt told The Independent earlier this year.
"These groups have a long history of using religion to justify discrimination and marginalization," she said. "It's always about finding another scapegoat. And who could be a better scapegoat than children. They don't have a lobby, they don't have a lot of money, they are not fighting for themselves as much as other groups are. And for me, it's just too far. … I didn't run for office to do this bull****."
Ms Hunt was the subject of a complaint to Nebraska's Accountability and Disclosure Commission filed by a right-wing activist lawyer, who alleged that, because her son is trans, her opposition to legislation potentially impacting his healthcare is a conflict of interest.
The complaint was condemned by lawmakers from both parties.
"They can punish me any way they want to. But when we're talking about human rights, we're talking about trans rights. That's not a partisan issue. It's not a political issue. It's about standing up in the face of blatant discrimination against an entire group of people," she told The Independent. "And there's only one right answer, which is to not legislate hate against other people."
'Don't say hi to me in the hall': Nebraska lawmaker calls out GOP over anti-trans bill
Kentucky state Senator Karen Berg did not intend to run on a platform around LGBT+ rights, nor did she predict a fever in state capitols to dismantle them.
"I never thought, 'Oh, my God, we're gonna take two steps forward, and then 100 years back'," she tells The Independent from her home in Kentucky. "I did not see it."
Henry Berg-Brousseau – her 24-year-old son and a press secretary for the Human Rights Campaign, the nation's largest LGBT+ civil rights organisation – did.
"He had known and he was telling me this was coming for a year and a half or more, maybe. He was dreading the state session," she tells The Independent.
Henry died by suicide on 16 December.
After her son's death, Ms Berg prepared for the eight-week legislative session ahead of her, as Republican lawmakers in the state prepared what opponents have labeled as one of the most far-reaching anti-trans laws in the nation.
On 28 June, a federal judge struck down parts of the law that ban affirming healthcare, among a string of recent federal court decisions that have tossed out or temporarily blocked gender-affirming care bans in several states.
Ms Berg sees the fight for LGBT+ rights in state legislatures as part of a broader anti-democratic threat from a Republican Party that is "trying to divide us because they think it is the only way to win at this point".
"Their agenda and their policy and their platform is hate," Ms Newman says. That agenda thrives, in part, within a feedback loop of well-funded special interest groups and political action committees relying on candidates' anti-trans rhetoric, she says.
'A focal point for hope'
In remarks on the House floor to recognise Trans Day of Visibility on 31 March, US Rep Katherine Clark of Massachusetts stood to honour "trans joy that deserves to be celebrated – not eradicated," sharing her "unconditional love" for her trans daughter.
"I rise in solidarity with every trans American seeking nothing less than their inalienable right to the pursuit of happiness," she added.
"To stand in the way of that right is to stand against our most basic American values, but that's exactly what MAGA extremists are doing across this country," said Ms Clarke, condemning the "especially vicious crusade on our kids."
In response to those attacks, Ms Jayapal has introduced a Trans Bill of Rights, an ambitious policy framework for federal protections for trans and nonbinary people.
"We needed a positive vision," she tells The Independent. "Obviously the Equality Act is a big part of that, but something that really centered trans people in particular."
The proposal, supported by dozens of civil rights organizations and drafted with input from trans rights groups, outlines a series of federal government protections against discrimination in all aspects of public life, including housing, education and healthcare.
A Trans Bill of Rights is unlikely to advance in Congress, but it has served as an instructive organising tool among advocates and lawmakers to illustrate the chasm between current protections and unrealized demands.
"Every time I talk about it, it becomes a focal point for hope," Ms Jayapal says. "And for a sense of justice to continue to prevail, that we know what we're striving for – even if we're having to fight all this opposition and cruelty right now."
The flood of anti-trans bills and the political debates surrounding them have also negatively impacted the mental health of an overwhelming majority of young trans and nonbinary people, according to polling from The Trevor Project and Morning Consult.
Two-thirds of young LGBT+ people reported that political debates surrounding their identities have made their mental health worse.
Such stark disparities and the concurrent legal battles surrounding trans rights throughout Pride Month have underscored the need to recognise the "healing and the hurt" in those celebrations, Ms Jayapal says.
Much of that can start at home, according to LGBT+ advocates. Fewer than 40 per cent of LGBT+ youth found their home to be affirming, according to The Trevor Project. Trans and nonbinary youth living in homes where their pronouns are respected reported lower rates of attempting suicide.
Ms Jayapal often speaks with parents who ask her how she came to understand what her daughter experienced, helping to alleviate a tension among some families that are unsure how to correctly respond to their child's identity.
"You don't have to know everything upfront, and you don't have to be afraid of making a mistake with language or not being fully aware or educated on even what the process of transitioning looks like," Ms Jayapal says.
"You can learn all of that. The most important thing is that your child feels like you are there for them, that you're willing to learn and that you're supportive, that she or he is the same person they've always been."
If you are based in the US and seek LGBT+ affirming mental health support, resources are available from Trans Lifeline (877-565-8860) and the LGBT Hotline (888-843-4564), as well as The Trevor Project (866-488-7386, or text START to 678-678).
If you are experiencing feelings of distress, or are struggling to cope, you can speak to the Samaritans, in confidence, on 116 123 (UK and ROI), email jo@samaritans.org, or visit the Samaritans website to find details of your nearest branch.
If you are based in the US, and you or someone you know needs mental health assistance right now, call or text the 988 Suicide & Crisis Lifeline at 988. This is a free, confidential crisis hotline that is available to everyone 24 hours a day, seven days a week.
If you are in another country, you can go to www.befrienders.org to find a helpline near you.