From New York to Los Angeles police departments denounce Donald Trump's endorsement of 'police brutality'
Dignity and respect of suspects hailed 'bedrock principle behind police legitimacy'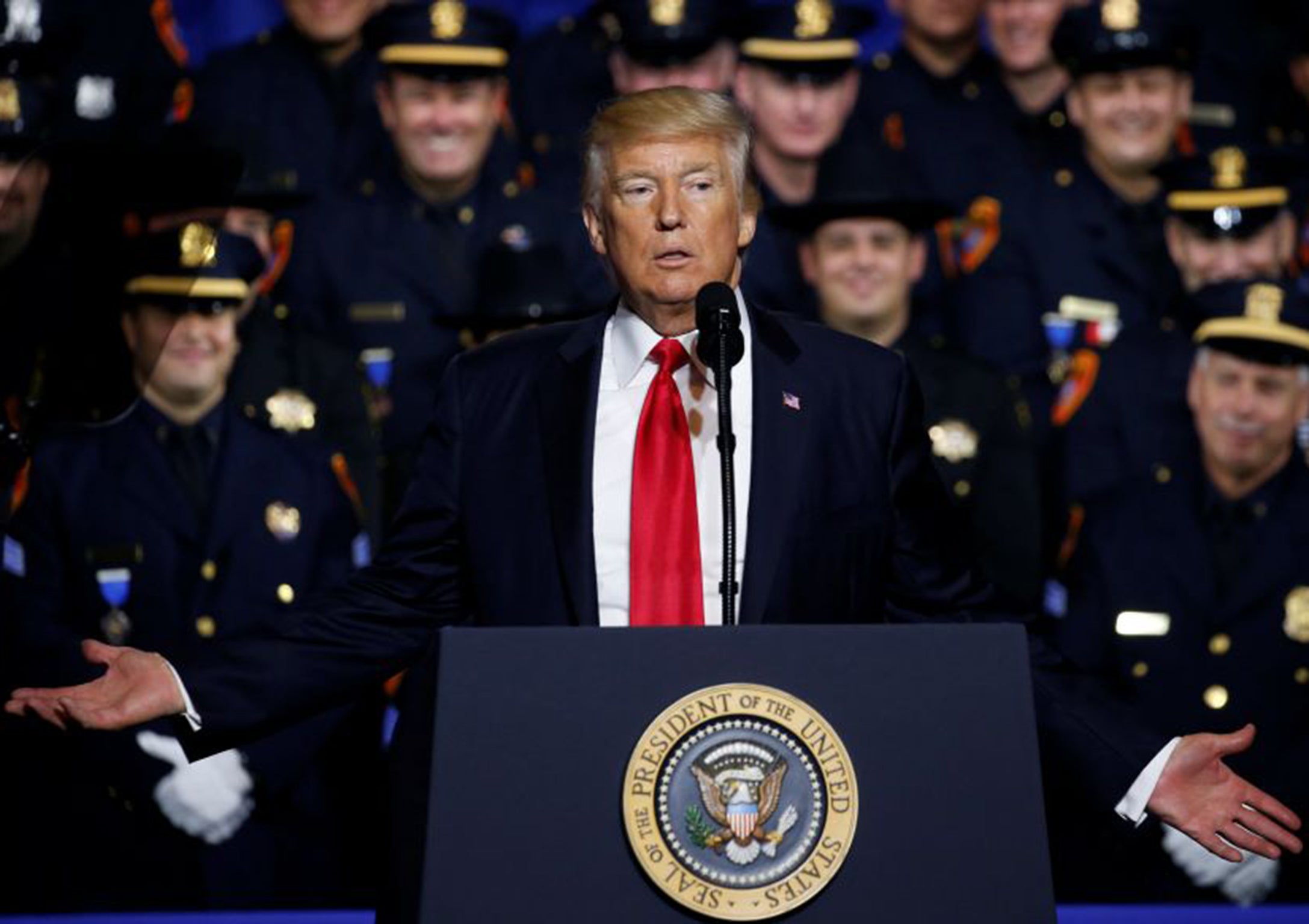 Police departments across the US have criticised Donald Trump after he told officers not to be "too nice" with suspects in a speech which seemingly encouraged police brutality.
Law enforcement authorities from New York to Los Angeles have slammed the President's comments and experts have warned the remarks could encourage inappropriate use of force among officers.
The backlash came after Mr Trump gave a speech to police in Brentwood, New York, which was intended to support police in the fight against the MS-13 gang, which has been accused of numerous murders across the US.
During his speech, Mr Trump suggested officers should not protect suspects' heads when pushing them into police vehicles and his comments were greeted with loud applause and laughter by the audience of law enforcement officials.
He said: "When you see these towns and when you see these thugs being thrown into the back of a paddy wagon — you just see them thrown in, rough — I said, 'Please don't be too nice."
"Like when you guys put somebody in the car and you're protecting their head, you know, the way you put their hand over? Like, don't hit their head and they've just killed somebody — don't hit their head. I said, 'You can take the hand away, okay?'" he added.
But New York police commissioner James O'Neill told the The New York Times the department's training and policies about the use of force "only allow for measures that are reasonable and necessary under any circumstances, including the arrest and transportation of prisoners".
World news in pictures
Show all 50
He said: "To suggest that police officers apply any standard in the use of force other than what is reasonable and necessary is irresponsible, unprofessional and sends the wrong message to law enforcement as well as the public."
The department which covers the easternmost part of Long Island was quick to respond after the department's former chief James Burke was sentenced to nearly four years in prison for beating a handcuffed man in an interrogation room last year.
Los Angeles Police Chief Charlie Beck also criticised Mr Trump's comments on Twitter. Responding to another tweet by a law enforcement officer named as Deon Joseph, who said he would not start roughing up suspects because of a "dumb remark by POTUS", Mr Beck wrote: "If an officer acts outside the law, it serves only to undermine the hard work and sacrifice they make to keep this city safe."
He was joined by Steve Soboroff, one of the civilian commissioners who oversees the police department told the Los Angeles Times that Mr Trump's remarks stood in sharp contrast to the departments' philosophy on the way to treat suspects.
"What the president recommended would be out of policy in the Los Angeles Police Department. It's not what policing is about today," he said, before adding: "I have faith that any one of our officers would not take their hand off someone and bang their head into a car because that's what the President of the United States recommends."
The Suffolk County Police Department also responded within hours on Twitter saying: "As a department, we do not and will not tolerate roughing up of prisoners.
"The SCPD has strict rules and procedures relating to the handling of prisoners. Violations of those rules are treated extremely seriously."
Both the International Association of Chiefs of Police and the Police Foundation also hit back at Mr Trump's remarks.
In a statement the IACP said treating all individuals including suspects, complainants and defendants with dignity and respect was "the bedrock principle behind the concept of procedural justice and police legitimacy".
The Police Foundation added "we cannot support any commentary - in sincerity or jest - that undermines the trust that our communities place in us to protect and serve".
Boston Police Commissioner William Evans echoed the importance of building trust with communities law enforcement officers serve.
"The Boston Police Department 's priority has been and continues to be building relationships and trust with the community we serve. As a police department we are committed to helping people, not harming them," he told local radio WBZ.
Ben Tobias, a spokesman for the Police Department in Gainesville, Florida, also drew huge attention after he tweeted that he disagreed with Mr Trump's remarks and that those who "cheered should be ashamed".
Join our commenting forum
Join thought-provoking conversations, follow other Independent readers and see their replies