Comfort women: Osaka cuts ties with sister city San Francisco over statue memorialising military sex slaves
The cities have been tied since 1957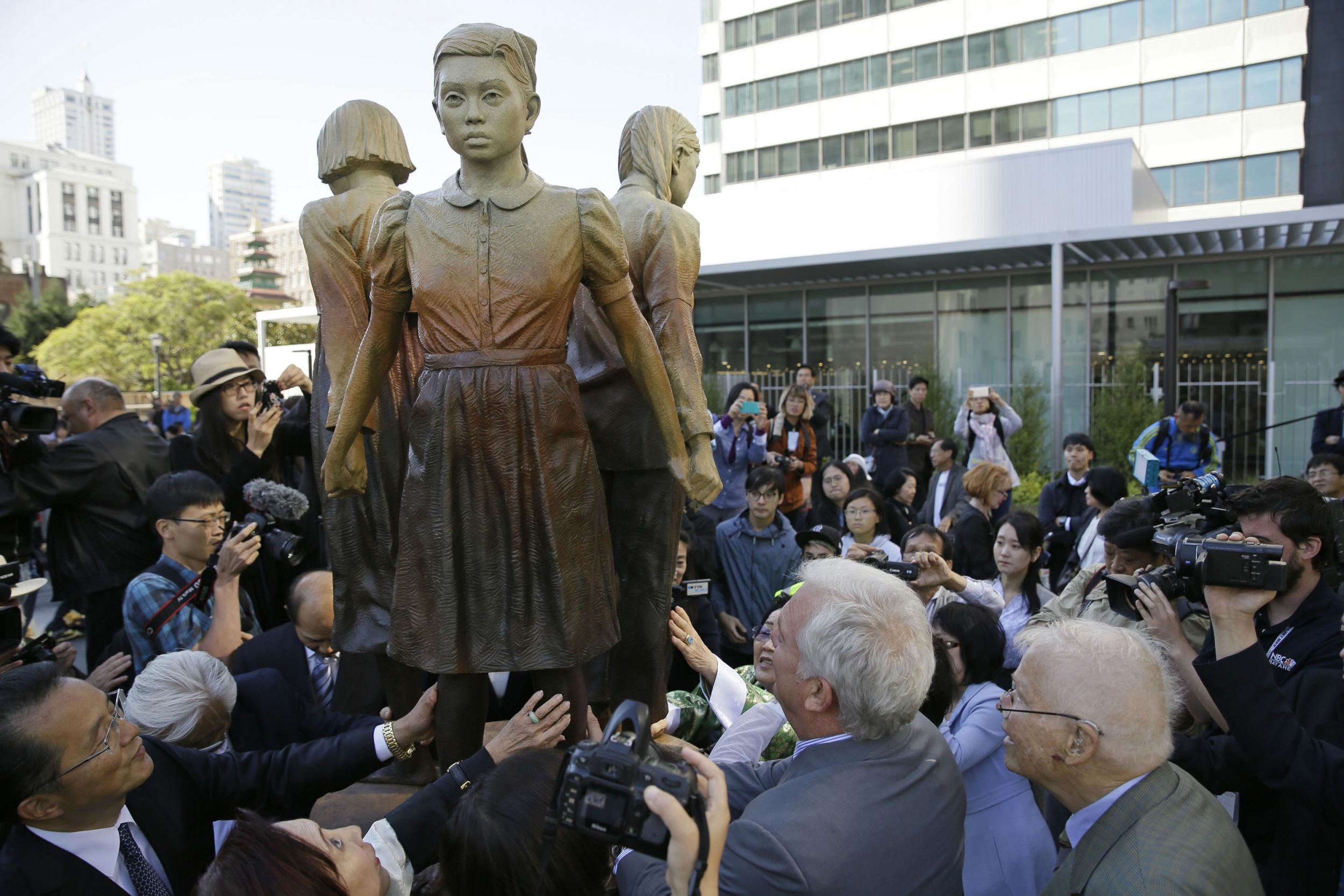 The mayor of Osaka has said he plans to cut a six-decade tie with its sister city, San Francisco, after a sculpture showing controversial "comfort women" was named as an official statue.
The issue of so-called comfort women, the phrase used to describe the women who were forced in Japan's military brothels during war time, has long strained relations with neighbours such as China and Japan.
The statue has three figures holding hands, representing girls from Korea, China and the Philippines. Alongside them is a likeness of the Korean activist Kim Hak-sun.
The San Francisco Chronicle said the sculpture was idea of two retired San Francisco judges, Lillian Sing and Julie Tang, who wanted to remember the estimated 200,000 women from Asian-Pacific countries who forced into sexual slavery by the Japanese Imperial Armed Forces from 1931 until the war ended in 1945.
The newspaper said it was the first sculpture to honour comfort women in a major American city and comes as historians seek to gain a broader understanding of the atrocities carried out during the war. There are dozens of such statues in South Korea and a handful in small cities around the United States.
South Korea: 'Comfort women' foundation launched amid protests
Ed Lee, the mayor of San Francisco, which has 18 sister cities, signed a resolution on Wednesday that accepted the transfer of the statue as city property.
"This is highly regrettable," Osaka Mayor Hirofumi Yoshimura told reporters in Japan, according to Reuters.
"The relationship of trust has completely been destroyed."
World news in pictures
Show all 50
In January, Japan temporarily recalled its ambassador to South Korea over a comfort women statue put up near its consulate in the southern city of Busan.
In 2015, Japan and South Korea agreed the issue of would be "irreversibly resolved" if both sides fulfilled their obligations, including a Japanese apology and a fund to help victims.
But South Korean President Moon Jae-in has said many South Koreans did not accept the deal reached by his conservative predecessor and Japanese Prime Minister Shinzo Abe.
Ms Tang, one of people behind the statue said she was after hearing Mr Yoshimura's comments.
"I think its a shame They're turning history on its head," she said.
"Yoshimura is turning this into a geopolitical issue. It's not. It's a human rights issue. This is a global women's issue to fight against sexual violence and using women as sex objects as a strategy of war."
Join our commenting forum
Join thought-provoking conversations, follow other Independent readers and see their replies