Obama says he personally warned Putin to 'cut it out' over election hacking
In his final press conference of the year, President Obama warns Russia that the US can reciprocate cyber offensives, as well as lamenting America's divided politics and the situation in Syria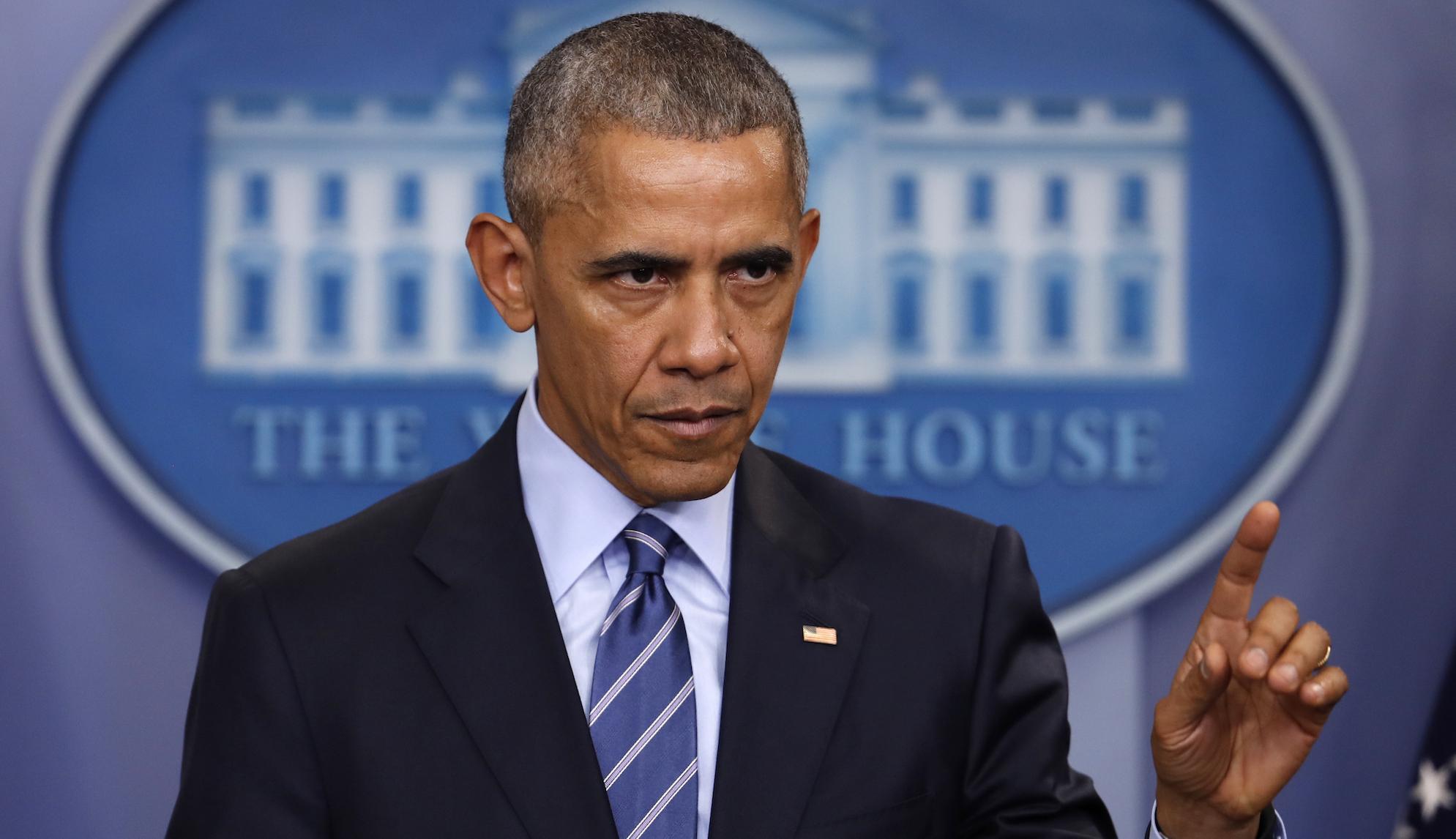 In his final press conference of the year, President Barack Obama has said that he had told President Vladimir Putin to "cut it out" following allegations that Russia conducted cyber attacks against the United States.
"What I was concerned about in particular was making sure [the hack of the Democratic National Convention] wasn't compounded by potential hacking that could hamper vote counting, affect the actual election process itself," the president said of his September meeting with his Russian counterpart.
He also said that his conversation prevented any further hacking against his country's election infrastructure.
"So in early September when I saw president Putin in China, I felt that the most effective way to ensure that that didn't happen was to talk to him directly and tell him to cut it out and there were going to be serious consequences if he didn't. And in fact, we did not see further tampering of the election process—but the leaks... had already occurred."
Mr Obama declined to state explicitly that Mr Putin knew about the email hacking that tarnished the presidential election race, but left little doubt about who he thought was involved. He said that "not much happens in Russia without Vladimir Putin" and repeated a US intelligence assessment "that this happened at the highest levels of the Russian government." In news revealed just as Mr Obama was speaking,CIA Director John Brennan said in a message to employees that the FBI agrees with the CIA's conclusion that Russia's goal was to help Donald Trump win. Mr Trump himself has dismissed the CIA's assessment and has called talk of Russian hacking "ridiculous".
President Obama has promised a "proportional" yet unspecified response to the hacking of the Democratic Party and Hillary Clinton's campaign chairman. Emails stolen during the campaign were released in the final weeks by WikiLeaks. However, during his news conference on Friday he went further, warning Mr Putin that the US would not shy away from using cyber methods of their own in retaliation. "Whatever they do to us, we can potentially do to them," Mr Obama said.
Mr Obama expressed bewilderment about Republican legislators and voters who now say they approve of Mr Putin. He he said unless that changes the U.S. will be vulnerable to foreign influence.
"Ronald Reagan would roll over in his grave," Mr Obama added.
The President said the news coverage around the hacking and the leaks that negatively affected Hillary Clinton's presidential campaign was troubling - with the media carrying what he called an "obsession" with the flood of Democratic emails that were made public during the campaign -and that she was treated unfairly. He then addressed reports that there was "squabbling" between the White House and the upcoming Trump administration over Russia's apparent interference in November's election.
President Trump protests
Show all 20
"What we have simply said are the facts," he told reporters. "Based on uniform intelligence assessments, the Russians were responsible for hacking the DNC, and as a consequence, it is important for us to review all elements of that and make sure we are preventing that kind of interference through cyber attacks in the future."
Mr Obama said his reticence to detail publicly the US response to Russia reflected a need to retaliate "in a thoughtful, methodical way."
"The idea that somehow public shaming is [going to] be effective, I think doesn't read the thought process in Russia very well," Mr Obama said. He said he wanted to give US intelligence officials more time to produce a report about the alleged hack that is due before he leaves office on 20 January and Mr Trump is sworn in as his successor.
However he was clear that reactions to the issue should not be split down party lines. "That shouldn't be a partisan issue," Mr Obama said. "My hope is the President-elect [Mr Trump] is similarly going to be concerned that we don't have foreign influence in our election process."
The President rejected any notion that the dispute over the origin of the hacking was disrupting efforts to smoothly transfer power to Mr Trump. Despite fiercely criticising each other during the election, Mr Obama and Mr Trump have spoken multiple times since the campaign ended.
"He has listened," Mr Obama said of Mr Trump. "I can't say he will end up implementing. But the conversations themselves have been cordial."
Mr Obama also addressed two other difficult foreign policy issues during his news conference - both of which will outlast his time in the White House.
Mr Obama warned about the economic and geopolitical consequences of any breakdown in the US-China relationship, and said Mr Trump should think carefully about the diplomatic repercussions if he decides to "upend" decades of US policy.
Trump angered China earlier this month when he took a congratulatory phone call from Taiwan's president, Tsai Ing-wen - the first call of its kind since 1979 when President Jimmy Carter acknowledged Taiwan as part of "one China."
Mr Obama also condemned attacks on Syrian civilians trying to flee the city of Aleppo, blaming President Bashar al-Assad and his allies in Russia and Iran.
"This blood and these atrocities are on their hands," he said.
Mr Obama defended his decision to keep US troops out of Syria and avoid military intervention, although he acknowledged the protracted anguish has weighed on him.
"Everything else was tempting because we wanted to do something and it sounded like the right thing to do, but it was going to be impossible to do this on the cheap," he said.