Donald Trump says strictest-ever North Korea sanctions are 'no big deal'
One expert says it was an 'exceedingly silly thing to say'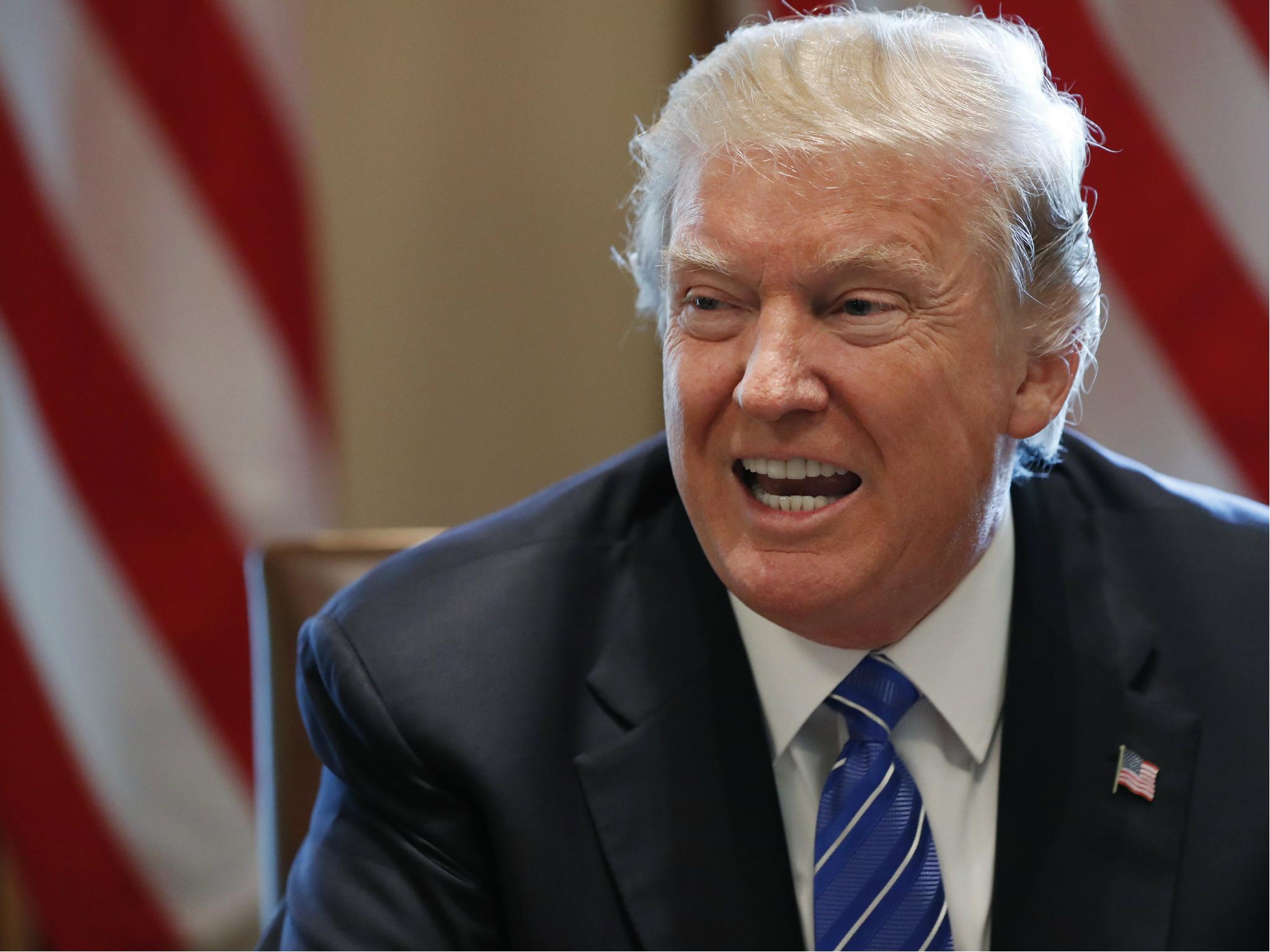 Donald Trump has called the strictest ever sanctions imposed by the United Nations Security Council on North Korea "no big deal" and nothing compared to what is to come.
The sanctions, passed by a unanimous vote, were actually weaker than the US initially wanted in order to punish Pyongyang for their sixth – and largest – nuclear test earlier this month. The US had wanted a full ban on oil exports to North Korea but diluted that to a ban on textile exports and a cap on fuel supplies in order to ensure support from China and Russia who hold the power to veto resolutions.
Though President Trump complimented the UN over the new sanctions, speaking ahead of a meeting with Malaysian Prime Minister Najib Razak he did not know if they will have "any impact" on North Korea's push to upgrade its nuclear arsenal.
"It's just another very small step. Not a big deal … but certainly it was nice to get a 15-0 vote," he added.
Mr Trump said that the sanctions, regardless of how limiting they are on Pyongyang's economy, are "nothing compared to what ultimately will have to happen".
TJ Pempel, a political science professor at the University of California, Berkeley, told The Independent that the comment is difficult to interpret because he feels Mr Trump "devotes zero time to understanding the complexities of any foreign policy issue".
Mr Pempel said the President has "trivialised" an important, unanimous, and multilateral vote.
Mr Trump has continually pushed China – North Korea's largest trading partner – to do more to rein in their isolated neighbour, veering between diplomacy and threats. On Tuesday, US Treasury Secretary Steven Mnuchin warned China that if it did not follow through on the new sanctions, the United States would "put additional sanctions on them and prevent them from accessing the US and international dollar system".
US: North Korea could be met with 'massive military response'
Meanwhile, asked if Mr Trump was considering other actions, including cutting off Chinese banks from the US financial system, White House spokeswoman Sarah Sanders said: "All options are on the table. The President has also said that he wants every country involved to step up and do more. This was a small step in that process, and we're hoping that they'll all take a greater role and a more active role in putting pressure on North Korea."
Washington so far has mostly held off on new sanctions against Chinese banks and other companies doing business with North Korea, given fears of retaliation by Beijing and possibly far-reaching effects on the world economy.
The latest UN sanctions impose caps on North Korea's oil exports, bans all textile exports, and no country is allowed to issue work permits to those holding North Korean passports. Countries will also be allowed to freeze assets of cargo ships if they refuse to undergo inspections. Originally – before negotiations with China and Russia – the US had wanted to freeze all of Mr Kim's assets, impose a travel ban on him, and have a total ban on oil imports.
For their part, both China and Russia have jointly called for a mutual freeze of activities with North Korea ceasing their nuclear programme if the US halts military drills with ally South Korea, which Pyongyang sees as "a provocation". The US has repeatedly rejected the proposal.
Kim Jong-un inspects weapon North Korea says is powerful hydrogen bomb
Show all 6
Richard Gowan, a UN expert at the European Council on Foreign Relations told The Independent that Mr Trump's latest comment is "an exceedingly silly thing to say".
He noted that Mr Trump's comments not only undermine US Ambassador to the UN Nikki Haley's passionate plea for the sanctions but also "look like a dismissal of China's readiness to cooperate".
Mr Gowan said the President's comments could be seen as a "deliberate dig" at Ms Haley since she is one of the few members of the administration getting what he called "positive press".
But the signal he sends by taking Ms Haley down a peg suggests the White House and the US mission in Turtle Bay are not in sync.
"Trump is just making his diplomats' jobs harder," Mr Gowan said.
While Mr Pempel does not think sanctions alone will solve the crisis, "they are a good multilateral step in the right direction."
The vote came just after Ms Haley claimed that Pyongyang and its mercurial leader Kim Jong-un were "begging for war". She noted that though the US did not want to use its military, its patience is running thin.
"The time has come to exhaust diplomatic means before it's too late," Ms Haley said, during an emergency meeting of the UN Security Council.
Ms Haley's words are indicative of the escalating rhetoric between the US and North Korea in recent months over Pyongyang's repeated flouting of UN restrictions on their nuclear and missile programmes.
A US intelligence official said they had no reason to doubt Mr Kim and his military had developed a hydrogen bomb. The US official said, however, it would take some time to complete a thorough analysis of the size of the blast and type of device detonated during the last North Korean test.
In July, US intelligence officials said they believed North Korea had been able to make a nuclear warhead capable of fitting on an intercontinental ballistic missile – claiming missiles will have the range to reach the US. Recently, Pyongyang also launched a missile over the Hokkaido island of Japan.
As these tests have taken place, the two sides have traded tit-for-tat threats, with Mr Trump saying North Korea would face "fire and fury" if it continued, while Pyongyang has threatened to fire rockets at the US territory of Guam.
The latest UN sanctions have proved no different, with North Korean ambassador to the United Nations, Han Tae Song, rejecting the resolution as "illegal and unlawful". he also said Washington was "fired up for political, economic, and military confrontation".
North Korea is "ready to use a form of ultimate means," Mr Han said. "The forthcoming measures ... will make the US suffer the greatest pain it ever experienced in its history."
But it is clear some on Capitol Hill want action. Frustrated legislators at a House of Representatives hearing on Tuesday called for a "supercharged" response to North Korea's nuclear and missile tests and said Washington should act alone if necessary to stiffen sanctions on Chinese firms and any country doing business with Pyongyang.
Ed Royce, the Republican chairman of the House Foreign Affairs Committee, said time was running out and Chinese firms should be given "a choice between doing business with North Korea or the United States".
Mr Trump is scheduled to speak next week at the UN General Assembly, as is customary for US presidents. What he says may or may not cause "diplomatic panic", Mr Gowan cautioned.
Join our commenting forum
Join thought-provoking conversations, follow other Independent readers and see their replies