Trump's UN ambassador Nikki Haley boasts about cutting 'more than $500m from the UN peacekeeping budget'
Under the proposed budget, the UN will spend $7.3bn on peacekeeping in the next year, down from $7.87bn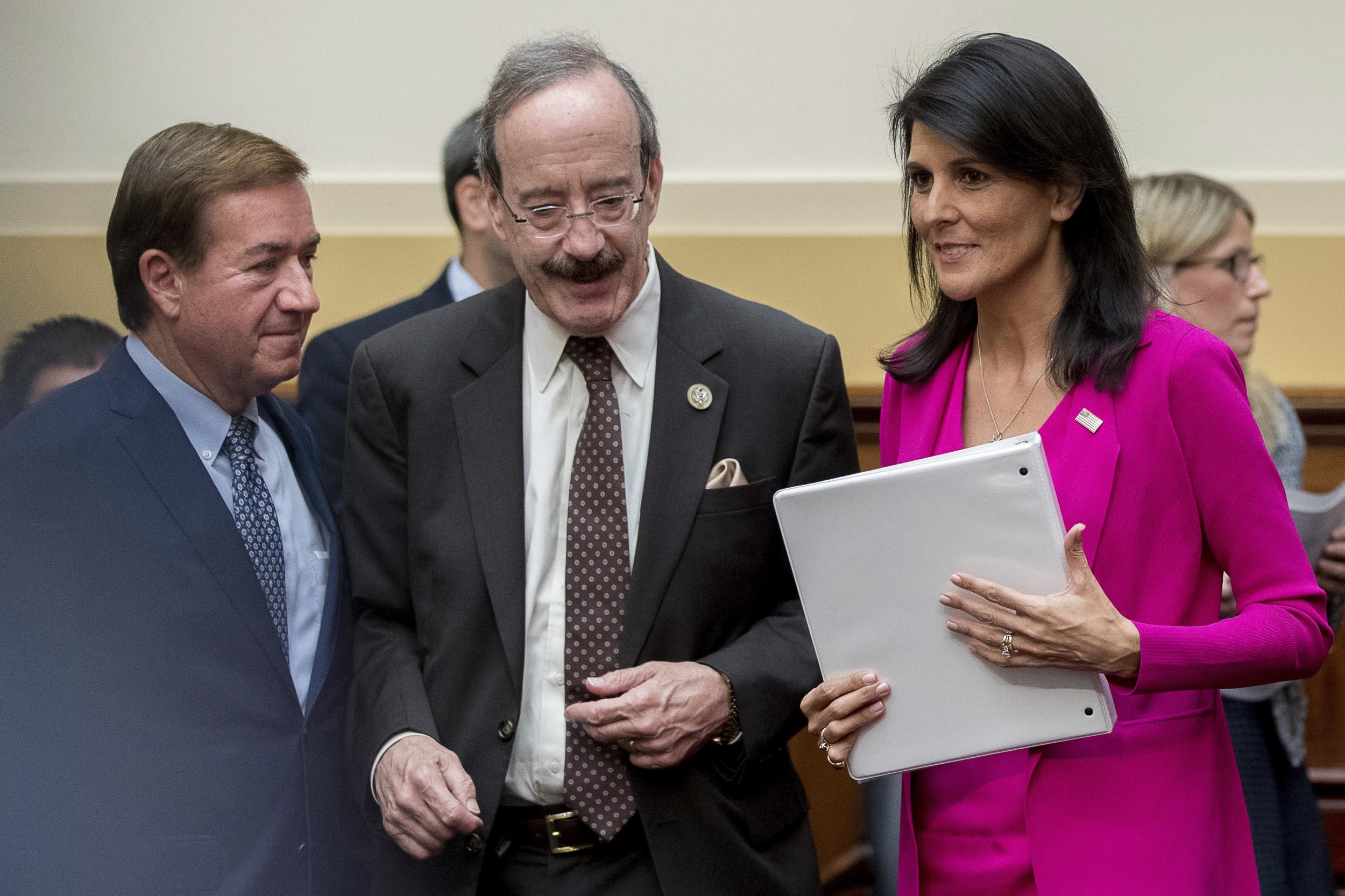 Nikki Haley, the US ambassador to the United Nations, has boasted about cutting more than $500m from the organisation's peacekeeping budget, eliciting attacks from observers who worry that the slashes to funding could undermine global stability.
"Just 5 months into our time here, we've cut over half a billion $$$ from the UN peacekeeping budget & we're only getting started," Ms Haley wrote on Twitter.
Under the proposed budget, the UN will spend $7.3bn on peacekeeping in the next year, down from $7.87bn, according to Agence France-Press. That money is used to fund 16 peacekeeping missions worldwide – from Cyprus to Mali to a small mission in Kashmir.
The budget cuts are only slightly higher than what African nations – who have expressed dissatisfaction about other countries' troops being within their borders – have been calling for.
But Ms Haley's post about the spending decrease was quickly met with criticism, with several Twitter users questioning why she was bragging about cutting funds that are used to help countries torn by conflict create conditions for lasting peace.
"This boast from Nikki Haley is one of the more insane and disturbing things I've seen from the Trump gang yet," one person said.
Human Rights Watch has cautioned against the proposed cuts, arguing that the "misguided" move would leave vulnerable civilians in Sudan's Darfur region without crucial protections.
During a congressional hearing on Tuesday, Ms Haley said that the US is targeting savings of $150m alone on efforts to scale back the UN's peacekeeping mission in Haiti.
Thousands march against Donald Trump in LGBT rights parade
Show all 8
Larger savings will come from reducing the US contribution to the peacekeeping budget to 25 percent of total costs from 28.5 per cent currently, she said.
"If you went to 25 per cent you are not harming peace and stability," Haley said. "I have seen value in the UN, and at the same time the UN has fat around the edges."
In addition to the peacekeeping operations, the US contributes 22 per cent of the UN's core operating budget of $5.4bn, making it the largest single contributor. The international agreement established by the UN General Assembly calculates the US's share based on the size of the country's economy.
Both Democratic and Republican members of Congress have also expressed concerns about the cuts to the UN's broader budget, which would eliminate US funding for key programmes including the UN Children's Fund, or Unicef, which provides humanitarian and developmental assistance to children and mothers in developing countries.
Mr Trump, meanwhile, hopes to massively boost the US's military spending.
"Some of these cuts are massive and just devastating," Republican Representative Kay Granger said during a congressional hearing where Ms Haley was testifying. "Our leadership is irreplaceable."
At another hearing, Democratic congressman Gerry Connolly said: "The President is making the point that we need to build up on military, and people who are having to pay the price for that are children who are at risk for malnutrition?"
UN Secretary General Antonio Guterres was also on Capitol Hill this week urging members of Congress against following through on the White House recommendations, promising that the organisation will make reforms needed to ensure that funds are better utilised.
Join our commenting forum
Join thought-provoking conversations, follow other Independent readers and see their replies