Nikki Haley's star is rising. But can she catch up to Trump?
Nikki Haley has a track record of advocating for traditional conservative values, but it seems like now in particular, her star is rising. Kelly Rissman reports
Wednesday 08 November 2023 11:10 EST
Comments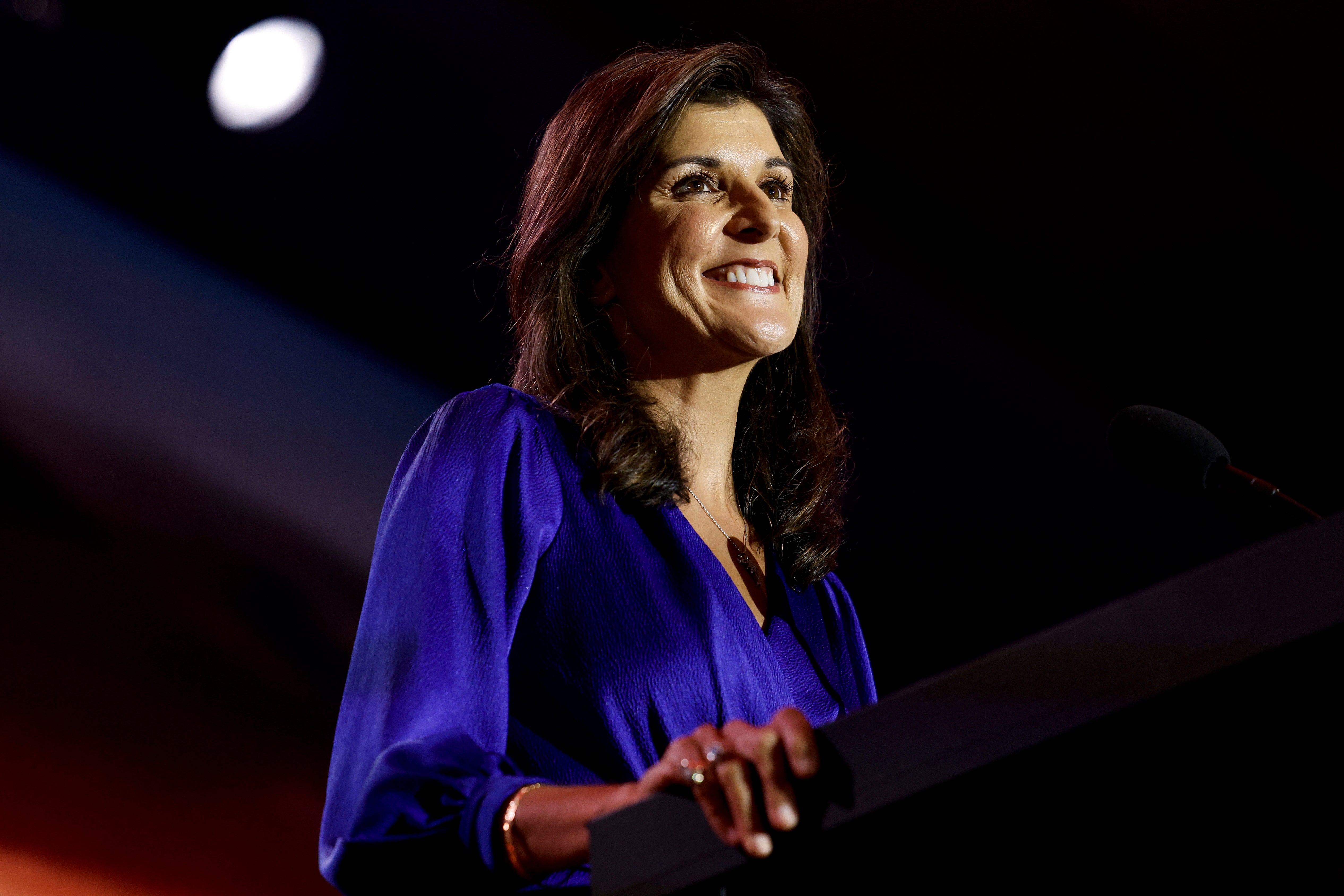 Nikki Haley is known for a lot of firsts — the first Asian American woman to serve as governor in US history, the first Indian American member of a presidential Cabinet, the first woman of colour to run for the GOP nomination — but will she become the first woman to serve as US president?
Few think so.
On paper, Ms Haley is arguably the ideal GOP candidate. She boasts impressive foreign policy experience amid the bloody conflict in Ukraine and the war between Israel and Hamas. She is the only woman in the race, giving her a sophisticated position to discuss reproductive rights as Republicans struggle to appeal to voters following the demise of Roe v Wade. Still, the 51-year-old can't seem to catch up to Mr Trump. Ms Haley's candidacy demonstrates a larger problem with the 2024 Republican race — no one can touch him.
However, some have argued that her path to the White House isn't as far-reaching as it once was, as her star has risen in recent weeks. As of the beginning of November, she is tied with rival candidate Florida Gov Ron DeSantis for the spot trailing the prominent frontrunner.
'Wind at her back'
Ms Haley has long been an advocate for traditional conservative talking points. But it seems like now in particular, as Mr Trump's base remains firm and the rest of the party searches for an alternative to the flamboyant, frequent defendant former president, her campaign is gaining traction.
She is wary of gun restrictions; while discussing red flag laws in the first GOP debate, she said she didn't trust that the government "won't take [guns] away from people who rightfully deserve to have them."
She is pro-life, but has left space for pro-choice Americans to make the best decision for themselves; she said in April, "Different people in different places are taking different paths."
Her viewpoints are arguably softer than some of her competitors, perhaps making her more appealing to some Republican voters, conservative strategist Chip Felkel said. "She's taken a stern stance on some things, but she's not constantly anti-everything," he continued, comparing her to Mr Trump's messaging.
Rob Godfrey, Ms Haley's former deputy chief of staff as governor who remains neutral during the primaries, attributed her recent "momentum" to the "dynamic in early primary states." He said races in these states — like Iowa, New Hampshire and South Carolina — "favour some of her best assets as a candidate, which is the ability to connect one-on-one with voters."
Mr Godfrey attributed this skill to her experience. In her first run to become a South Carolina state representative in 2004, she defeated the then-longest-serving state Representative Larry Koon. She was elected twice more, serving as a state representative from 2005 through 2010, when she decided to throw her hat in the gubernatorial election.
He recalled Ms Haley knocking on doors to talk to voters and meeting with small groups "at first as an unknown underdog statewide candidate" and watching her momentum grow. So this "is not a new dynamic for her," he said.
Drawing parallels between the two campaigns, he said, "Right now it looks like there's wind at her back."
Gunner Ramer, the political director of the Republican Accountability Project, also discussed Ms Haley's uptick in the polls. He said that unlike other candidates, like Mike Pence who had 100 per cent name recognition among voters, Nikki Haley "has always had room to grow."
Her name and experience are especially favourable at a time when global turbulence is part of a daily conversation, some argued.
Foreign policy experience
Mr Felkel also weighed in on Ms Haley's rising popularity. He said that her experience as US ambassador to the UN gave her "grace and credibility on an international stage," and believes that the ongoing conflicts overseas — the Ukraine-Russia war and the Israel-Hamas war — have contributed to her recent rise in the polls.
"She's unapologetic about what she believes that foreign policy should look like," and given her experience as UN ambassador, she holds a "measure of credibility" that others in the field may lack when discussing issues abroad, Mr Godfrey said.
To encapsulate this point, Ms Haley went on CNN on 2 November to discuss the Israel-Hamas war. She emphasised that she had spent time in Israel and had "seen those tunnels," speaking about where hostages could be being held and the confusing territory that Israel is dealing with when trying to find Hamas fighters.
One day after President Biden suggested a brief "pause" in fighting, Ms Haley said on CNN unwaveringly: "I don't think we need to tell Israel to take a pause. We need to let Israel do what Israel needs to do, which is defeat and eliminate Hamas because Hamas is going to come after us too. Iran is going to come after us."
Ms Haley's comments on Ukraine are "refreshing" because her support for the nation has been "unequivocal," Mr Ramer said, adding that discussing issues like Ukraine put her in a favourable position with some Republican voters, making her "the establishment pick."
"This is a war about freedom. And it's one we have to win," Ms Haley said during a CNN town hall in June. She has also referred to Russian President Vladimir Putin as an "evil tyrant" who "cannot be trusted."
Her comments come in sharp contrast to Mr Trump's remarks about the war and Mr Putin. Mr Trump has not said which side he wants to win the war — yet has claimed he could end the war in mere hours if he were president — and has said that he "got along" with Putin "really well."
As she flourished in her debate performances, Mr Ramer argued that she has become a clear alternative for Republican primary voters who may want a "different" and "more electable candidate" than Mr Trump.
Aligning with the establishment, however, has its pitfalls. Former Vice President Mike Pence — who dropped out of the race last month — was also viewed as part of the establishment, largely to his detriment.
Most GOP primary voters "want the anti-establishment candidate, they want the outsider," Mr Ramer explained. So while the former South Carolina governor may be attractive to the establishment, it's unlikely to help her take away votes from Mr Trump, if the base continues to want a break from tradition.
Identity politics
On paper, Ms Haley is certainly that.
Nimrata Nikki Randhawa was born to two Indian parents who immigrated to the US shortly before she was born; her older brother was born in India. She grew up in Bamberg, South Carolina, where the Randhawas were the only Indian family in the town.
In her presidential bid announcement, she said, "I was the proud daughter of Indian immigrants. Not Black, not white. I was different."
To those who have followed Ms Haley's political career, that phrase might sound familiar. During her gubernatorial campaign, she reportedly began every speech with a similar phrase. Since her campaign launch, the 2024 hopeful has rarely mentioned her upbringing — or the fact that she is the only woman vying for the Republican nomination.
"Identity politics has never been anything that Governor Haley has leaned into. What she has leaned into is results," Mr Godfrey said.
While she may not speak explicitly about her status as the only woman running in the GOP field, one point is more implicit: as the only woman in the GOP race, Ms Haley has a unique perspective on abortion.
Her former deputy chief of staff said her message about the procedure "is different from a lot of other candidates because it's deeply personal. It's rooted in her own experience. And quite frankly, it's delivered by a woman instead of a man."
Speaking to a crowd in New Hampshire in May, Ms Haley said: "I am unapologetically pro-life, not because the Republican Party tells me, but because my husband was adopted, and I live with that blessing every day."
Speaking in Virginia in April, she called for a national "consensus" on abortion. "It's about saving babies and supporting moms. I am fighting for all of them," Ms Haley said.
She elaborated on this point in June at the CNN town hall: "I don't judge anyone for being pro-choice, any more than I want them to judge me for being pro-life."
Mr Felkel called Ms Haley's position on abortion "conservative, but reasonable."
Compared to other candidates, the former South Carolina governor's abortion stance is tame — which could bode well for her.
Mr Pence, for example, campaigned on a federal abortion ban at six weeks; he is no longer in the race. Mr DeSantis enacted a six-week abortion ban in his home state, but said he would support a federal ban at 15 weeks.
According to Mr Ramer, "the key for [Nikki Haley] is that she's not seen as taking an extreme stance in a way that would affect her electability." He added that Mr Trump hasn't boasted an extreme position either.
'The elephant in the room'
Some have attributed Ms Haley's elevation in the polls to her impassioned debate performances.
"She had two good debate performances which are a little suspect, because the elephant's not in the room," Mr Felkel said, referring to Mr Trump. Of course, every candidate's debate performance has the Trump-shaped caveat, Ms Haley's performance is under particular scrutiny given her unique position to attack her 2024 rival's policies, but also to tout the Trump administration's record.
Ms Haley has certainly not been a consistent fan of Mr Trump.
In the 2016 presidential primary, Ms Haley didn't support Mr Trump; she backed Marco Rubio before he dropped out and then gave her support for Ted Cruz. However, by the time Mr Trump was named the GOP nominee, she said she would vote for him.
Then the Trump administration tapped her to be the ambassador to the United Nations. But by 2018, she resigned. Some strategists argued that because she left her post early enough that 2024 voters don't associate her with Trump — certainly when compared to Mr Pence, who was labelled a "traitor" at his own campaign events.
"She was smart to leave the administration without getting tarred and feathered," Mr Felkel said. In fact, she received praise from the then-president upon her departure; he called her a "fantastic person" and praised the "incredible job" she had done.
She then went on to advocate for Mr Trump in the 2020 election, but condemned his inaction on January 6. "He was badly wrong with his words yesterday. And it wasn't just his words. His actions since Election Day will be judged harshly by history," she said.
Perhaps adding further confusion about her thoughts about Mr Trump, she told Fox News later that month: "We should not want to go back to the Republican Party before Trump."
So far on the campaign trail, she has provided little clarity on her stance on the matter of Trump.
On the campaign trail in September, she both praised her former boss's stance on foreign policy as president and condemned one of his current stances — he's "weak in the knees on Ukraine."
Ms Haley also said that she believed "he was the right president at the right time" but also recalled him being "thin-skinned and easily distracted."
While her exact views of Mr Trump are unclear, her balance of complimenting the Trump administration's legacy and bashing her primary rival seems to be aiding her to attract voters.
Can she become the Trump alternative?
According to RealClear Politics polling, Ms Haley has 14.8 per cent, squeezing past Mr DeSantis, who had long seemed to be the Trump alternative, but now has 10.5 per cent.
A Des Moines Register Poll shows Ms Haley and Mr DeSantis as tied for second place among Iowa caucus-goers — putting yet another puncture in the deflating wheels of DeSantis' campaign.
Strategists debated whether she could close in on Trump's massive lead.
"She's got to have a good ground game here. She's got to beat expectations in [New Hampshire and Iowa] if she doesn't win," Mr Felkel said.
Mr Ramer believes the federal and state indictments against the former president could be Mr Trump's Achilles heel.
Although the indictments "remind Republican primary voters why they supported [Mr Trump] in the first place," Mr Ramer said, they could also make Mr Trump seem less electable. To achieve the latter result, Mr Ramer said Ms Haley should make the indictments the "most important issue for voters." Time will tell whether Ms Haley brings up Trump's indictments in the third debate or on the campaign trail.
So as the Republican primary elections near, the question of whether Ms Haley's conservative stances, fiery debate performances and executive experience will be enough to sway Republican voters away from the frontrunner dangles.
Even if Nikki Haley doesn't succeed in becoming the first woman to be named the Republican nominee, this presidential election will mark yet another first for the South Carolina Republican; it will be the first election she has ever lost.
Join our commenting forum
Join thought-provoking conversations, follow other Independent readers and see their replies