Could Nigeria's cash shortage hurt the presidential vote?
Voters in Nigeria are electing a new leader Saturday, with 18 candidates vying to lead a country facing a series of struggles — the newest and most pressing being a shortage of cash
Could Nigeria's cash shortage hurt the presidential vote?
Show all 7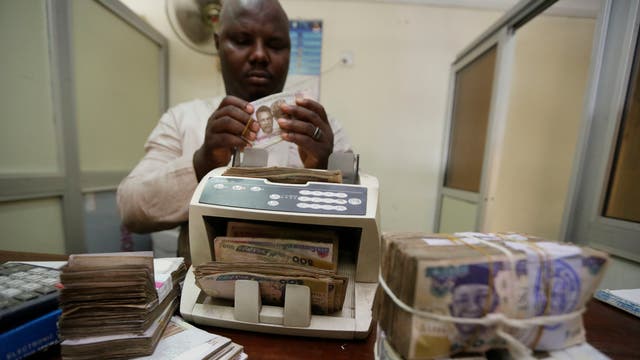 Voters in Nigeria will elect a new leader Saturday after President Muhammadu Buhari's final term ends, with 18 candidates vying to lead a country facing a series of struggles — the newest and most pressing being a shortage of cash.
Three front-runners have emerged, including the ruling party's Bola Tinubu and the main opposition's Atiku Abubakar. Peter Obi, a third-party hopeful who has been favored in most polls, has broken the usual cycle of two-candidate races.
Despite a steady decline in voter turnout, political analysts had projected a high level of participation in this election. But standing in the way is the shortage in the supply of cash.
People are forced to wait all day in lines at ATMs in the cash-reliant country, leaving many only able to buy basics like food and stirring violence. It threatens to dampen voter turnout and interfere with independent groups' ability to oversee the race.
Here are things to know about the cash crisis in Africa's largest economy and how it could affect the election:
WHY IS THERE A CASH SHORTAGE IN NIGERIA?
Authorities are struggling to replace Nigeria's old currency with new notes, the first time in nearly 20 years that the naira is being redesigned. As a result, many people have been unable to withdraw their money from banks.
The currency changeover is meant to curb inflation and money laundering, with people holding more than 80% of all money in circulation as of November, when the central bank introduced the policy. Policymakers also said it was supposed to limit the use of cash to buy votes, a common trend in Nigeria's elections.
But the fast timeline of the currency swap has led to a very limited supply of the new notes.
In the absence of cash, many people have turned to digital payment services that are usually unreliable.
In Nigeria's capital city of Abuja, trader Felix Okpe said he had not been credited more than 24 hours after someone bought 15,000 naira ($32) worth of items from his hair products shop.
"It is affecting us (because) does anyone still have the cash to buy things? It has put everybody into confusion," Okpe said.
WHAT HAS BEEN DONE TO EASE THE CRISIS?
The central bank says the state-run company that is printing money has capacity to create enough banknotes but has accused politicians of hoarding the money for their own use and to influence the election.
Analysts disagree, accusing the bank of not adequately planning the currency swap.
Larger-domination 1,000 naira ($2.16), 500 naira ($1.08) and 200 naira (43 U.S. cents) notes are being switched out with redesigned cash. Buhari, the president, has directed that the 200 naira notes can be used until April 10, but they have always been scarce and rarely used.
His order appears to have contradicted a supreme court directive that the old currency notes should remain in use pending its final decision.
Central bank spokesman Osita Nwanisobi insisted Tuesday that only the 200 naira notes will stay in use but didn't offer details on efforts to ramp up the supply of cash to banks.
HOW WILL THIS AFFECT THE ELECTION?
Nearly 200 local and international observer groups with 145,000 members will monitor the presidential and state elections. Some have complained of not being able to deploy staffers in all 36 Nigerian states and the capital because paying for services has become difficult.
Hassan Idayat, who leads the Center for Democracy and Development, Nigeria's largest democracy-focused group, said the lack of access to cash has slowed down preparations for election monitoring because workers have been left stranded.
"It is impacting our own planning as an organization. In some parts of the country, we have to pay cash to people we are working with. It becomes really impossible for us to work without cash," she said. "It is a bad situation."
The limited capacity of observer groups to monitor the vote could lead to irregularities that often leave Nigeria's elections deeply contested, she said.
There are concerns the cash crisis could lead to a delay in the vote if the election commission can't handle logistics like paying workers on time — a possible replay of 2019 when logistical challenges postponed the election. The one before that — in 2015 — also was pushed back.
HOW IS THE CASH SHORTAGE WORSENING NIGERIA'S PROBLEMS?
The currency crisis has led to incessant attacks on banks and forced many businesses to close as more people prioritize buying food with the little money they have.
Security analysts say this brings an extra burden for security forces, who are overstretched as they respond to separatist violence in southeast Nigeria, an extremist insurgency in the northeast and armed groups of former herdsmen fighting communities over access to water and land in the northwest.
The cash crisis has decreased interest in the presidential election, dampening hopes of increased voter participation after years of steady decline.
Many voters in Nigeria don't participate in elections because they "have lost faith in government and they don't feel voting would change the quality of leadership," said Cynthia Mbamalu with YIAGA Africa, a nonprofit promoting electoral reforms in Nigeria.
WHY IS THE ELECTION IMPORTANT?
It is a high-stakes vote not just for Nigeria but also for its West African neighbors in a politically unstable region stemming from an unusual high rate of military coups.
This is Nigeria's seventh election since 1999, when it left military rule, making this the longest uninterrupted democratic period. But security and economic challenges are growing: Thousands have been killed by armed groups in the last year, while many have been pushed into poverty because of surging inflation and endemic corruption.
The front-runners — 70-year-old Tinubu from the ruling All Progressives Congress, 76-year-old Atiku from the main opposition People's Democratic Party and 61-year-old Obi from the Labour Party — have forged their campaigns on promises to fix these problems.
"Nigeria needs to get it right this time, both in the presidential and governorship elections," said Ayisha Osori, a director of the Open Society Initiative for West Africa. "It is a giant that has never been quite stable."