Thousands of New York protesters show solidarity with Islamic community shouting: 'I am Muslim too'
'We want to thank the President for bringing us together'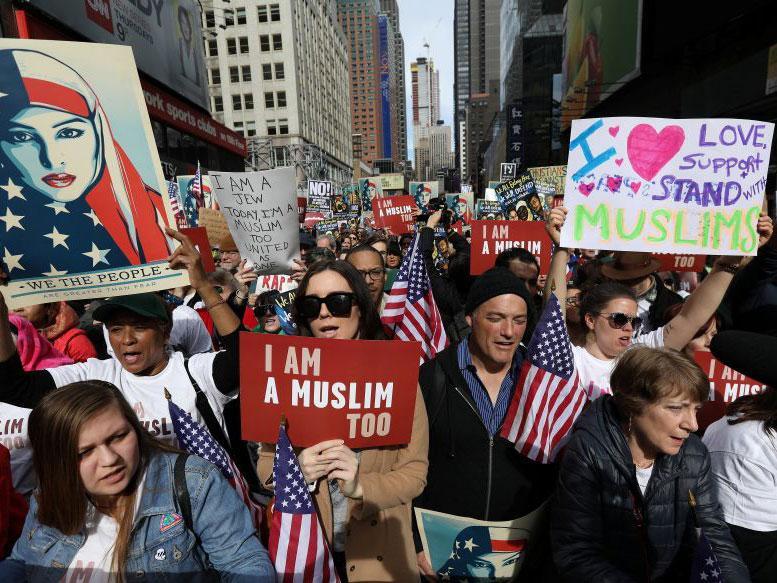 Thousands of people rallied in New York City over the weekend in a demonstration of solidarity with American Muslims.
The 'I am Muslim too' demonstration took place in Times Square to protest President Donald Trump's anti-Islam rhetoric.
Protesters waved American flags, while some women wore hijabs patterned with the Stars and Stripes.
Man who Trump called on stage at rally salutes cardboard cutout of president every day
Others held signs saying 'No Muslim Ban' – a reference to Mr Trump's ban on travellers from seven Muslim majority countries. The executive order has now been blocked by the courts.
Hip-hop mogul Russell Simmons, a former friend of Mr Trump's, helped organise the event.
He said of the President: "We won't speak too harshly of him today. We want to thank him for bringing us together."
Referring to the US government, Mr Simmons added: "We're using the Muslim community as a scapegoat. We are being mean to the people who are the victims of terrorism."
He said he wanted to show Middle America, Mr Trump's key support base, "that they have been misled".
Democratic Mayor Bill de Blasio also spoke at the rally, saying "we have to dispel the stereotypes" and that America is "a country founded to protect all faiths and all beliefs".
Other high profile attendees included Chelsea Clinton, filmmaker Michael Moore, actress Susan Sarandon and Linda Sarsour, executive director of the Arab American Association of New York.
"I ask you ... that you commit to being part of the true, never-again generation," Ms Sarsour said. "Not on our watch, not on my watch, not on your watch."
Representatives of other faiths also attended. Rabbi Schneier, founder of the Foundation for Ethnic Understanding, said: "We must join together at the most famous crossroads in the world to make a collective statement that, whenever my Muslim brothers and sisters are demonised and vilified, discriminated against or victimised by hate crimes and violence, 'Today, I am a Muslim too.'"
New York City bodegas strike to protest Trump's travel ban
Show all 27
Mr Trump's controversial travel ban – affecting citizens of Sudan, Iraq, Yemen, Iran, Libya, Somalia and Syria – was implemented chaotically and later put on hold by a federal judge.
However, the President has promised to sign new legislation which he says will replace the blocked order.
Join our commenting forum
Join thought-provoking conversations, follow other Independent readers and see their replies