A list of musicians who want Donald Trump to stop playing their music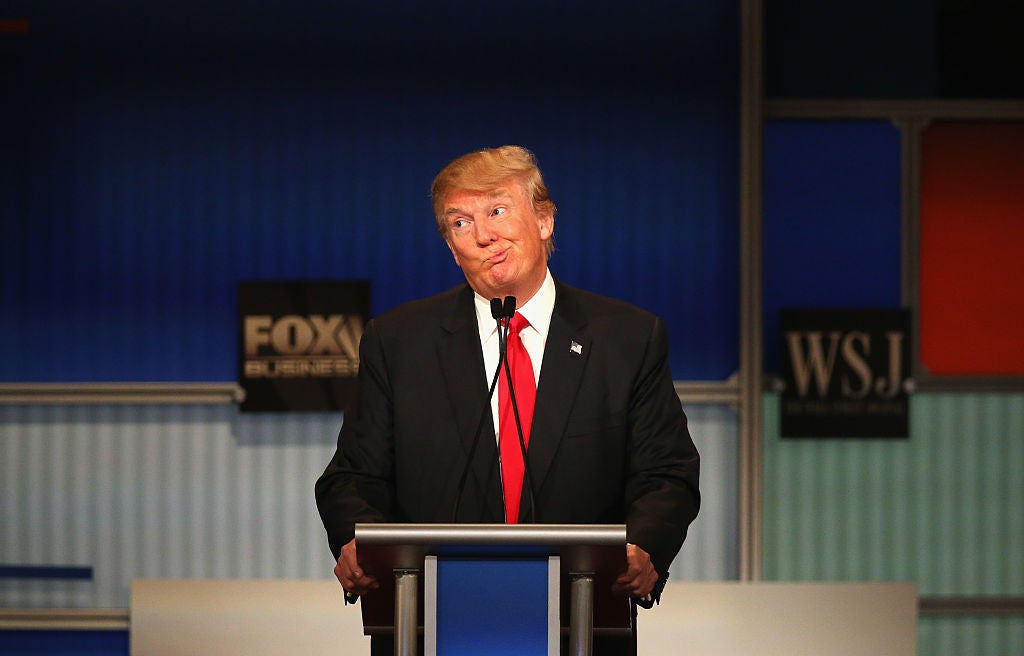 There are many artists who have told Donald Trump to stop playing their music at presidential rallies and events affiliated with his campaign. Trump typically uses white classic rock bands at his rallies so there is still a large pool of bands left for Trump to be turned down by.
Here's a running list of said artists who've publicly requested that the Republican nominee stops using their work.
Adele
"Adele has not given permission for her music to be used for any political campaigning."
The Rolling Stones
"The Rolling Stones have never given permission to the Trump campaign to use their songs and have requested that they cease all use immediately."
Twisted Sister
"When Donald started running for office, he asked me, he called me. He says, 'Can I use the song?' And he's a buddy. And I said, 'Yeah. Go ahead.' But as the months went on, I heard a litany of his beliefs that I'd never discussed with him," Dee Snider told CNN. "I finally called him and I said, 'Man, you've gotta stop using the song. People think I'm endorsing you here. I can't get behind a lot of what you're saying.' And that night. He has not used it since."
Steven Tyler
"Lawyers for Aerosmith wrote a cease and cease-and-desist letter to the Trump campaign claiming the Republican "did not have our client's permission to use Dream On" or any of Tyler's other songs and that it "gives the false impression that he is connected with or endorses Mr. Trump's presidential bid."
R.E.M
"Personally, I think the Orange Clown will do anything for attention. I hate giving it to him," Mike Mills wrote on Twitter. "The R.E.M. statement will be regarding Trump's use of our song. Nothing more than that!"

"While we do not authorize or condone the use of our music at this political event, and do ask that these candidates cease and desist from doing so, let us remember that there are things of greater importance at stake here. The media and the American voter should focus on the bigger picture, and not allow grandstanding politicians to distract us from the pressing issues of the day and of the current Presidential campaign."
Elton John
"I don't really want my music to be involved in anything to do with an American election campaign. I'm British. I've met Donald Trump, he was very nice to me, it's nothing personal, his political views are his own, mine are very different, I'm not a Republican in a million years. Why not ask Ted fucking Nugent? Or one of those fucking country stars? They'll do it for you."
Luciano Pavarotti
"As members of his immediate family, we would like to recall that the values of brotherhood and solidarity which Luciano Pavarotti expressed throughout the course of his artistic career are entirely incompatible with the world view offered by the candidate Donald Trump."
Queen
"Sony/ATV Music Publishing has never been asked by Mr. Trump, the Trump campaign or the Trump Organization for permission to use 'We are the Champions' by Queen. On behalf of the band, we are frustrated by the repeated unauthorized use of the song after a previous request to desist, which has obviously been ignored by Mr. Trump and his campaign.
Queen does not want its music associated with any mainstream or political debate in any country. Nor does Queen want 'We are the Champions' to be used as an endorsement of Mr. Trump and the political views of the Republican Party. We trust, hope and expect that Mr. Trump and his campaign will respect these wishes moving forward."
George Harrison
"The unauthorized use of #HereComestheSun at the [Republican National Convention in Cleveland is offensive and against the wishes of the George Harrison estate."