Trucks carrying protest banners drive through New York during Modi's US visit
Trucks display banners of accusations that the Modi administration is cracking down on human rights in India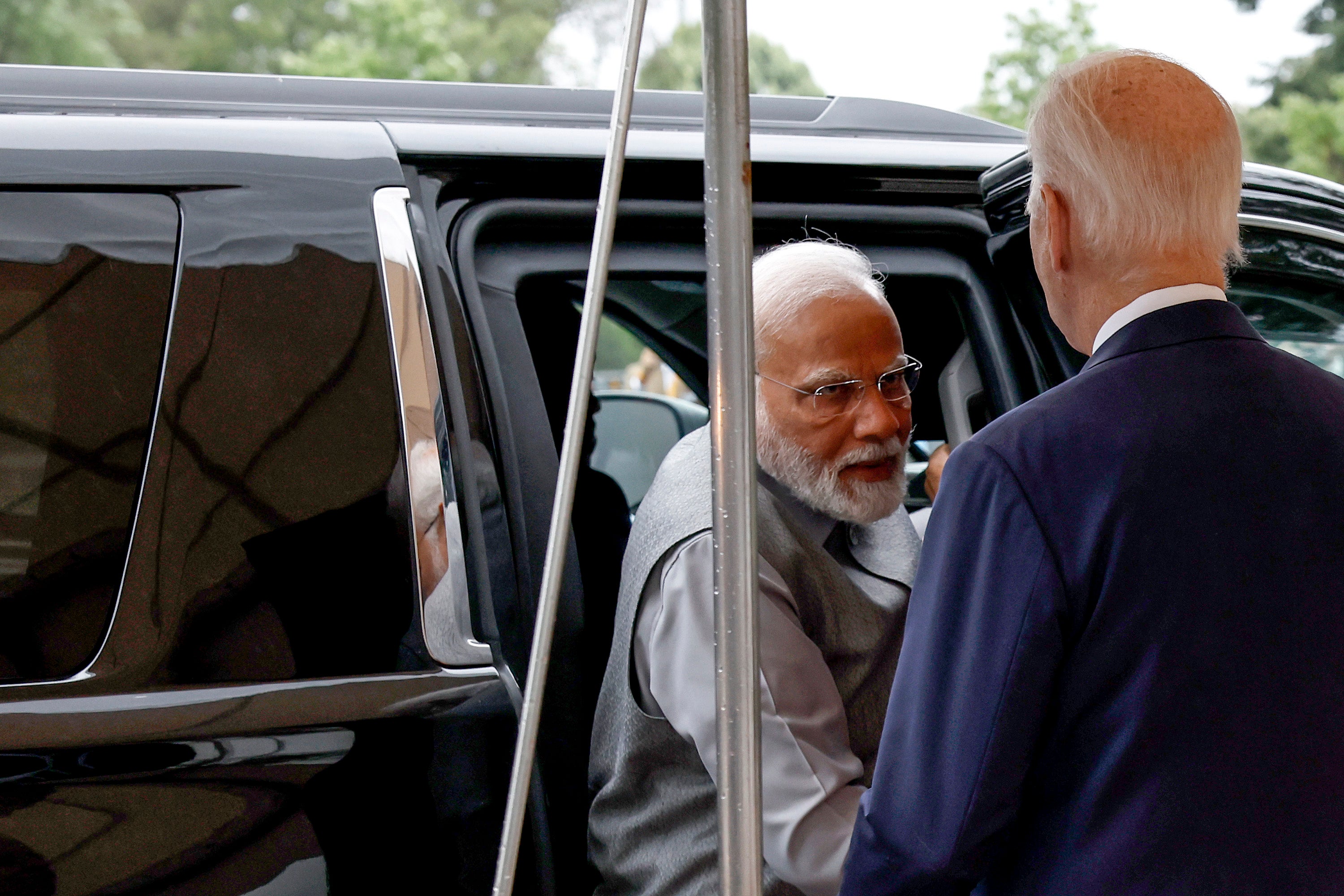 The fanfare around Narendra Modi's visit to the US has been punctuated by protests over accusations that his right-wing administration is cracking down on human rights in India.
Trucks bearing banners calling upon Joe Biden to question the Hindu leader were seen in the streets of New York on Wednesday even as several Democratic lawmakers urged Mr Biden to "directly" put across questions about human rights violations to Mr Modi.
Addressed to Mr Biden, digital posters on the trucks carried slogans like "Did you know mob lynching of Muslims, Christians and Dalits have surged under Modi's rule. With almost no accountability" and "Hey Joe! Ask Modi why student activist Umar Khalid has been in prison for 1000+ days WITHOUT Trial?"
Another banner addressed to Mr Biden asked "Why was Modi banned from the USA from 2005-2014?" and provided an answer for him.
It read, for "particularly severe violations of religious freedom" and added that the Indian prime minister was the "only person ever to be denied a visa on these grounds". The banners also labelled Mr Modi as the "Crime Minister of India".
As Mr Biden and Mr Modi enter the second day of the latter's high-profile state visit and look to ink new partnerships in defence, semiconductor manufacturing and more, the visit has been overshadowed with calls to address violence and crimes against minorities in India.
Notable progressive voices, like Democrats Alexandria Ocasio-Cortez, Rashida Tlaib and Ilhan Omar, have said they will boycott Mr Modi's address to the US Congress, stating that a "joint address is among the most prestigious invitations and honours the United States Congress can extend".
"We should not do so for individuals with deeply troubling human rights records – particularly for individuals whom our own State Department has concluded are engaged in systematic human rights abuses of religious minorities and caste-oppressed communities," Ms Ocasio-Cortez said in a statement.
More than 70 lawmakers earlier wrote to Mr Biden and called on him to use his meeting with Mr Modi to raise concerns about the erosion of religious, press and political freedoms.
"It is an important country to me, and we must call out some of the real issues that are threatening the viability of democracy in all of our countries," said representative Pramila Jayapal, who was born in India and helped organise the lawmakers' letter.
"If India continues to backslide, I think it will affect our ability to have a really strong relationship with the country."
A week before Mr Modi was due to arrive in the country, US rights groups planned protests over what they call India's deteriorating human rights record.
The Indian American Muslim Council, Peace Action, Veterans for Peace and Bethesda African Cemetery Coalition planned to gather near the White House when the two leaders were expected to meet.
The protesting groups prepared flyers that said "Modi Not Welcome" and "Save India from Hindu Supremacy".
Another event is planned in New York, featuring a show titled "Howdy Democracy", a play on Mr Modi's 2019 "Howdy Modi!" rally in Texas with Donald Trump.
Amnesty International and Human Rights Watch invited policy makers, journalists and analysts to a screening in Washington of India: the Modi Question, a BBC documentary that questioned Mr Modi's leadership during the 2002 communal Gujarat riots.
The documentary was banned in India, with the Indian government calling it a "propaganda piece" that displays "bias, [a] lack of objectivity, and frankly a continuing colonial mindset" on the part of the BBC.
The BBC defended itself and said it adhered to the "highest editorial standards".
Since Mr Modi came to power in 2014, India has plummeted from 140th in the World Press Freedom Index, to 161st this year, its lowest dip ever, while also topping the list for the highest number of internet shutdowns globally for five consecutive years.
Advocacy groups have also raised concerns over alleged human rights abuses under Modi's Hindu nationalist Bharatiya Janata Party.
Join our commenting forum
Join thought-provoking conversations, follow other Independent readers and see their replies