Mitch McConnell's health struggles back in focus as he suffers second 'freeze' on camera
Republican leader was led away by colleagues just weeks ago after freezing in halls of US Senate, write Gustaf Kilander, John Bowden and Oliver O'Connell
Wednesday 30 August 2023 16:20 EDT
Comments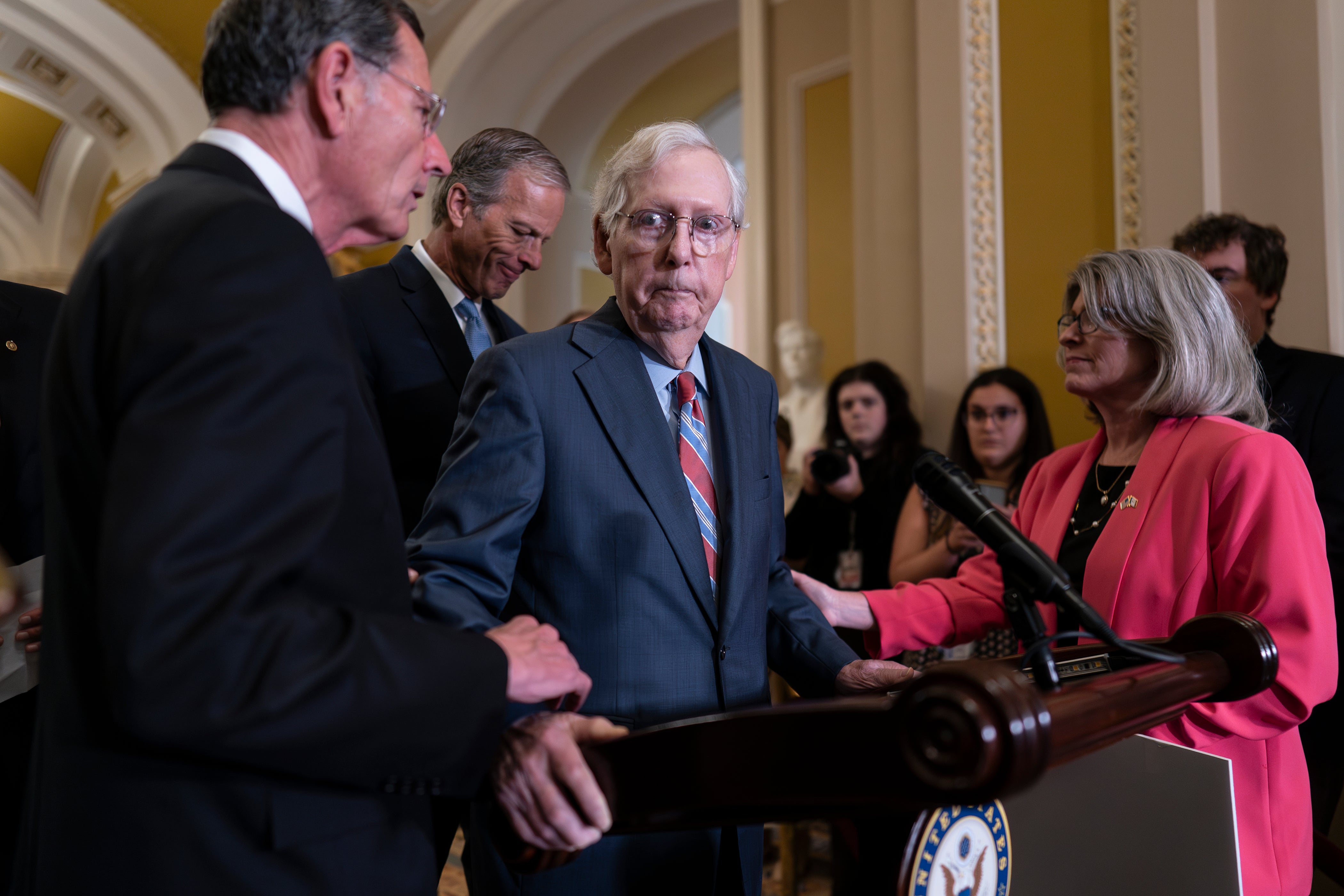 Senate Minority Leader Mitch McConnell's health struggles are back in focus after he suffered a second "freeze" on camera this summer.
He appeared unable to speak and did not seem to register that someone was speaking to him in a concerning moment that occurred on Wednesday at a press conference in Kentucky.
Video of the incident emerged after the senator, 81, appeared to trail off in the middle of answering a question about whether he would run for re-election. In the video, an aide approaches him and asks him if he has heard the question while he stares off at the cameras, appearing distant or overwhelmed.
He was then briefly led away, before returning.
The incident mirrored a moment that occurred just a few weeks ago in the halls of the US Senate when the GOP leader was led away by his Republican colleagues in the middle of a press conference after appearing unable to speak. In that situation he also returned a few minutes later, assuring reporters gruffly that he was fine.
On Wednesday, a spokesperson for the senator said he "felt momentarily lightheaded and paused during his press conference today".
"While he feels fine, as a prudential measure, the Leader will be consulting a physician prior to his next event," the spokesperson added.
Annie Karni of The New York Times wrote on X, the platform formerly known as Twitter: "Last month, after a similar freeze, his office never even said whether he consulted with a doctor. That he will be consulting with a physician counts as a large admission from McConnell, who shares nothing about his health."
Mitch McConnell appears to freeze again as he is asked about running for re-election
Following the incident last month, CNN's Manu Raju asked Mr McConnell: "Can you address what happened here at the start of the press conference? Was it related to your injury from earlier this year when you suffered a concussion?"
"I'm fine," responded the senator.
"You're fine? You're fully able to do your job?" Raju asked in response, to which the minority leader replied: "Yeah."
Mr McConnell entered the Senate in 1985 and has been the top Republican since 2007.
On 26 July, NBC News reported that Mr McConnell fell while getting off a plane earlier that month in Washington DC. He was not seriously injured in that incident, according to the report.
Mr McConnell joked about last month's press conference episode at the time after President Joe Biden called the Senate minority leader to check on him.
"The president called to check on me. I told him I got sandbagged," he told reporters, referring to Mr Biden's comments after the president himself tripped during a recent event.
McConnell addresses health concerns after abrupt pause while speaking
Mr McConnell's freezing at the press conference is likely to be looked at with scrutiny given the renewed interest in the issues presented by the increasingly advanced ages of many of the members of the upper chamber of Congress.
Senator Dianne Feinstein of California, in particular, has been the subject of intense criticism on the matter as many have argued that the 90-year-old, who has sometimes appeared confused in interactions with reporters and staff, is no longer capable of serving.
This is a rundown of Mr McConnell's previous health issues:
Childhood polio
He continues to walk with a limp, a residual issue caused by his battle with polio at a young age.
When Mr McConnell was two years old in 1944, his upper left leg was paralyzed by polio and he was treated at the Warm Springs Institute in Georgia established by Democratic World War II President Franklin Delano Roosevelt for his own struggle with the same disease.
"When I was a child and my dad was in World War II, I got polio. I recovered, but my family almost went broke," Mr McConnell said in a 1990 re-election ad. "Today, too many families can't get decent, affordable health care. That's why I've introduced a bill to make sure healthcare is available to all Kentucky families, hold down skyrocketing costs, and provide long-term care."
Since that ad, Mr McConnell has been criticized by his political opponents for working against affordable healthcare.
In 2020, as the Covid-19 pandemic was underway, Mr McConnell told the AP that it reminded him of having polio as a child.
"Why does this current pandemic remind me of that? I think number one is the fear," he said. "And the uncertainty you have when there's no pathway forward on either treatment or a vaccine and that was the situation largely in polio before 1954."
At the time of the AP interview, only 16,000 people in the US had died of Covid-19. As of today, more than 1.1 million have died in the US as a result of the pandemic, according to the WHO.
"There's hope that we're going to get on top of this disease within a year, year and a half," Mr McConnell told the AP in 2020.
Speaking about his childhood polio, Mr McConnell grew emotional as he said he was "lucky" to have a mother "who was determined to see me walk again".
"Tenacity, hard work and not giving up – my mother instilled all that in me before I was four years old and I think it's been a guiding principle in how I lead my life," he added.
Asked how his mother could afford his polio treatment, Mr Connell told the AP: "Honestly, I don't know the answer to that."
He recalled the relief at the arrival of the polio vaccine.
"I've had a normal life, but I've been acutely aware of the disease that I had and the relief that the country had when they found the vaccine," he said in 2020, months ahead of the Covid-19 vaccine's arrival. "We're going to get that relief."
Triple heart bypass surgery
Mr McConnell had a triple heart bypass surgery in February 2003 in connection to blocked arteries. The procedure was conducted at the National Naval Medical Center in Bethesda, Maryland, just outside Washington, DC.
Hand discoloured and bandaged
After photos showing his hand discoloured and bandaged went viral in 2020, Mr McConnell denied that he had any health issues.
The Republican Senate Leader was pictured reaching down to pick up a face mask he had dropped, showing the skin on his right hand much darker than the rest of his body, and a bandage around his thumb.
A reporter did ask Mr McConnell if he had some kind of health issues, but he denied there was anything going on that the public should know about.
Mitch McConnell's hand is discoloured and bandaged – but he insists nothing is wrong
Another reporter asked him again after he appeared on the Senate floor at the time, the skin on his hand still discoloured.
Mr McConnell responded that there were no concerns to be had about his health, but ignored a question about whether he had sought medical treatment.
He appeared to be keeping his hand in his pocket while out and about around the Capitol Building.
A fall that caused a concussion
The 81-year-old Mr McConnell returned to the Senate in March of this year after suffering a fall that caused a concussion.
"Leader McConnell tripped at a dinner event," communications director David Popp said at the time, adding that Mr McConnell would be in hospital for "a few days of observation and treatment".
The event was at the Waldorf Astoria DC – previously the Trump International Hotel from 2012 to 2022.
One of the colleagues at Mr McConnell's side guiding him away after he froze on Wednesday, Senator John Barrasso of Wyoming, a physician by training, said at the time that he expected that Mr McConnell would make a full recovery.
Mr McConnell also fell at his home in Louisville, Kentucky in August 2019, suffering a shoulder fracture.
Join our commenting forum
Join thought-provoking conversations, follow other Independent readers and see their replies