Minnesota governor protects rights to gender affirming care
Gov. Tim Walz has signed an executive order protecting the rights of LGBTQ people from Minnesota and other states to seek and receive gender affirming health care
Minnesota governor protects rights to gender affirming care
Show all 3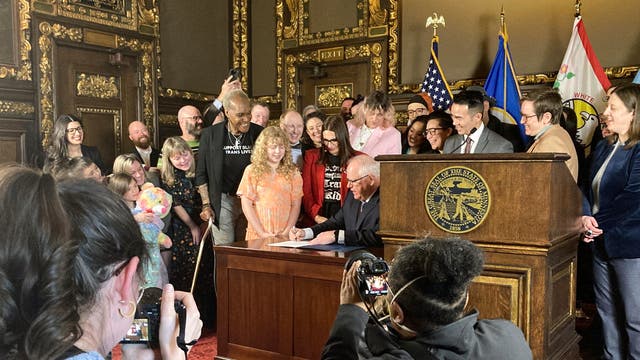 Gov. Tim Walz signed an executive order Wednesday protecting the rights of LGBTQ people from Minnesota and other states to receive gender affirming health care, as he slammed the tide of other states rolling back transgender rights.
"We want every Minnesotan to grow up feeling safe, valued, protected, celebrated, and free to exist as their authentic versions of themselves," Walz said. "Protecting and supporting access to gender affirming health care is essential to being a welcoming and supportive state."
Advocates for LGBTQ rights say Republican-led states across the country are trying to erase the legal existence of people who are trans and to restrict the expression of those who are nonbinary, gender-fluid or who perform in drag. According to the Human Rights Campaign, more than 150 bills targeting trans rights have been introduced in other states. Walz singled out neighboring South Dakota, where Gov. Kristi Noem signed a ban on gender affirming care for minors last month.
"I don't know what a group of people in Pierre who decide to make life miserable and more dangerous for people are thinking, but it's not going to happen in Minnesota," Walz said to applause from a room full of LGBTQ activists and their supporters.
Walz's executive order parallels legislation awaiting a floor vote in the state House to make Minnesota a "trans refuge state" by protecting trans people, families and care providers from a range of legal repercussions for traveling to Minnesota for gender affirming care, which includes a wide range of social and medical interventions.
While sponsors said they're optimistic about passage in the coming weeks, the governor said the accelerating trends against trans rights in other states made it urgent for him to impose protections immediately.
The bill is authored by Democratic Rep. Leigh Finke, of St. Paul, Minnesota's first openly transgender legislator. It would prohibit the state from enforcing court orders or child protection laws from other states if they interfere with a person's right to seek gender affirming care in Minnesota.
The importance of the governor's order to LGBTQ people across the nation can't be overstated, she said.
"The lives of trans and gender expansive people this nation are under attack," Finke said. "There is a full-scale movement in this nation against trans, nonbinary, two-spirit and gender expansive adults and children that seeks to make our community disappear."
A separate bill banning so-called conversion therapy for LGBTQ children and vulnerable adults won approval in the Minnesota House last month and is awaiting a floor vote in the Senate.
Conservatives said the governor's order will hurt vulnerable children instead of helping them.
"People who struggle with their gender identity deserve compassionate care that will help them become comfortable in their bodies, not mutilate them," John Helmberger, CEO of the Minnesota Family Council, said in a statement.
Elsewhere, recent efforts in Oklahoma to prohibit gender affirming medical care for trans children and pass other anti-trans legislation have led to heated demonstrations. The Arkansas Senate on Tuesday gave initial approval to criminalizing transgender people who use restrooms that match their gender identity. Tennessee's governor signed legislation last week that bans drag shows from taking place in public or in front of children.
"All children deserve to thrive, we can agree on that, but for transgender youth, that thriving and access to lifesaving gender affirming care is under threat in statehouses around the country," Dr. Kelsey Leonardsmith said. "It is under threat from bullies who hide behind junk science, and bullies who abuse their positions of power to hurt these precious children."
Leonardsmith runs clinics in Minneapolis and St. Paul that serve transgender youth, including families that have relocated from restrictive states. She said said they provide "evidence-based care in line with international guidelines" and work closely with families to ensure that children and adolescents receive appropriate care consistent with their stages of intellectual and physical development.
"And there is no one else who belongs in that room making those decisions," she said.