'Credible threats of violence' force Michigan officials to close government buildings ahead of electoral college vote
Offices will be closed all day on Monday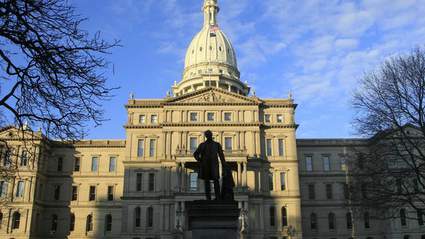 Michigan officials have closed government buildings ahead of Monday's electoral college vote due to security concerns.
The state's House and Senate offices will be closed all day as the EC convenes to confirm Joe Biden's election victory over Donald Trump.
The Capitol will also be closed to the public, officials said.
"The decision was not made because of anticipated protests, but based on credible threats of violence," said Amber McCann, spokeswoman for Republican Senate majority leader Mike Shirkey.
Gideon D'Assandro, a spokesman for  Republican House Speaker Lee Chatfield, did not confirm the specific nature of the threat.
"I can't get into the nature of the concern," Mr D'Assandro told the Detroit Free Press. "Have to refer you to the MSP (Michigan State Police) on that," he added.
MSP said it was monitoring social media and other communications but would not comment on specifics.
Kevin Hertel, a Democrat state representative, said "credible threats had been made" as the state's electoral college electors prepared to meet at the Capitol.
The decision to shut down the state's legislative building came on the eve of the EC's meeting to officially confirm Mr Biden as the 46th president of the US.
Monday is the day set by law for the meeting of the EC.  In reality, however, electors meet in all 50 states and the District of Columbia to cast their ballots. 
The results will be sent to Washington and tallied in a 6 January joint session of Congress over which vice president Mike Pence will preside.
Analysts - and some Trump insiders - have suggested that 14 December could signal the death knell for the president's desperate attempts to hang onto power.
Despite losing both the popular and EC vote, Mr Trump continues to insist that he won the 3 November poll.
He and his legal team continue to push a series of false claims that there was widespread voter fraud at the 2020 presidential contest.
But Mr Trump's lawyers have yet to present any evidence of ballot irregularities and have suffered dozens of defeats in lawsuits aimed at overturning results in battleground states. 
On Friday, the Supreme Court threw out a lawsuit filed in Texas asking the state not to acknowledge Mr Biden's wins in several swing states.
Protests broke out in several state capitals on Saturday following the ruling.
Four people were stabbed and one shot amid clashes between far-right Donald Trump supporters and counter-protesters in Washington DC and Washington state.
Join our commenting forum
Join thought-provoking conversations, follow other Independent readers and see their replies