Matt Gaetz's father Don seeks return to Florida Senate chamber he once led as its president
Don Gaetz says he plans to run again for the Florida Senate, which he led as president from 2012 to 2014
US Rep. Matt Gaetz's father Don seeks return to Florida Senate chamber he once led as its president
Show all 2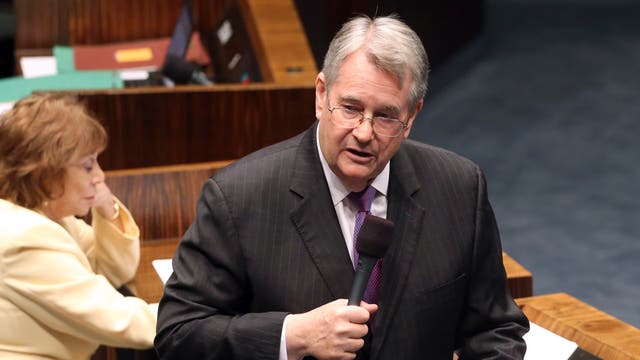 Don Gaetz, the father of Republican U.S. Rep. Matt Gaetz, said Monday he intends to run again for the Florida Senate, a chamber he led as president from 2012 to 2014.
Don Gaetz, 75, said he would seek the Florida Panhandle seat being vacated by state Sen. Doug Broxson, also a Republican. The elder Gaetz previously served in the state Senate from 2006 to 2016, including his years as president.
Another Republican candidate for the District 1 seat, former state Rep. Frank White, told the Pensacola News Journal he will drop out with Don Gaetz deciding to run.
Matt Gaetz, lately the chief antagonist against House Speaker Kevin McCarthy over spending legislation, has represented a Panhandle district in the U.S. House since 2017. Matt Gaetz said he intends to file a motion this week to vacate the speakership over this dispute, possibly triggering a vote on whether McCarthy keeps his position.
The younger Gaetz also served in the state House from 2010-2016 and has been mentioned as a potential candidate for Florida governor in 2026. That's when Gov. Ron DeSantis — a Republican presidential hopeful — must step down because of term limits.
Don Gaetz said his decision to seek a return to Tallahassee has no bearing on what his son might do.
"Matt's not pursuing any run for governor. He's pushing forward tackling budget and spending problems in Washington and fighting for term limits," the elder Gaetz said.
Don Gaetz said he has no higher political aspirations than a return to the Senate to tackle economic issues facing the state.
"It's apparent that while we are a low tax state, we are also a high electricity cost, high insurance if you can find it state and a high housing cost state," he said. "High costs, these kitchen table issues, make it hard for people to live here. The state of Florida has to become an affordable state to live in."