Mary Trump exposed her uncle Donald's dirty laundry in spectacular fashion. Her own life is a quiet mystery
Republican former president's estranged niece has been a constant thorn in his side since the publication of her explosive best-seller 'Too Much and Never Enough' in July 2020, Joe Sommerlad writes
Friday 01 September 2023 12:24 EDT
Comments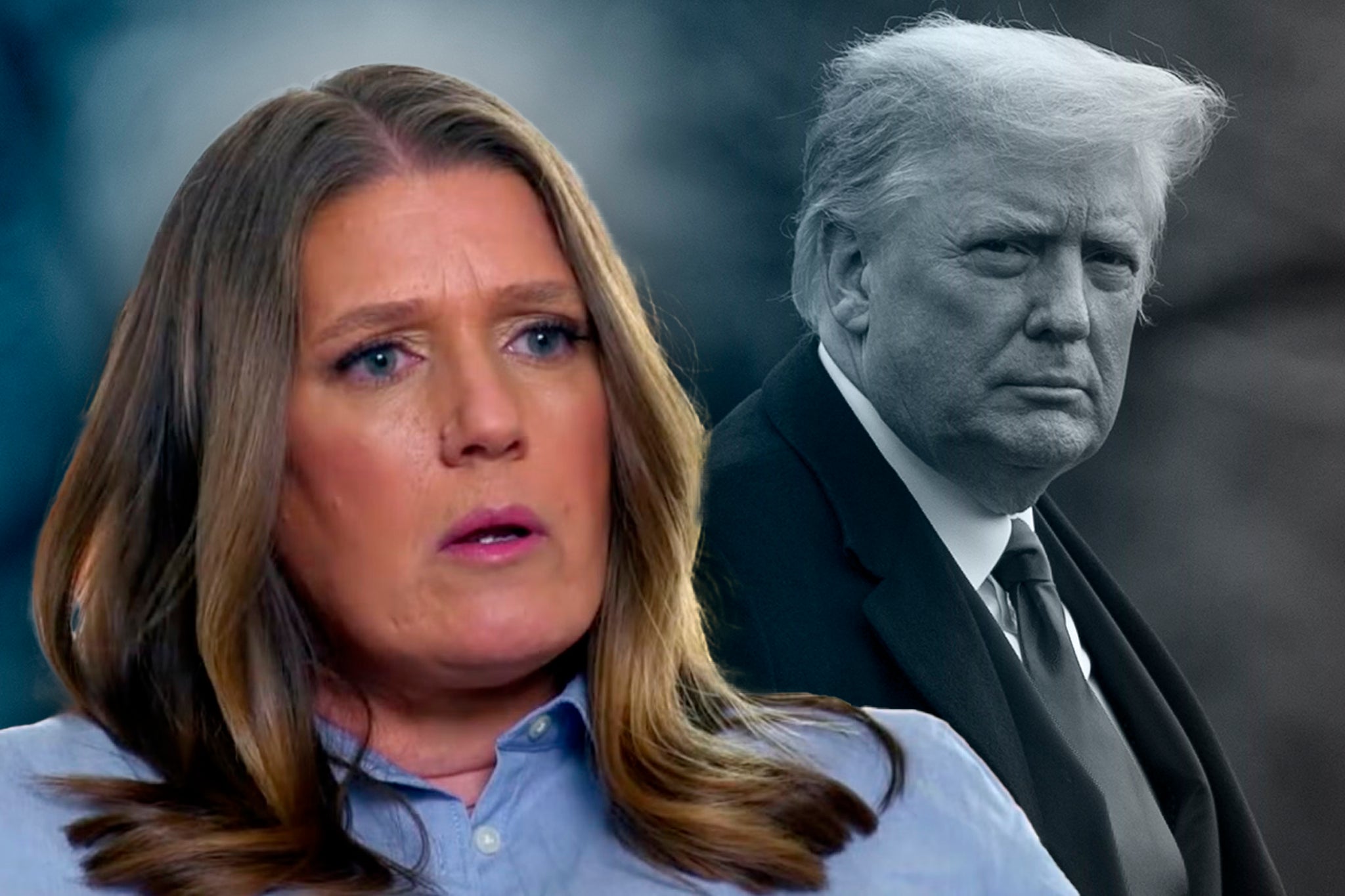 Donald Trump's estranged niece Mary Trump worked hard to stay out of the spotlight for much of her life, holding her tongue for the majority of her uncle's disastrous presidency. She then suddenly made international headlines in July 2020 with the publication of her explosive best-seller Too Much and Never Enough, just four months ahead of Election Day.
Writing as both a Trump family insider and a qualified clinical psychologist, Ms Trump offered a devastating portrait of America's 45th commander-in-chief, diagnosing him with narcissistic personality disorder and arguing that his blustering self-regard, addiction to attention and apparent amorality were the symptoms of an unhealthy mindset born of unanswered need.
"The fact is, Donald's pathologies are so complex and his behaviors so often inexplicable that coming up with an accurate and comprehensive diagnosis would require a full battery of psychological and neurophysical tests that he'll never sit for," she wrote.
"Donald has been institutionalized for most of his adult life so there is no way to know how he would thrive, or even survive, on his own in the real world."
Too Much and Never Enough promised skeletons dragged from the gilded closets of Mar-a-Lago and did not disappoint.
In it, Ms Trump alleged that her uncle had paid another student to sit his SATs to ensure he got the grades required to enter New York's prestigious Fordham University, that he once complimented the author – his own niece, remember – on her breasts by declaring "Holy s***, Mary! You're stacked!" and that he once thanked his daughter-in-law of almost a decade, Lara Trump, for making a campaign speech on his behalf by admitting: "I barely even knew who the f*** she was!"
Since then, Ms Trump has launched her own podcast, released a second book, The Reckoning (2021), and emerged as one of her uncle's most persistent and incisive critics, a reliable talking head regularly appearing on the likes of CNN and MSNBC to offer withering critiques of the Republican's public posturing, a service more valuable now than ever given that he leads the field to be the next GOP nominee for the presidency while battling no fewer than four criminal indictments.
Mary Lea Trump, the daughter of Mr Trump's late elder brother Fred Trump Jr – a commercial pilot with Trans World Airlines – and flight attendant Linda Clapp, was born in New York City on 3 May 1965.
Mary Trump says the U.S. has devolved into a version of her incredibly dysfunctional family
Her grandfather, Fred Trump Sr, had once hoped his eldest son might succeed him as head of the booming Brooklyn and Queens real estate empire that bore their name before differences of temperament and opinion pushed the two men apart and the tycoon diverted his attention towards his brash second son instead.
Then, in September 1981, while Mary was a 16-year-old student at the Ethel Walker School in Simsbury, Connecticut, her father died of a heart attack brought on by alcoholism, a tragedy that would inspire his young brother to abstain from drinking anything stronger than Diet Coke for the rest of his life.
Fred Sr, a harsh and frugal man, was advised by his lawyers at the time to rewrite his will in light of Fred Jr's passing, as its current terms stipulated that his fortune would be split equally between his children, with his grandchildren receiving $200,000 each.
The death of his eldest child meant Donald, his sisters Maryanne and Elizabeth and their brother Robert would each receive a larger share, which they could ultimately pass on to their own children, whereas Mary and her brother Fred III would still only receive $200,000, a state of affairs Fred Sr was warned by an attorney was "tantamount to disinheriting them" and advised to correct "to avoid ill will in the future". He declined to do so.
Mary Trump spent the next two decades a world away from her world-famous uncle's tabloid-friendly Manhattan party lifestyle, toiling in academic obscurity.
She studied English literature first at Tufts University in Massachusetts and then Columbia, where, interestingly, she chose to specialise in the novels of William Faulkner, specifically those featuring the Compson family, whose members crop up throughout his work set in the fictional Yoknapatawpha County, Mississippi. A once-affluent dynasty, the Compsons have fallen from their former grandeur.
She went on to earn a PhD in clinical psychology from the Derner Institute of Advanced Psychological Studies at Adelphi University and thereafter taught graduate courses in developmental psychology, trauma and psychopathology before founding her own business, the Trump Coaching Group, among other ventures.
While her career progressed, Fred Trump Sr passed away in June 1999 aged 93 following a long battle with Alzheimer's. Mary and Fred III contested their grandfather's will unsuccessfully over what they regarded as its unfair terms, before suing their uncles and aunts, alleging they had exerted undue influence over Fred Sr's affairs in his twilight years.
The quartet retaliated by cutting off the younger Trumps' medical insurance, a disaster for Fred III whose infant son William had been born with a rare neurological disorder that resulted in violent seizures and required costly medical support.
Asked by The New York Daily News in December 2000 whether he believed his actions were "cold-hearted", Donald answered: "I can't help that. It's cold when someone sues my father. Had he come to see me, things could very possibly have been much different for them."
"Our family puts the 'fun' in dysfunctional," Fred III observed bitterly, before the dispute ultimately ended with he and his sister reluctantly signing a settlement and selling off their interests in the family business.
Speaking at the time, Mary, then still a 35-year-old graduate student, said of the feud: "Given this family, it would be utterly naive to say it has nothing to do with money. But for both me and my brother, it has much more to do with that our father be recognised. He existed, he lived, he was their oldest son. My aunt and uncles should be ashamed of themselves. I'm sure they are not."
She would not appear in the public eye again until Too Much and Never Enough hit bookstores in the pandemic summer of 2020, not long after the man in the White House had suggested the American public consider injecting bleach to ward off the virus during a televised briefing.
In September, Mary revived her claim on the family wealth, suing her uncle and his surviving siblings over claims they had defrauded her of tens of millions of dollars by undervaluing her grandfather's real estate portfolio after his death two decades earlier. The lawsuit would be dismissed in November 2022 and an appeal rejected in June 2023.
A year later, now out of office and living in comparative solitude in his Palm Beach mansion, Mr Trump sued his niece for at least $100m for providing The New York Times with the financial documents its reporters David Barstow, Susanne Craig and Russ Buettner's had made the basis of a Pulitzer Prize-winning October 2018 story on his tax records.
Clearly infuriated, Donald accused Mary of engaging "in an insidious plot" to gain confidential documents as part of a "personal vendetta".
"I think he is a f***ing loser, and he is going to throw anything against the wall he can," she told The Daily Beast when the lawsuit was filed.
"It's desperation. The walls are closing in and he is throwing anything against the wall that will stick. As is always the case with Donald, he'll try and change the subject."
That lawsuit too was dismissed by a New York Supreme Court justice on 3 May this year, who ruled that the ex-president's claims against his niece and the newspaper "fail as a matter of constitutional law".
Still a very private person, Mary Trump, now 58, has largely kept details of her personal life secret, revealing only in her work that she is gay, divorced and that she lives in New York with her daughter Avary, who was conceived through IVF with a sperm donor. She reportedly bought a $7m luxury Soho apartment in January 2022 using the proceeds from her book sales.
Ms Trump discussed her difficulty in coming out to her family in Too Much and Never Enough, recounting her Scottish grandmother and namesake, Mary Anne MacLeod Trump, making a disparaging, homophobic remark about Sir Elton John as she watched him perform "Candle in the Wind" at the funeral of Princess Diana on television in September 1997.
Mary Trump has most recently embarked on perhaps her most left-field project to date, taking a break from psychoanalysing her notorious relative to team up with the lawyer Jennifer Taub and E Jean Carroll – the former Elle magazine columnist who successfully sued Mr Trump earlier this year over a historic sexual assault – to, improbably, co-author a romance novel.
Entitled The Italian Lesson, it is being published in instalments on Substack.
Join our commenting forum
Join thought-provoking conversations, follow other Independent readers and see their replies