Marianne Williamson opens long shot 2024 challenge to Biden
Self-help author Marianne Williamson has officially launched another long shot Democratic presidential campaign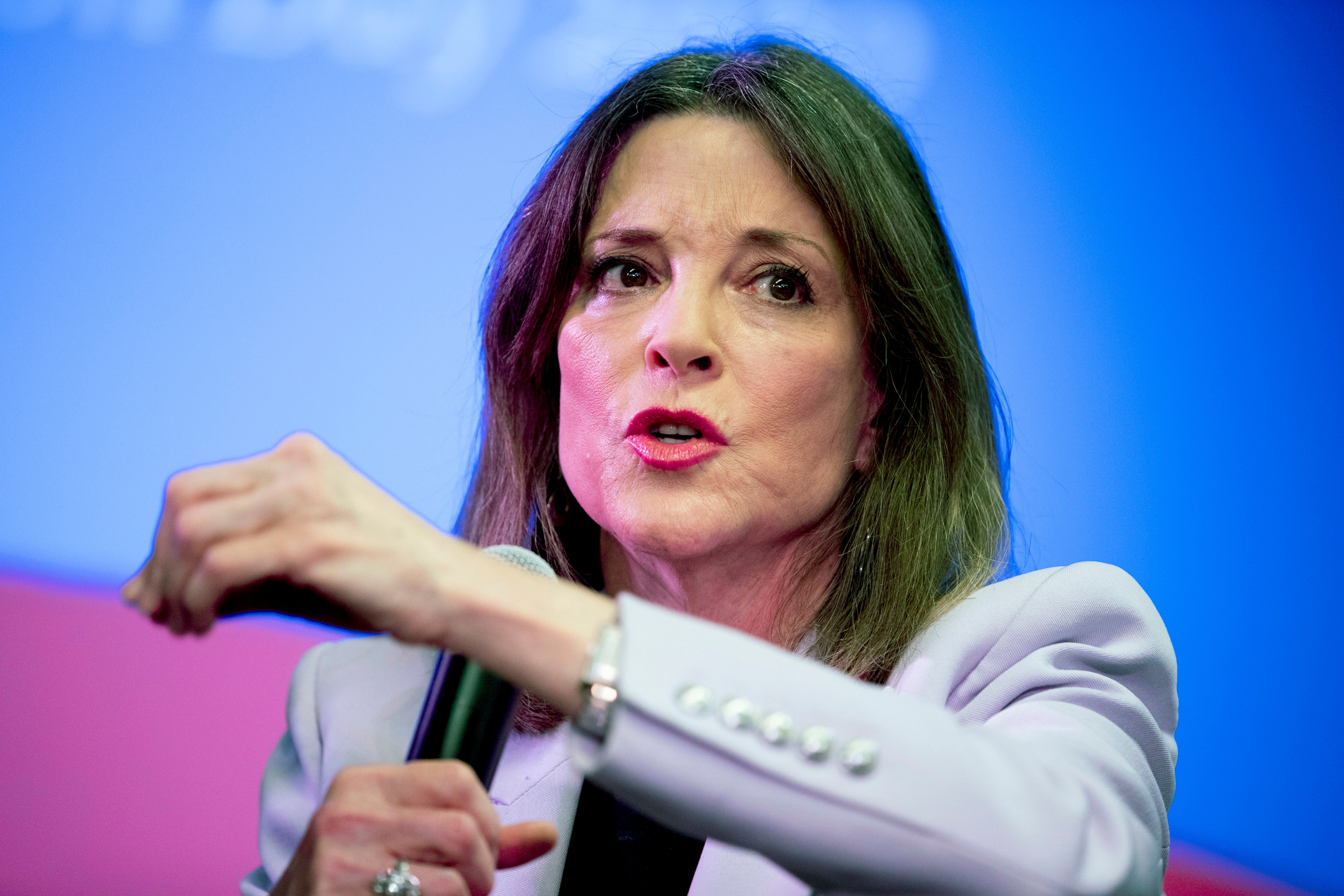 Self-help author Marianne Williamson, whose 2020 White House campaign featured more quirky calls for spiritual healing than actual voter support, launched another longshot bid for the presidency on Saturday, becoming the first Democrat to formally challenge President Joe Biden for the 2024 nomination.
"I, as of today, am a candidate for the office of president of the United States," she said in a campaign kickoff in the nation's capital.
The 70-year-old onetime spiritual adviser to Oprah Winfrey will almost certainly provide only token primary opposition — a testament to how strongly national Democrats are united behind Biden. Still, she tweaked the president, a longtime Amtrak rider, by holding her opening rally at the presidential suite at Union Station, Washington's railway hub.
Biden gave his own speech from Union Station, close to the Capitol, just before last November's elections, when he led Democrats to a surprisingly strong showing, urging voters to reject political extremism and saying "democracy itself" was at stake.
Williamson, whose red, blue and black campaign signs feature the dual slogans "A New Beginning," and "Disrupt the System," plans to campaign in early-voting states on the 2024 election calendar, including New Hampshire, which has threatened to defy a Biden-backed plan by the Democratic National Committee to have South Carolina lead off the nominating contests.
Democrats and Republicans in New Hampshire have warned that if Biden skips the state's unsanctioned primary and a rival wins it, that outcome could prove embarrassing for the sitting president — even if that challenger has no real shot of actually being the nominee.
"You can appreciate what the president has done, defeating the Republicans in 2020, and still feel that it is time to move on," Williamson said in a recent interview with "Good Morning New Hampshire."
Biden, 80, is the oldest president in U.S. history and would be 86 at the end of a second term. Most people in the United States — and even most Democrats — say they don't want him to run again, according to a poll from The Associated Press-NORC Center for Public Affairs Research.
The president is expected to announce in the coming weeks that he's running again. First lady Jill Biden recently told the AP that there was "pretty much" nothing left for the president to do but pick a time and place to announce his reelection bid.
Biden's political advisers say they aren't worried about the Democratic primary and say Biden is anxious to defeat Donald Trump again in the general election. They say a 2024 campaign against another GOP nominee, such as Florida Gov. Ron DeSantis, would look much the same because top Republicans remain promoters of Trump's "Make America Great Again" movement.
The Democratic establishment — and even potential presidential hopefuls who could have competed against Biden from the left or middle — is behind Biden, showing how smooth his path to the nomination probably will be. Even if other Democrats follow Williamson's lead and jump into the race, the party is not planning to hold primary debates.
Williamson insists her 2024 campaign is about far more than just making a statement. In an online post last weekend, she didn't mention Trump by name but noted that few predicted he would ride an unconventional campaign all the way to the White House seven years ago.
"Since the election of 2016 it's odd for anyone to think they can know who can win the presidency," Williamson wrote. "And I'm not putting myself through this again just to add to the conversation. I'm running for president to help bring an aberrational chapter of our history to a close, and to help bring forth a new beginning."
A Texas native who now lives in Beverly Hills, California, Williamson is the author of more than a dozen books. In the 1980s, she opened the Center for Living in Los Angeles, and later New York, which worked to support people with HIV and AIDS. She ran an unsuccessful independent congressional campaign in California in 2014 and supported Vermont Sen. Bernie Sanders' 2016 progressive challenge of eventual Democratic presidential nominee Hillary Clinton.
In 2020, Williamson was best known for wanting to create a Department of Peace and arguing the federal government should pay massive financial reparations to Black Americans as atonement for centuries of slavery and discrimination.
On the debate stage, she called racism "part of the dark underbelly of American society." While declaring that Trump had used fear for political gain, she chided her fellow Democratic candidates for getting too lost in the "wonkiness" of policy details rather than trying to stop the then-president's "dark psychic force of the collectivized hatred."
Amid fundraising struggles, Williamson laid off her staff nationwide and suspended her campaign in the weeks before 2020's leadoff Iowa caucus, saying she didn't want to "get in the way of a progressive candidate winning." She later endorsed Sanders in the 2020 presidential contest. He finished second to Biden.