Kerri Harris challenges fellow Democrat in Delaware as part of 'blue tsunami'
'This is what I do, I believe in the people. I will work for them no matter what'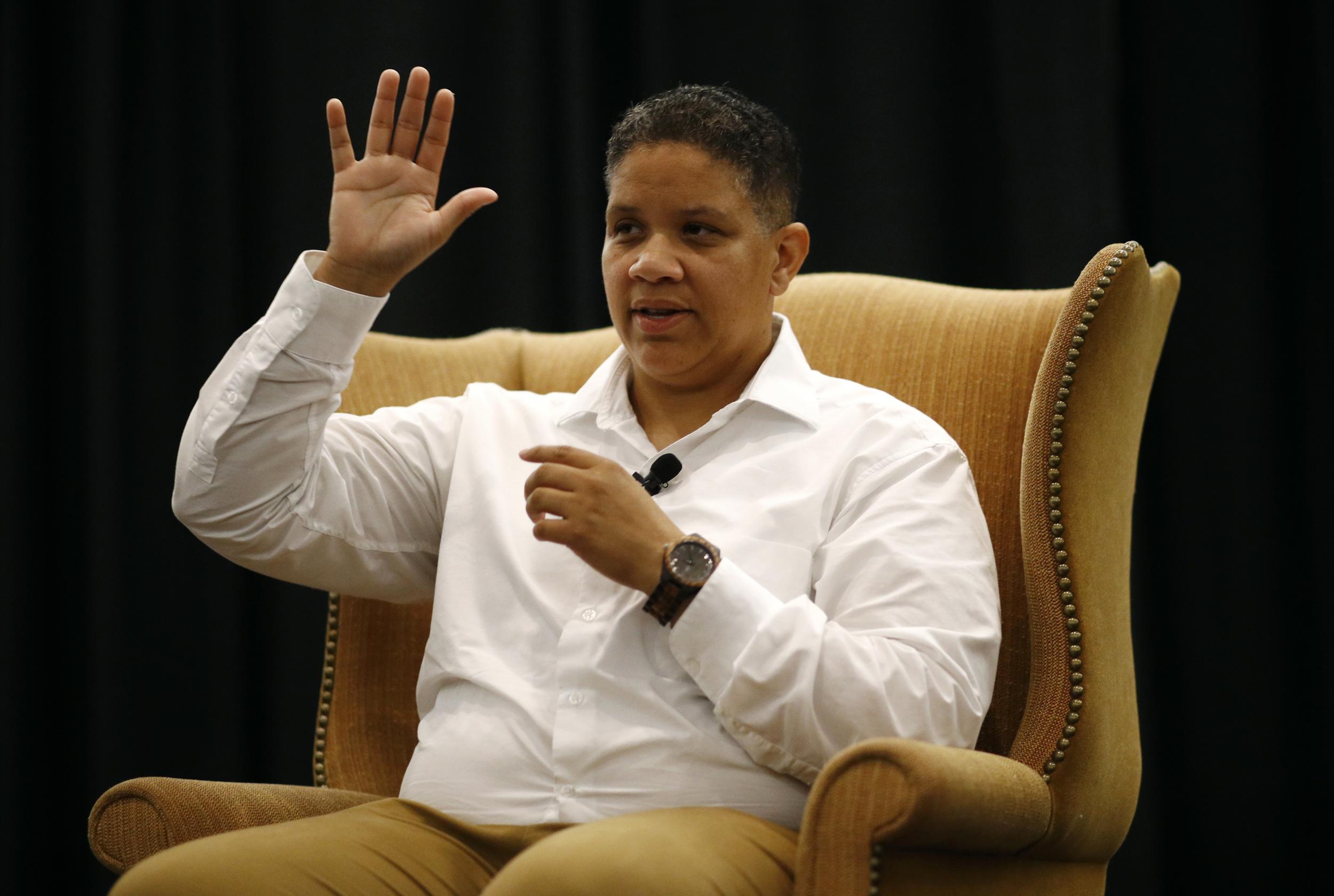 Kerri Evelyn Harris has said she is not part of a new "blue wave" in the Democratic Party, but a "blue tsunami".
The 38-year-old Air Force veteran is challenging fellow Democrat and longtime US Senator Tom Carper, 71, in Delaware's primary on 6 September.
Speaking to The Independent, Ms Harris explained why the term tsunami is more apt for her cohort of progressive Democrats running for office around the country: "all of the water gets sucked away and it's really calm and quiet and then there's this giant wave that comes ashore. Right now we are sucking the water out...so that the new, stronger wave can come".
"Our job is that frontline so that in 2020, we're going to see that tsunami really hit," Ms Harris said about the likes of Democratic candidate for US House Alexandria Ocasio-Cortez in New York and Massachusetts Congresswoman-Elect Ayanna Pressley.
Their wins were seen as shocking upsets, both also running against older, white, male incumbents, well known in the national party structure and around Washington DC.
Ms Harris - also running on a platform of Medicare for all, free higher education, student loan forgiveness, a green economic plan to fight climate change, and decreasing corporate influence - hopes to join their ranks.
"I'm really good behind the scenes," she said, pointing to her tendency to shy away from the limelight and the camera.
Democratic Ocasio-Cortez won her primary in New York's 14th district
"I'm not supposed to run for office, I'm supposed to be in the background," Ms Harris said, adding she had actually been recruiting others to run against Mr Carper.
She was looking for people who did not just have "an ambition [for] a career in politics, but an ambition to create a better society" - but most were "afraid of being blacklisted" in the small state.
It was at this point Ms Harris realised she was being a "hypocrite", and decided to put herself forward.
"I saw change that needed to happen...I had to do it because Senate is where we need to do the most work, we're falling behind."
The soft-spoken but passionate community organiser spoke of her military experience and how it has shaped her political views.
One of her goals: to get Washington to "stop using the troops as the poster child when the money isn't trickling down to the troops".
She described a decade-long wait for benefits from the Veterans Administration after her medical retirement from the military and "seeing the cost of war" as she helped transport troops and supplies from Dover Air Force Base to conflicts around the globe.
Primary elections: Vermont nominates first transgender candidate for governor Christine Hallquist
"I often make the joke that I'm a whole bunch of otherness," she said lightheartedly.
The openly LGBTQ candidate hails from a multicultural family, and her daughter attends public school in Delaware.
She characterised herself as a "poor organiser" - not a testament to her ability but rather her financial situation - not first as a candidate for one of the most powerful positions in the federal government.
"Win or lose, I'm a poor organiser. This is what I do, I believe in the people. I will work for them no matter what," she said.
It may be that humility which has endeared her to many in the state and even across the country, partly aided by the popularity of friend Ms Ocasio-Cortez.
The pair have shared tweets and pictures of sending campaign staff to help each other and even canvassing together to reach their respective voters.
Mr Carper has several advantages in the race - he has, at last count, spent more than $3m (£2.3m) and still has approximately $1.5m (£1.2m) in his campaign coffers and the endorsement of former Vice President Joe Biden.
But, Ms Harris was quick to dismiss those as "hurdles, but hurdles we can overcome".
She noted Mr Carper "tried to pretend like I didn't exist, like the team didn't exist" as long-term incumbents are wont to do - particularly from challengers within their own party.
Ms Harris noted that Mr Biden, the state's favourite son, first ran for office he faced many of the same criticisms about "inexperience" and "being an outsider" that she does now. "Delawarians see that," she noted.
"I've always said: we'll never out-raise, but we'll always out-work, and it's happening," Ms Harris said.
She, like many socialist Democrats running in 2018, has eschewed corporate money for her campaign - in a state known for its lax regulations tax laws on corporations.
She told The Independent it was not as radical a notion as it may seem.
World news in pictures
Show all 50
More than half of all publicly traded companies and nearly two-thirds of the Fortune 500 in the US are incorporated in the state.
"We can't have a person from the state of Delaware, a strong blue state, not really willing to put up a fight when it comes to the issues working people. We can't have someone walk the line between the people and corporations," as she said Mr Carper does.
"The idea we are beholden to them...is not true," she said, adding that one of the biggest challenges of her campaign has been disavowing the myth Delaware cannot hold corporations to higher standards of transparency and social responsibility, while also ensuring the state remains the "very best place for them".
She hit out at Mr Carper as a politician who "blur[s] the lines between Democrat and Republican", having sided with the financial industry not just during his four decades in state and national politics, but particularly for doing so in an era when the difference between the two parties should be clear in order to help working-class Americans.
She did not want to run against Mr Carper as a third-party candidate, however.
All of the progressive and socialist Democrats with whom The Independent has spoken, many of them young and a minority, running for office in 2018 have a sense of party loyalty.
Ms Harris is no exception, describing the Democratic party as one she "grew up believing" was the "party of the people".
"The older I've gotten I've realised, as a party we've pulled away from that," she said.
She noted the party's efforts on the national level to "bring back that idea of being a party of the people but it's not felt in legislation that has passed, it's not felt in the fight that we hear our leadership taking on".
She does not want to give up on it, though, not after the many campaigns on which she has worked or the community she has tried to help.
"We can't be afraid because 'Well this is our party, we don't want them to be upset'. No it's like a family," she noted.
"If your family isn't doing well, you're not going to say 'Oh well this is how we've been doing it forever, let's keep getting worse,'" she said, adding it was time for the "family" to embrace a new direction.
However, the national party structure has not been quick to fully embrace the new 'blue tsunami' - perhaps in part because of the 'socialist' label affixed to several new candidates.
She said her "otherness" has fostered a "lot of acceptance during my life, [which] doesn't change things, it just means somebody grits their teeth and deals with it," she explained.
Still, Ms Harris is confident the party structure will move past merely acknowledging these candidates' popularity.
In a way, she said, the national party structure has "no choice. We will be in these seats alongside them" in Congress.
Ms Harris is nothing if not a realist and said she understood the need for career politicians like Mr Carper and others, but noted "we have to understand there's room for the rest of us too".
Join our commenting forum
Join thought-provoking conversations, follow other Independent readers and see their replies