John Kasich wins Ohio and to ruin Donald Trump's clean sweep
Hillary Clinton was also projected to have won Ohio in the Democratic race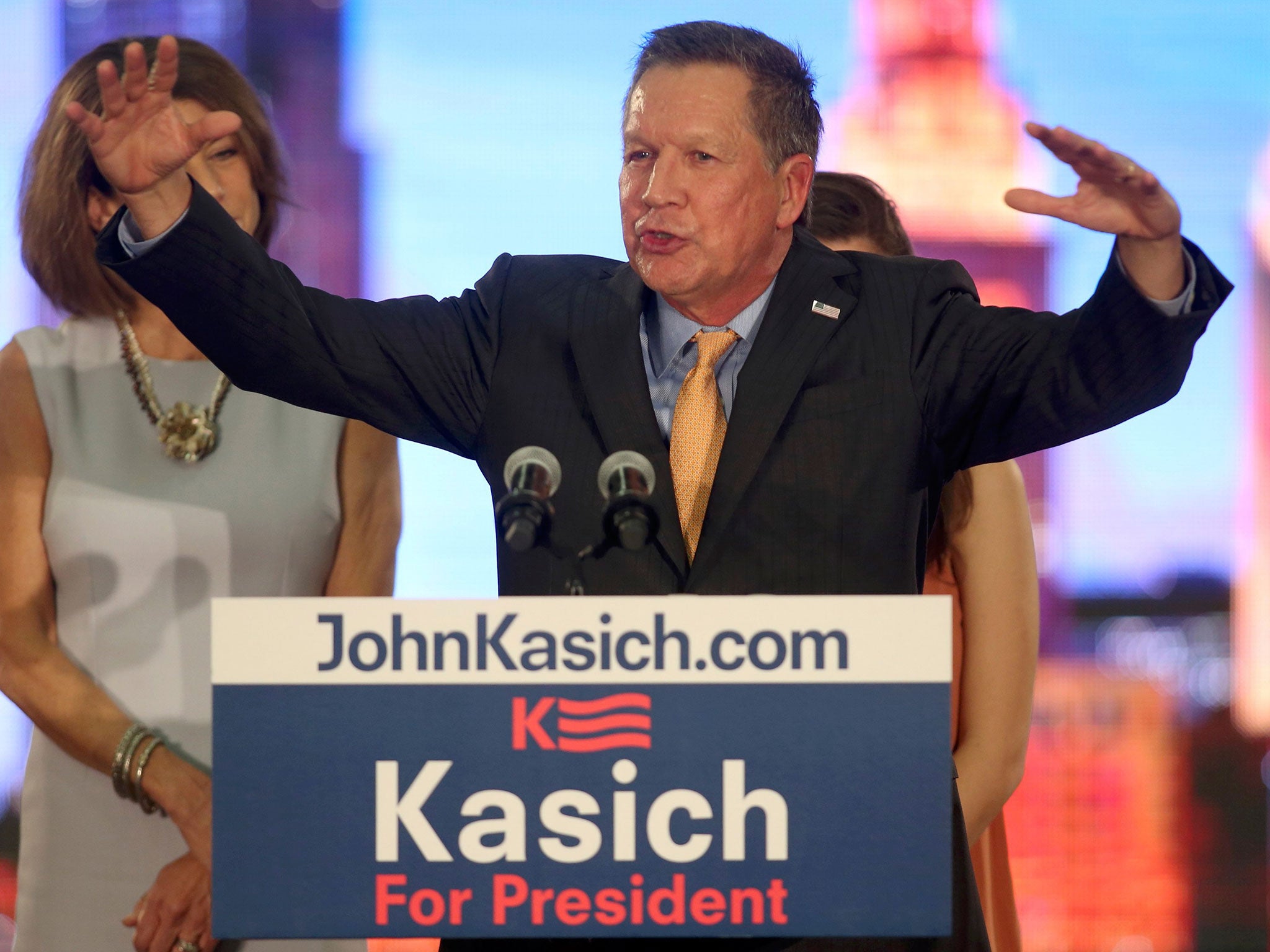 He called himself the grown up. In a season of shouting and theatrics, he was the candidate who stood on stage during the debates and answered questions calmly.
And in a time when the public appeared to turn its back on the establishment candidates, he was the unabashed Washington insider, a man ready to make deals with both sides.
On Tuesday night, such caution and calmness appeared to have paid off, as John Kasich halted Donald Trump in his desire to secure a clean sweep in the five primaries when he won his home state of Ohio.
Mr Kasich secured 46 per cent of the vote, with Mr Trump on 36, Ted Cruz on 13 and Marco Rubio on 2. For the Democrats, Hillary Clinton was declared to have won the state, easily beating her rival Bernie Sanders 56-42.
Mr Kasich, 63, appeared with his family at a victory rally, where he smiled at beamed. While he had a huge advantage over the other candidates in his home state, Mr Trump had made him work hard for the win and he was going to make sure he enjoyed his moment of victory.
"I represent you," he said to loud cheers, "It's my job to listen to your problems and then go and fix them. It's been my intention to make you proud."
Mr Kasich's win in the Buckeye State where there are 66 delegates awarded on a winner takes all basis, could be one of the most important of the primary season; it means that it is now very difficult for Mr Trump to secure the majority of delegates that would give him the nomination ahead of the party's July convention. To do so, he would need to win at least 60 per cent of all the remaining delegates. So far, he has not won at a rate of more than 50 per cent.
In pictures: US Elections 2016
Show all 15
If he fails that, given the opposition to the billionaire among the party's establishment, it is likely he could face a bitter challenge at the convention in Cleveland, something that has not happened since 1976.
At Mr Kasich's rally at Baldwin Wallace University on the edge of Cleveland, when television channels called the race for him, the news was met with loud cheers.
"He has been a gentleman throughout," said Janet Leonard, a human resources official. "He has done a good job for us in Ohio and I think he will do well as president."
On a dramatic and sometimes nail-biting night, Mr Trump won Florida, Illinois, North Carolina and was poised to win Missouri. Hillary Clinton, however, won all five states from Bernie Sanders. For the Democrats, the battle was slightly less do-or-die given that the delegates were awarded on a proportional basis.
Join our commenting forum
Join thought-provoking conversations, follow other Independent readers and see their replies