John Fetterman wants people to stop fussing about his use of captioning technology
The Pennsylvania Democratic Senator talks to Eric Garcia about calling on Bob Menendez to resign, why it's a 'privilege' to destigmatise the use of captioning technology and why Trump doesn't understand auto workers
Thursday 05 October 2023 07:01 EDT
Comments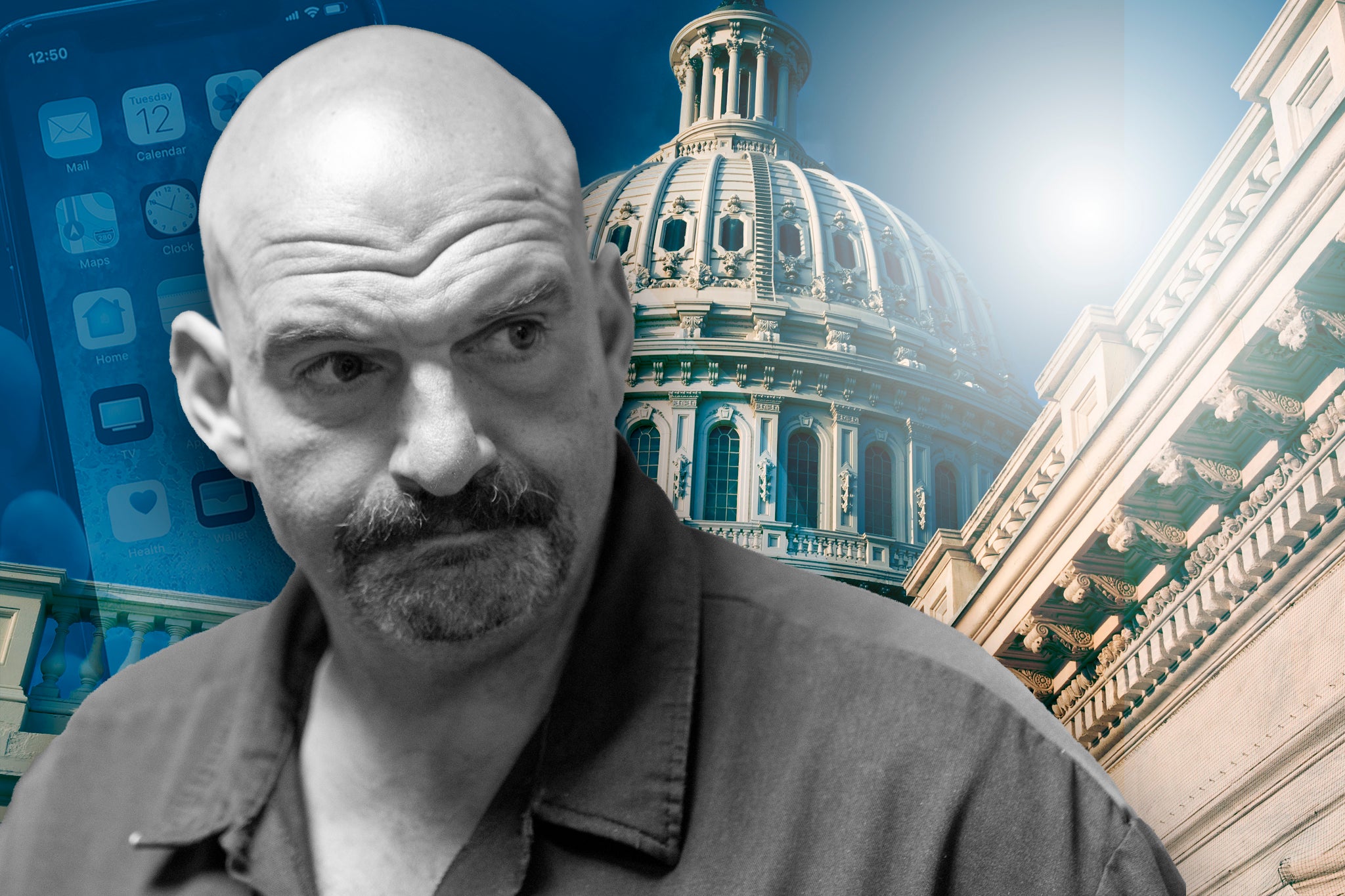 Sen John Fetterman has a simple analogy when talking about his use of the captioning technology that helps him understand what people are saying to him.
Seated in his trademark black hoodie behind his desk in the Russell Senate office building, a stand in the shape of his home state of Pennsylvania props up a tablet showing captions for the words others say to him.
The past year and a half has been a whirlwind for the freshman Democratic senator. The centre of the political universe was already set to focus on Pennsylvania throughout much of 2022, given that it was one of the few seats Democrats had a chance of flipping.
Mr Fetterman easily did away with his Democratic primary opponents. But days before he won the nomination in May of last year, he suffered a stroke. That in turn led him to have difficulties with auditory processing. At times, he will still mispronounce words or blend some together. His post-stroke struggles meant that he would be scrutinised as a marquee candidate even more.
During Mr Fetterman's only debate with Republican television star and physician Mehmet Oz, he used closed captioning, though at times struggled with speaking. In response, Democrats panicked that he would lose what was once seen as a winnable race. Afterward, Senate Majority Leader Chuck Schumer was caught on a hot mic telling President Joe Biden on a tarmac that it looked "like the debate didn't hurt us too much in Pennsylvania."
The fears that Mr Fetterman would lose did not pan out. But in the weeks after he was sworn in, he continued to face challenges, being hospitalised at George Washington University Hospital. Then, shortly thereafter, he checked into Walter Reed Medical Center to undergo treatment for depression for six weeks.
When he first came to the Senate during orientation, he often did not respond to reporters as he still dealt with auditory processing issues. But over time, he's resumed talking to reporters in the way that endeared him to many when he was mayor of Braddock, the western Pennsylvania steel town, and when, as lieutenant governor of the state, he frequently pushed back against former president Donald Trump and Republicans' lies about the election.
When approached by reporters or his colleagues, he frequently whips out the phone he keeps in the breast pocket of his Carhartt shirt and many do not mind speaking directly into the device, and he will offer a quippy response in return. He has an equally simple response when asked about his use of captioning technology.
"Millions of Americans, maybe tens of millions of Americans, you know, rely on their glasses, whether it's a drug or especially to read," he told The Independent in an interview on Wednesday. Mr Fetterman said that most people would never think to judge people who needed glasses.
"Is that a reflection on the kind of person you are or anything like that?" he said before pointing to his tablet. "It's no different than a pair of glasses that allows me to participate as we are doing right now."
Mr Fetterman stressed that the captioning technology, just like his glasses, enables him to effectively do his job. And in recent weeks, he's put himself at the centre of the political universe.
Last week, Senate Majority Leader Chuck Schumer caused a stir when he attempted to change the Senate dress codes so Mr Fetterman could enter the floor to vote and preside in the Senate in his signature casual clothes. That triggered outrage and led to Sens Joe Manchin (D-WV) and Mitt Romney (R-UT) to pass a resolution. Mr Fetterman, whose campaign regularly mocked his Republican opponents online during his Senate campaign, responded with an internet meme of King of Queens actor Kevin James shrugging.
When Sen Bob Menendez (D-NJ) was indicted for corruption charges, Mr Fetterman became the first senator to call for his resignation, breaking the typical decorum and triggering a deluge of calls for Mr Menendez to step down.
"Because it's an easy call," he told The Independent. "I mean, it's just, you know, if you can't stand up and do the right thing, when, you know, half a million dollars of cash is stuffed in albums all around the house in gold bars under a mattress, you can't even believe that that was even possible."
These days, when he roams the Capitol, he's often flanked by his aides. When Republicans opened their impeachment inquiry into President Joe Biden, Mr Fetterman notably laughed off the effort when speaking to an NBC reporter.
Last week, as Republicans on the House Oversight Committee began their impeachment hearing, he dropped off a case of Bud Light at their office, an obvious dig at how conservatives despise the beer brand after it featured transgender influencer Dylan Mulvaney.
When auto workers began to strike last month, he drove to Detroit to express solidarity and chided former president Donald Trump for trying to act like he was a friend of the working man by holding a rally in the Motor City.
"I drove there in the vehicle that they made," he said of the auto workers, as his large 6' 8" frame towered over his desk even when he leans back in his chair. "You know, he drives around in some busted out, you know, plane."
Mr Fetterman said he doubted that Mr Trump understood the work that the union labourers put in.
"It's just so plastic, but of course, you know, who's behind it," he said.
The freshman Democratic senator is also fully aware of the fact he is perhaps the most prominent American with an auditory processing disorder who uses captions after he recovered from his stroke in May. An estimated 0.5 to 1 per cent of the US population has an auditory processing disorder. One study said that 40 per cent of people between the ages of 18 and 60 had auditory processing deficits after a stroke.
In the weeks after he suffered his stroke, Mr Fetterman learned how to use captioning technology.
"Otherwise, you know, right after my stroke, the way to communicate effectively, was having a whiteboard and a marker, things like that," he said.
But in the weeks and months that he learned how to use closed captioning, many people treated the tool that would allow him to answer his questions and continue to campaign as an oddity. After his first interview since his stroke, NBC News reporter Dasha Burns said "it wasn't clear he was understanding our conversation," even though that is precisely what captions are meant to do.
Jenna Beacom, a deaf sensitivity reader based in Columbus, Ohio, said the coverage was stigmatising.
"The means of conveying information is pretty much irrelevant," she told The Independent via direct messages on X, formerly known as Twitter. "What is important is that each person has the same access to information."
But in a way, his stroke and use of technology meant he would represent a new group of people: the one in four Americans with disabilities, including many Pennsylvanians. His staff met recently with Josie Badger, a disability rights advocate with a rare neuro-muscular condition, as she was discussing how people with disabilities risk losing their Supplemental Security Income benefits if they get married.
Ms Badger told The Independent that growing up in rural Pennsylvania, she didn't know people with disabilities.
"I thought the only way to be successful was to separate myself from my disability," she said. "Something like his presence in a leadership position, I hope can help others see, you don't have to pretend to be someone else to be a leader to make a difference."
State Rep Jessica Benham, who in 2020 became the first openly autistic person elected to Pennsylvania's state legislature, also said it was important to show that Mr Fetterman was just like any other legislator.
"And I always say that my experiences as a working class kid are just as important as my experiences as a queer woman or a person with a disability," she said. Ms Benham said that she has spoken to Mr Fetterman occasionally about his disability and said she saw him recently at a Labor Day event.
"I think what's really cool for me to see is, you know, obviously, he has acquired this disability, more and more recently, and so to watch his understanding of how that connects to the broader issues that folks with disabilities are facing, it's really cool," she told The Independent.
Mr Fetterman saw it as his duty to destigmatise the type of technology that he used.
"It's a duty, it's an obligation, but it's also a privilege to be able to do that too," he said.
At the same time, Mr Fetterman said he recognised he has it easier than many people with disabilities.
"Most of the most of the people that are in the community now have had it much, much, much harder than I have," he said. "Because, you know, a straight white guy and I never had any kind of disabilities that stopped me or prevented me from fully participating in society, for lack [of] a word."
During a recent hearing on the Senate Aging Committee about government technology being accessible to people with disabilities, he spoke about the ridicule he faced, which partially led to him being hospitalised for depression.
The mockery did not relent as he underwent treatment. During the Conservative Political Action Conference earlier this year, one stand sold shirts mocking him and President Joe Biden, saying "Biden-Fetterman 2024: It's a no-brainer." Mr Trump's son Donald Trump Jr called him a "vegetable."
Mr Fetterman said the way his condition was discussed was "cruelty."
John Fetterman gets emotional describing 'ridicule' he faces after stroke
Mr Fetterman also criticised the ableism he sees in media coverage, including a recent cover of The New Yorker that featured Mr Biden, Mr Trump, former House speaker Nancy Pelosi and Senate Minority Leader Mitch McConnell using walkers.
"It's just like, holy s***. Don't we have to respect, you know, older people," he said. "If an episode with the Leader McConnell for anyone to exploit that, or to use that to weaponse, that is some this is something ... I would refuse to ever do."
Day to day, he has said that the United States Senate has been incredibly accommodating toward him. And indeed, many senators are disabled themselves. Sen Jon Tester lost three of his fingers in a meat grinder accident as a child. Sen Chuck Grassley, the oldest-serving senator, had hip surgery earlier this year and had to use a wheelchair. Mr McConnell, 81, uses hearing aids, as does Mr Tester and Sen John Cornyn of Texas.
In addition, the Senate changed its accommodations to allow for him to use his captioning on the floor. Mr Fetterman's colleague from Pennsylvania, Mr Casey, also a Democrat, is the chairman of the Senate Aging Committee and has long supported disability rights.
Mr Casey told The Independent the fact that Mr Fetterman can communicate with captioning technology "is really a great breakthrough because the key here is the institution's got to adapt to that individual."
In the same way, Mr Fetterman said he followed the lead of other disabled lawmakers such as former congresswoman Gabby Giffords, who was shot in the head during a constituent meeting in 2011 and together with her husband Sen Mark Kelly (D-AZ) has become an outspoken advocate for gun control. Similarly, he has found inspiration from Sen Tammy Duckworth, who uses a wheelchair after she lost her legs when her helicopter was shot down in Iraq during her military service.
"She's a national hero, and she has dealt with so so so so, so much more than I have," he said. "Now. So she's the go-to person in this Senate and in America."
Indeed, in July, during the week of the 33rd anniversary of the Americans with Disabilities Act, Ms Duckworth spoke in person at an event hosted by the American Association of People with Disabilities and described how she could not see the Barbie movie with her daughters because the elevator in the theatre was broken and was only informed of this once she had purchased a ticket. Ms Duckworth said that she has a list of ways to make the Capitol more accessible.
"More elevators, more ramps, more bathrooms," she told The Independent. She also called Mr Fetterman's accommodations "the kind of reasonable accommodation we should be making for people."
Mr Fetterman delivered remarks via video at the same event hosted by AAPD commemorating the ADA.
"I want to thank your community for the work that you have done to make sure people with disabilities can run for and win office," he said. "Now that I'm a senator, I'm going to continue to fight for disability rights in DC."
The event also featured former House Majority Leader Steny Hoyer and Secretary of Transportation Pete Buttigieg. The event had closed captions for the audience.
Join our commenting forum
Join thought-provoking conversations, follow other Independent readers and see their replies