John Boehner: Ex-Republican speaker joins marijuana firm despite previously being 'unalterably opposed' to legalisation
'My thinking on cannabis has evolved'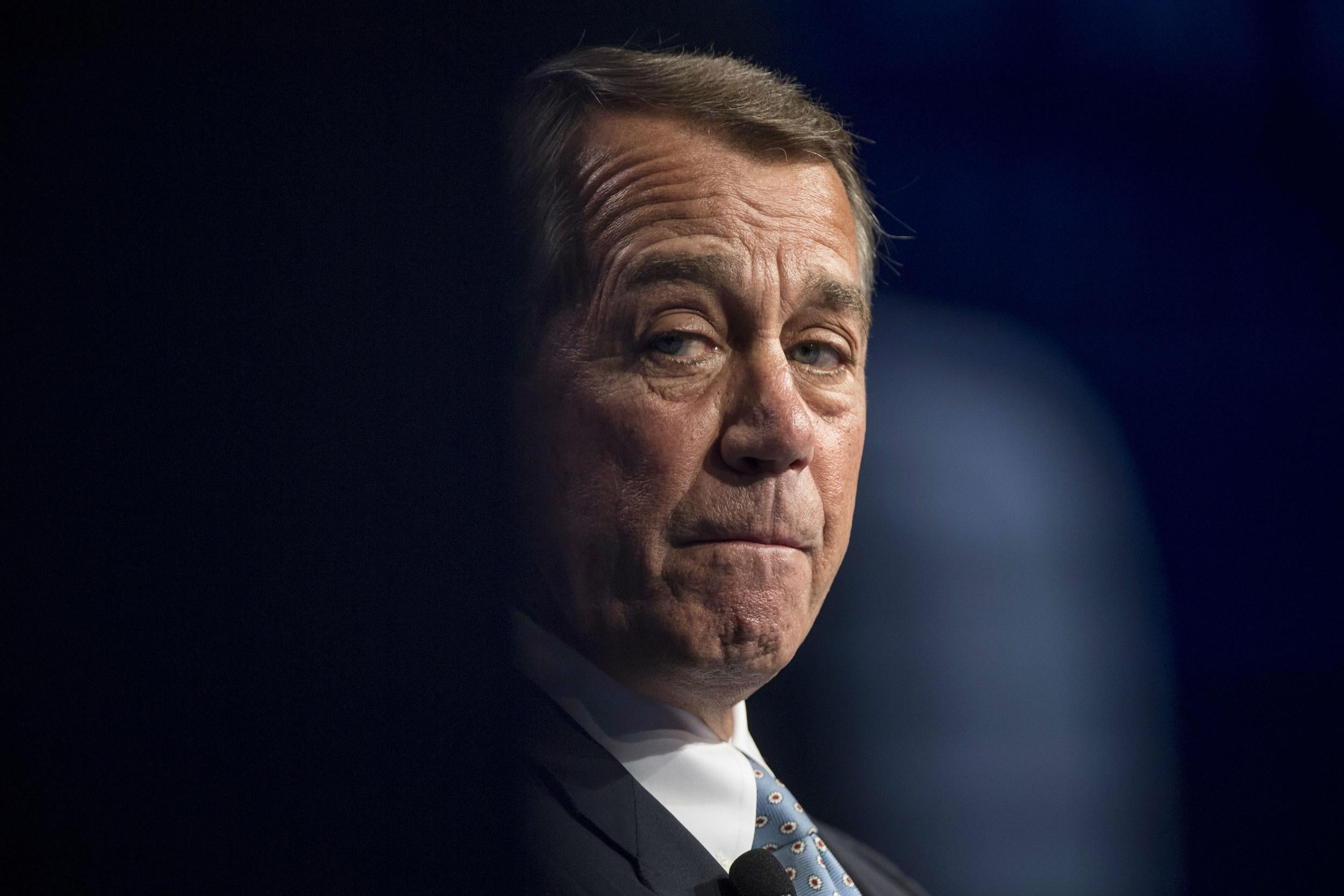 A former senior Republican politician, who for many years was "unalterably opposed" to the legalisation of cannabis, is to join the advisory board of a marijuana company.
John Boehner, who served as Speaker of the House until 2015, announced he will be joining a cannabis company that has operations across 11 states, because his "thinking on cannabis has evolved".
"I'm convinced de-scheduling the drug is needed so we can do research, help our veterans, and reverse the opioid epidemic ravaging our communities," he said.
Mr Boehner, 68, was appointed to the board of Acreage Holdings, a business that aims to "make cannabis available to any patient who can benefit from safe and reliable access". Also joining him on the board is former Republican Massachusetts governor Bill Weld, who in 2016 was the vice presidential candidate for the Libertarian Party and the running mate of Gary Johnson.
In a joint statement, issued by Acreage Holdings, the pair said: "While we come at this issue from different perspectives and track records, we both believe the time has come for serious consideration of a shift in federal marijuana policy.
Canadian MP 'confident' cannabis will be legalised by 'end of summer'
"The public perception of cannabis has dramatically shifted, with 94 per cent of Americans currently in favour of some type of access, a shift driven by increased awareness of marijuana's many medical applications."
They added: "We need to look no further than our nation's 20 veterans, 20 per cent of whom, according to a 2017 American Legion survey, reportedly use cannabis to self-treat PTSD, chronic pain and other ailments. Yet the [Department of Veterans Affairs] does not allow its doctors to recommend its usage."
The ultimate herbal remedy: Can cannabis improve autism?
Show all 6
Bloomberg News said that both Mr Boehner and Mr Weld said they had never tried the drug, recreational use of which is legal in nine states and Washington DC. That means more than one in five American adults can legally use the substance.
Twenty additional states allow for some form of medical marijuana. The legal market is expected to reach $75bn by 2030, according to the investment bank Cowen & Co, the news agency said.
Mr Boehner, whose successor as House Speaker, Paul Ryan, has announced he is not seeking re-election, said his perspective on the drug altered when he saw its efficacy in helping a close friend deal with debilitating back pain, along with the stories he heard from military veterans. He said he had also been studying the criminal justice system for a number of years.
"When you look at the number of people in our state and federal penitentiaries, who are there for possession of small amounts of cannabis, you begin to really scratch your head," said Mr Boehner. "We have literally filled up our jails with people who are nonviolent and frankly do not belong there."
Attorney General Jeff Sessions has been a longtime opponent of legalising cannabis. The Justice Department in January rescinded the Obama-era policies that allowed state legal cannabis markets to flourish.
Join our commenting forum
Join thought-provoking conversations, follow other Independent readers and see their replies