Biden tells Pacific islands leaders he hears their warnings about climate change and will act
President Joe Biden has informed leaders from the 18-member Pacific Islands Forum on Monday that he has heard their warnings about the impact of climate change on their region
Biden tells Pacific islands leaders he hears their warnings about climate change and will act
Show all 2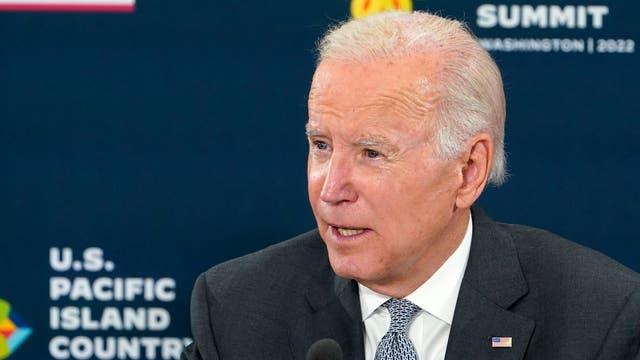 President Joe Biden on Monday told leaders from the 18-member Pacific Islands Forum that he has heard their warnings about the impact of climate change on their region and that his administration is committed to helping them meet the challenge.
Pacific islands leaders gathered on Monday for the start of a two-day Washington summit. Many have been critical of rich countries for not doing enough to control climate change despite being responsible for much of the problem, and for profiting from loans provided to vulnerable nations to mitigate the effects.
At the summit's start, Biden said that his administration is requesting Congress approve $200 million in new assistance for the region, including financing to help the islands prepare for climate and natural hazards and improve infrastructure.
"I want you to know I hear you, the people in the United States and around the world hear you," Biden told the leaders. "We hear your warnings of a rising sea and (that) they pose an existential threat to your nations. We hear your calls for reassurance that you never, never, never will lose your statehood, or membership of the U.N. as a result of a climate crisis. Today, the United States is making it clear that this is our position as well."
As part of the summit, the U.S. is formally establishing diplomatic relations with two South Pacific nations, the Cook Islands and Niue. Later Monday, Secretary of State Antony Blinken will take part in signing ceremonies with Niue Premier Dalton Tagelagi and with Cook Islands Prime Minister Mark Brown to mark the new elevated relations.
Brown welcomed the elevation of U.S. relations with the Cook Islands and said the U.S.-Pacific islands partnership could be an important tool for helping the region achieve its aspirations.
"These milestones celebrate areas of change, and demonstrate that with unshakable resolve and leadership, remarkable achievements are possible," Brown said.
Blinken is also set to take part in an event with Kiribati President Taneti Maamau later Monday as the island country was set to sign on to a new partnership with the U.S.-backed Millennium Corporation Challenge. The group has previously assisted the country with dozens of low-lying atolls and 120,000 people to boost its workforce.
Some of the leaders attended an NFL game in Baltimore on Sunday and visited a U.S. Coast Guard cutter in the city's harbor for a briefing on combating illegal fishing and other maritime issues. Biden announced Monday that later this year he would deploy a U.S. Coast Guard vessel to the region to collaborate and train with Pacific islands nations.
At last year's summit, the White House unveiled its Pacific strategy, an outline of its plan to assist the region's leaders on pressing issues like climate change, maritime security and protecting the region from overfishing. The administration pledged the U.S. would add $810 million in new aid for Pacific islands nations over the next decade, including $130 million on efforts to stymie the impacts of climate change.
The leaders will also meet on Monday with Biden's special envoy on climate, John Kerry, for talks focused on climate change. Blinken and U.N. Ambassador Linda Thomas-Greenfield will host the leaders at the State Department for a dinner.
Kerry and Samantha Power, administrator of the U.S. Agency for International Development, will host the leaders on Tuesday for climate talks with members of the philanthropic community. The leaders also plan to meet with members of Congress. Treasury Secretary Janet Yellen will host a roundtable with the leaders and members of the business community.
Power last month traveled to Fiji to open a new USAID mission that will manage agency programs in nine Pacific islands countries: Fiji, Kiribati, Nauru, Samoa, Tonga, Tuvalu, Republic of the Marshall Islands, Federated States of Micronesia, and Palau. The U.S. this year has opened embassies in Solomon Islands and Tonga, and is on track to open an embassy in Vanuatu early next year.
The forum includes Australia, the Cook Islands, Micronesia, Fiji, French Polynesia, Kiribati, Nauru, New Caledonia, New Zealand, Niue, Palau, Papua New Guinea, Republic of Marshall Islands, Samoa, Solomon Islands, Tonga, Tuvalu, and Vanuatu.
Biden earlier this year had to cut short a planned visit to the Indo-Pacific, scrapping what was to be a historic stop in Papua New Guinea, as well as a visit to Australia for a gathering with fellow leaders of the so-called Quad partnership so he could focus on debt limit talks in Washington. He would have been the first sitting U.S. president to visit Papua New Guinea.
The U.S. president is set to honor Australian Prime Minister Anthony Albanese with a state visit next month.