Biden, looking to shore up Hispanic support, faces pressure to get 2024 outreach details right
President Joe Biden's small but notable past missteps when courting Hispanic voters have some activists worried that his reelection campaign won't get crucial details right ahead of the 2024 election
Biden, looking to shore up Hispanic support, faces pressure to get 2024 outreach details right
Show all 3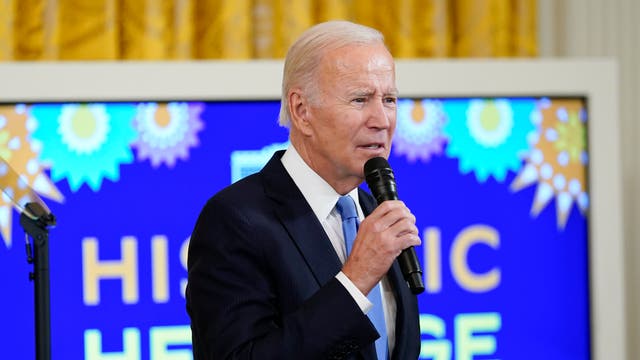 Joe Biden vowed in 2020 to work "like the devil" to energize Hispanic voters, and flew to Florida seven weeks before Election Day to do just that. But as he stepped to the podium at a Hispanic Heritage Month event near Disney World, Biden declared, "I just have one thing to say" and used his phone to play part of "Despacito."
It was meant as a salute to the singer of the reggaeton hit, Luis Fonsi, who had introduced Biden and cried, "Dance a little bit, Joe." Still, the gesture triggered swift online backlash from some Hispanics, who saw it as playing to belittling stereotypes — proof that while outreach is important, failing to strike the right cultural tone can undermine such efforts.
"The details actually matter for people because it's respecting their background, respecting their history, respecting their culture," said Grecia Lima, national political director of Community Change Action. "It's not an insignificant portion of what campaigns are going to have to wrestle with in the '24 cycle."
Biden is hardly the first politician to strike a sour note trying to connect across cultural lines, but the blowback he encountered illustrates a bigger challenge facing the president and his party as he seeks a second term next year.
Hispanic voters, long a core constituency for Democrats, have reliably supported them based on substantive matters of policy, from health care to managing the economy, according to Pew Research Center surveys. But recent signs that Republicans have made inroads with those voters are adding to the sense that Democrats have work to do to maintain their advantage.
Democratic candidates won 57% of Hispanic voters during last year's midterms, a smaller percentage than the 63% of Hispanic voters Biden won in 2020 and the 66% of Hispanic voters supporting the party in 2018, when Democrats took control of the House, according to AP VoteCast, a sweeping survey of the national electorate.
Meanwhile, 39% of Hispanic voters backed Republicans last year, a tick up from the 35% who supported former President Donald Trump's reelection bid.
Miami Mayor Francis Suarez, a Republican considering a White House run, said Democrats have failed to connect with Hispanic voters and hurt themselves by adopting terms like Latinx, a gender-neutral alternative to "Latino" and "Latina."
"They've created a tremendous opportunity for Republicans," Suarez said. "A lot of the issues that Hispanics care about are issues that are being touted by the Republican Party."
Democrats say they maintain the upper hand on policy, but party leaders had expected another boost in electoral support from recent demographic shifts in the Hispanic population. A growing share were English-speaking and U.S. born, and they came from a wider array of backgrounds.
Many Democrats also believed harsh rhetoric from Republicans before, during and after the presidency of Trump — who famously used his campaign launch in 2015 to declare immigrants from Mexico to be rapists and criminals — would work in their favor.
Yet even modest swings toward Republicans could mean millions more 2024 GOP votes since Hispanics made up 62% of total growth in the nation's eligible voters between 2018 and last year's election, according to Pew. And that makes engaging in effective Hispanic outreach critical, activists say.
"Are they behind?" asked Javier Palomarez CEO of the United States Hispanic Business Council. "Yes."
Hispanic support for Republicans has risen in places like New Mexico and New York, said Palomarez, who noted that such trends could continue — especially since word-of-mouth is crucial to influencing Hispanic voting — unless Democrats change the way they work to mobilize Hispanic voters.
"What they need to do immediately is really start talking to the Hispanic community in a genuine fashion," said Palomarez, a fierce Trump critic who once joined the Trump administration's council on diversity in hopes of finding consensus. "We're no less important than any other community, but we've been left behind."
Democratic strategist Maria Cardona countered that nearly every cycle features "activists with their hair on fire: 'The campaign's not doing enough, we're not hearing from enough people.'"
She said Biden's campaign is neutralizing those perceptions with "historic strides and investments" in Hispanic voter mobilization, especially important since a new Hispanic American turns 18 years old nationwide about every 30 seconds. That helps account for around 4 million more eligible Hispanic voters ahead of 2024 than there were in 2020.
Biden supporters also say incidents like playing "Despacito" don't resonate with Hispanic voters who are more interested in concrete policy achievements, especially when leading Republican candidates feed racially charged fear-mongering about immigrants and the U.S.-Mexico border.
"President Biden has spent his first two years in office focusing on the issues facing many Latino families — lowering health care costs, creating good-paying jobs, getting our small businesses and schools reopened, and fighting gun violence in our communities," Kevin Munoz, a spokesperson for Biden's reelection campaign, said in a statement.
Of course, cultural gaffes are bipartisan, going back to 1976, when President Gerald Ford bit into a Texas tamale without removing the corn husk. And Trump and other top Republicans have long used language such as "illegal alien," regarded by many Latinos as dehumanizing.
In the long run, the anti-immigration policies enacted by the Trump administration, including separating children from their parents at the border with no plans to reunite them, could matter more than Hispanic voter outreach efforts. Still, Hispanic voter support for Republican candidates held steady between 2018 and 2020 at 35% nationally, according to Vote Cast.
And "Despacito" wasn't the Biden camp's only misstep since then.
During a visit to Puerto Rico last fall, the president sought help pronouncing Caño Martín Peña while promoting federal funding to improve that canal. First lady Jill Biden flubbed the pronunciation of "Si Se Puede," the old farmworkers union slogan that later became an Obama-era rallying cry, during a speech in California last spring. Then, in Texas last summer, she said the Hispanic community was as "unique as breakfast tacos here in San Antonio." "We are not tacos," the National Association of Hispanic Journalists tweeted in response, prompting an apology from the first lady's office.
Matt Barreto, who does polling for the White House and the Democratic National Committee, said some of the shift toward Republicans occurred among those who cited the economy as their chief concern.
Barreto said the Democratic Party and its allies have intensified Hispanic outreach programs for the past two-plus years and found ways to make sure their message resonates.
"We've been learning our lessons, and constantly improving, and not taking the community for granted," Barreto said. "That doesn't mean some of the people who want us to do more are wrong."
Democrats were also hindered in 2020 by the pandemic, which severely limited on-the-ground organizing and door-knocking. But when those efforts resumed in 2022, Democrats nonetheless lost House races in heavily Hispanic parts of Southern California and Florida, even as they exceeded expectations nationally.
Indeed, the shift toward Republicans was particularly pronounced in Florida, where over half of Hispanic voters backed Republican Gov. Ron DeSantis, who is now running for president. He champions hard-line immigration stances that included using state funds to send asylum seekers from Texas to Martha's Vineyard because, he said, Democrats in northern cities were ignoring problems on the U.S.-Mexico border.
GOP messages portraying Democrats as too far left and anti-capitalist also resonated with Hispanic voters in South Florida, particularly recent immigrants from struggling socialist countries like Venezuela and Cuba.
In Florida's Broward County, one of the state's few remaining Democratic strongholds, Richard Ramunno, a 31-year-old business owner of Argentine and Chilean background, remembered Biden's "Despacito" episode but laughed it off. He said he worries more about policy decisions Republicans are making at the state level, including the Parental Rights in Education law signed by DeSantis, which makes it easier to challenge a book over its content.
"The laws they are passing are very conservative right now," he said. "Books are being removed from schools."
But Ramunno also said Democrats should be doing more to reach out to voters ahead of the 2024 election.
A brighter spot for Democrats last year was Nevada, where the first Latina elected to the Senate, Democrat Catherine Cortez Masto, won reelection despite Republicans flipping the governorship. Melissa Morales, founder of Somos PAC, which supported Cortez Masto, said the midterms showed the importance of focusing on economic policies like affordable housing and health care — not GOP-led culture war issues.
"The thing that really emerged for us in 2022 was that Latinos were so solutions-oriented," Morales said.
Lima, whose progressive group mobilizes voters for races up and down the ballot, said that the economy is a top motivator for Hispanics and that Biden and top Democratic candidates can point to legislative accomplishments, including a major public works package and increased federal spending on health care, social services and green energy.
But Lima also called those "down payments" and said Hispanic voters will expect Biden and Democrats "to make good" on policies that help the economy work better for them — even with Republicans controlling the House.
"We can't come back to them without progress in 2024," she said.
Many of the same activists who have criticized Biden and Democrats, however, praised the president for selecting Julie Chavez Rodriguez, granddaughter of civil rights icon Cesar Chavez, to manage his reelection campaign. Texas Rep. Veronica Escobar is a campaign co-chair.
Morales said choosing Rodriguez was not only symbolically important but also encouraging given her organizing background.
"It's so clear that she is the right person for the job," Morales said.
In a memo detailing 2024 strategy, which the Biden campaign produced in English and Spanish, Rodriguez promised that the campaign would "engage early and often" with Hispanic and other voters the campaign is counting on. The DNC also plans to build on Adelante, or "Forward," a seven-figure outreach plan that last year featured bilingual radio and print ads in Florida, Nevada, Arizona, Wisconsin, Georgia, North Carolina, Michigan, Pennsylvania and Texas.
The ads began last May, earlier before a midterm election than the DNC says it has ever started Spanish-language media. The committee is also helping fund Hispanic coalition and organizing staff in battleground states and planning to resume "boot camps" it used during the midterms. They train bilingual campaign staff in key states.
"I believe that now the Democratic Party is in a position where, when I go and tell people, 'I want you to do more,' I have willing partners," said Barreto, who worked closely with Rodriguez on Hispanic outreach during Biden's 2020 campaign. "That gives me more optimism that I'm not going to be spending the next 12 months trying to hit people over the head and saying, 'Don't forget, Latinos are important.'"
___
Associated Press writer Hannah Fingerhut contributed to this report from Washington.