Joe Biden's 'Buy America' policy on infrastructure projects leads to factory jobs in Wisconsin
Efforts by the Biden administration have been helping create new factory jobs as part of a push to bring high-speed internet to the whole country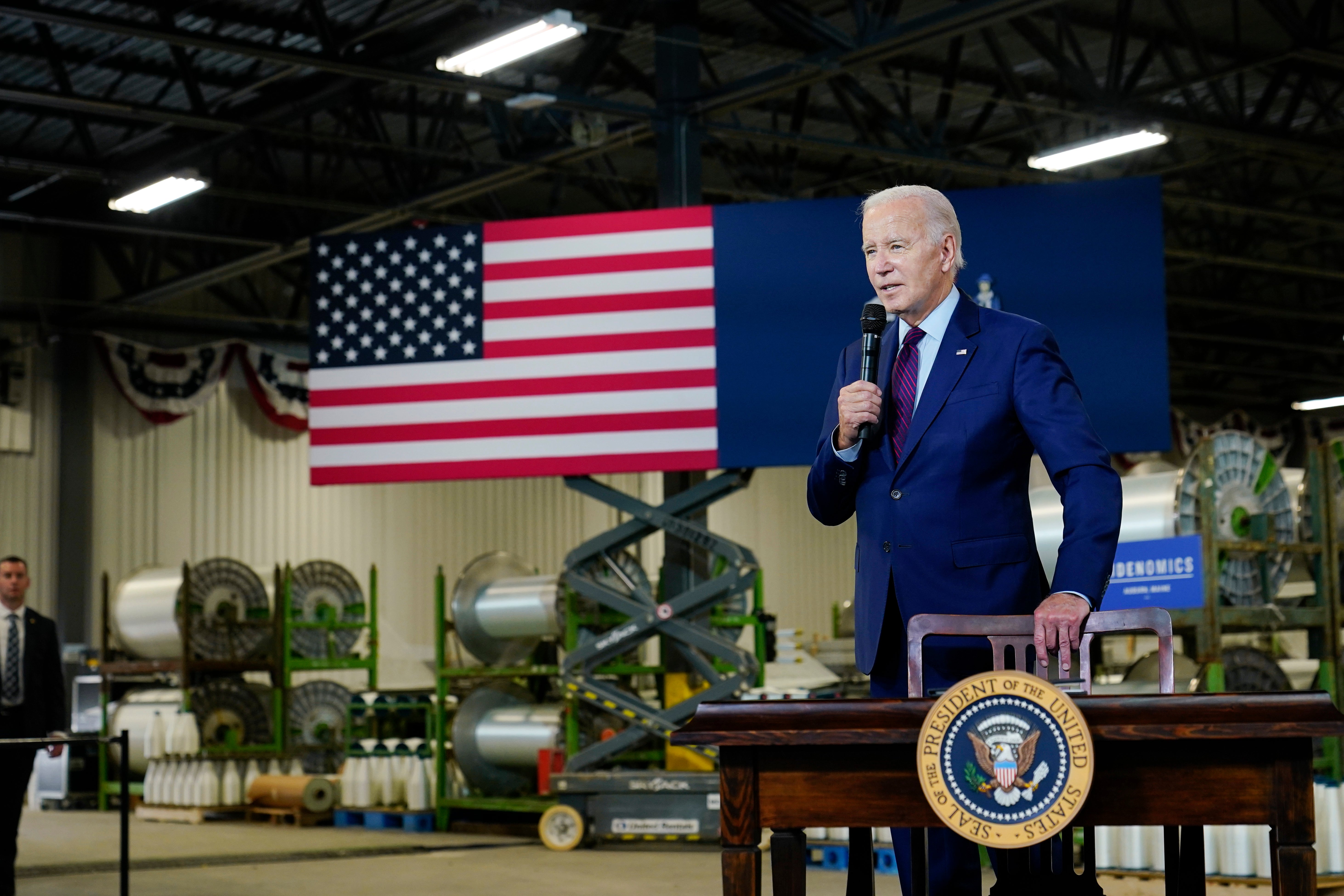 Efforts by the Biden administration have been helping create new factory jobs as part of a push to bring high-speed internet to the whole country -- jobs that coincidentally help to back up President Joe Biden's messaging for the 2024 elections.
Vice President Kamala Harris announced on Thursday that up to 200 new manufacturing jobs would be coming to the swing state of Wisconsin. The workers at the Sanmina factory in Kenosha County are to make parts for Nokia that help to connect customers to broadband internet.
Nokia's choice to move production to the U.S. came after an extended engagement with the Commerce Department over how to deliver on the "Buy America" rules in the government's $42.5 billion investment to provide universal internet services.
"Whereas in the past, many of those jobs would have been created overseas, President Biden and I required that the materials and products used in these projects, from steel to electronics to fiber optic cable, must be made in America, by workers in America," Harris said in her speech at the factory.
The remarks were part of a broader effort by the administration to get voters to link job gains to specific actions taken by Biden, one of the foundations of his reelection effort amid continued public gloom about the economy because of the burst of high inflation that began during his presidency.
Much of the effort to deliver on those promises has occurred out of the public view, but Nokia and government officials agreed to discuss how this particular project came together.
"It was a labor of some length and passion," said Brian Hendricks, vice president of policy and public affairs for Nokia Americas. "We spent almost a year working with the administration. They had to understand what the supply chain for broadband electrics actually is, understand how network deployments are done, and what would be feasible."
But there was also an "urgency" for Nokia's customers to know they could buy parts that were compliant with the "Buy America" provisions, since the 2021 infrastructure law established preferences for domestically-made supplies.
Commerce Secretary Gina Raimondo, who appeared with Harris in Wisconsin, said the president was clear that she "wasn't to be giving Buy America waivers easily." She said the government needed to get into the weeds to know which products could have their supply chains brought into the U.S. and which parts would likely need to be foreign-made to ensure that projects could be completed on time.
Nokia met with government officials on the project more than a dozen times. It was an educational process as data was exchanged regarding which products could be made in the U.S.
"We challenged Nokia and they rose to the challenge," Raimondo said. "They engaged with us. We kept their feet to the fire."
Critics have said the preferences for American-made supplies would push up costs and cause delays. But Nokia executives said the costs of moving production to the U.S. were relatively small as the major expense for the internet infrastructure involves construction labor and fiber-optic cables.
The choice of a factory in the swing state of Wisconsin was coincidental, as Nokia had a multi-decade relationship with Sanmina.
But there are clear political spillovers to choosing Kenosha County, which then-President Donald Trump narrowly won by 3 points in 2020 after racial tensions broke out over a police shooting and later the shooting deaths of civil rights protesters by Kyle Rittenhouse.
The Biden administration has focused on jobs and the benefits of greater broadband access in Wisconsin, which has 800,000 people who lack access to high-speed internet.
Under Biden, factory jobs in the Kenosha area have climbed to a two-decade high, according to Labor Department figures. There are 63,700 manufacturing jobs in the area. That's about 700 jobs more than the 2019 peak during the presidency of Donald Trump, the Republican front-runner for 2024. Trump won election in 2016 by pledging to revive factory work and Biden is seeking reelection by offering his plan to deliver on that same promise.
But even if the choice of Kenosha was a coincidence, it dovetails with the president's speeches saying that "Bidenomics" will restore the role of manufacturing in the middle class. And even if factory work no longer fully rebounds to its past highs, the administration sees signs that there are more factory jobs to come. Friday's jobs report showed that U.S. employers have added 125,000 manufacturing jobs over the past year.
"I don't know an American manufacturing company that is not right now rethinking its supply chain and realizing they need to work harder to diversify their supply chains — which means they have to make more in America," Raimondo said. "I think there's a lot more to come for places like Wisconsin."