Live Updates: World leaders convene for Day 1 of the UN General Assembly high-level meeting
Welcome to the United Nations
Live Updates: World leaders convene for Day 1 of the UN General Assembly high-level meeting

Show all 5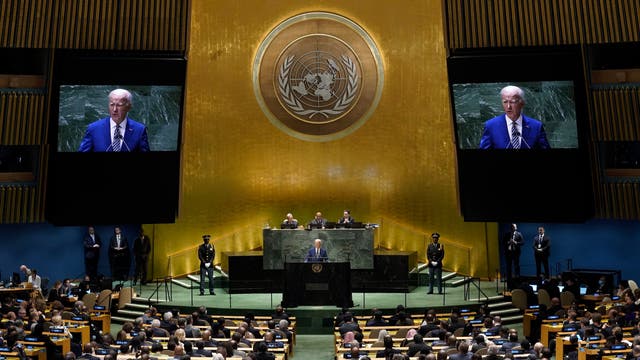 Welcome to the United Nations. Over the course of the next week, leaders from scores of countries will take the marbled dais that, despite being geographically located in midtown Manhattan, belongs to the world. It's part of the U.N. General Assembly's General Debate, in which a parade of speakers will cycle through the iconic hall from Tuesday, Sept. 19, through Tuesday, Sept. 26.
At the United Nations and on the sidelines, pressing topics will reflect the myriad global crises at hand: climate change, rampant inequality, Russia's war in Ukraine, public health and geopolitical instability, among others. Presidents, prime ministers, monarchs and other high-ranking representatives are convening under the 78th session's theme of "Rebuilding trust and reigniting global solidarity: Accelerating action on the 2030 Agenda and its Sustainable Development Goals towards peace, prosperity, progress and sustainability for all."
Check back here throughout for live updates from The Associated Press in and around the U.N. General Assembly, as leaders address and engage with their peers, constituencies at home and the world at large. A team of AP staffers at the United Nations, around New York and across the globe is providing highlights, analyses and key context in all formats.
HOW BIDEN'S REMARKS WERE RECEIVED
As U.S. President Joe Biden pledged support to Ukraine, warning that no nation can be secure if "we allow Ukraine to be carved up," there was a round of applause in the General Assembly Hall.
U.N. cameras showed Ukrainian President Volodomyr Zelenskyy, sitting in Ukraine's seat in the General Assembly, clapping his hands. He's scheduled to speak later today.
BIDEN SENDS A MESSAGE TO BEIJING
U.S. President Joe Biden sought to alleviate tensions with China in his speech, even as the United States tries to strengthen ties with other countries to limit Beijing's influence.
"None of these partnerships are about containing any country," he said. "They're about a positive vision for our shared future."
Addressing the relationship between U.S. and China, Biden said, "we seek to responsibly manage competition between our two countries so it does not tip into conflict."
China has been concerned for decades about Cold War "containment policies" in which the U.S. tried to prevent communism from spreading. It remains a hot-button issue between China and the United States to this day.
Chinese President Xi Jinping is not attending the meeting of world leaders. Biden has talked about holding another meeting with him, but none has been scheduled yet.
Read more about Biden's speech, from AP's Aamer Madhani and Seung Min Kim.
BIDEN SAYS WORLD MUST OPPOSE RUSSIA'S 'NAKED AGGRESSION'
President Joe Biden will tell the United Nations General Assembly that Russia cannot be allowed "to brutalize Ukraine without consequence," according to excerpts released by the White House, describing the war as a battle to preserve the global order.
"We must stand up to this naked aggression today to deter other would-be aggressors tomorrow," he said.
Biden plans to add, "That is why the United States together with our allies and partners around the world will continue to stand with the brave people of Ukraine as they defend their sovereignty and territorial integrity – and their freedom."
The message is intended to resonate beyond Moscow. Biden is trying to secure additional support for Ukraine from Congress, where Republicans control the House and are skeptical of continued assistance.
And Washington is on guard against Chinese aggression in the South China Sea, where competing territorial claims have caused tension in the region. Beijing also wants to reunite the mainland with the self-governing island of Taiwan, a goal that raises the prospect of another war.
WHAT DOES THE PRESIDENT OF THE GENERAL ASSEMBLY DO?
Meet Dennis Francis, the president of the 78th session of the U.N. General Assembly.
Francis hails from Trinidad and Tobago, and is the Caribbean country's longest-serving U.N. ambassador. He succeeds Hungary's Csaba Kőrösi.
The president of the General Assembly is elected by the body for a yearlong term, and gets to set a theme. Francis has chosen "Peace, Prosperity, Progress and Sustainability" for his session, and "Rebuilding trust and reigniting global solidarity: Accelerating action on the 2030 Agenda and its Sustainable Development Goals towards peace, prosperity, progress and sustainability for all" for this week.
GUTERRES ON LIBYA FLOODS
U.N. chief António Guterres began his address to the by evoking the tragic floods in Libya.
"Just nine days ago, many of the world's challenges coalesced in an awful hellscape," he said. "Thousands of people in Derna, Libya, lost their lives in epic, unprecedented flooding. They were victims many times over, victims of years of conflict, victims of climate chaos, victims of leaders near and far who failed to find a way to peace. The people of Derna lived and died in the epicenter of that indifference."
Read more about Guterres' speech from AP's Edith M. Lederer.
'COMPROMISE,' SAYS UN'S SECRETARY-GENERAL
"In the face of all these challenges and more, compromise has become a dirty word. Our world needs statesmanship, not gamesmanship and gridlock. As I told the G20, it is time for a global compromise. Politics is compromise. Diplomacy is compromise. Effective leadership is compromise. Leaders have a special responsibility to achieve compromise in building a common future of peace and prosperity for our common good."
— Secretary-General António Guterres
WHAT'S HAPPENING AT THE UN TODAY
— Key speeches expected: Secretary-General António Guterres, Brazilian President Luiz Inácio Lula da Silva, U.S. President Joe Biden, Turkish President Recep Tayyip Erdoğan, Ukrainian President Volodymyr Zelenskyy, Japanese Prime Minister Kishida Fumio, Iranian President Ebrahim Raisi. You can find the most up-to-date schedule here.
— In particular, pay attention to how Lula — who kicks off the cavalcade of speeches from world leaders — will try to position Brazil as a leader of the Global South and counterbalance to the dominance of China and the United States, AP's Brazil news director, David Biller, reports from the United Nations.
— Cuban President Miguel Díaz-Canel is slated to speak just a few slots after Lula — and Biden. Just days ago, Lula and Díaz-Canel reignited ties between the countries at the G77 summit in Havana, with the former lamenting the U.S. embargo of Cuba.
— Prince William is in town, too; while he's not speaking to the General Assembly, he will attend the second Earthshot Prize Innovation Summit.
WHAT YOU MISSED AT THE UNITED NATIONS ON MONDAY
While the General Debate had yet to start, there was still plenty of action at and around the United Nations on Monday.
— It saw the beginning of a two-day summit meant to galvanize world leaders on reaching the Sustainable Development Goals adopted by world leaders in 2015, reported Edith M. Lederer, AP's chief U.N. correspondent. Programming around the meeting included appearances by celebrities like Senegalese musician Baaba Maal and actors Natalie Portman and Nikolaj Coster-Waldau.
— Meeting with media executives — including AP's Paul Haven — on the sidelines of the General Assembly, Iranian President Ebrahim Raisi denied his country had sent Russia drones to use in the Ukraine war: "We are against the war in Ukraine," he said. Raisi is slated to address the General Assembly on Tuesday, a day after five Americans who had been held in Iranian custody arrived in Qatar, freed in a deal that saw President Joe Biden agree to unlock nearly $6 billion in frozen Iranian assets.
— As Climate Week in New York kicked off, leaders of the World Health Organization and the upcoming COP28 climate negotiations announced that, come December, they would devote a day to public health for the first time, AP Science Writer Seth Borenstein reported.
— Ukrainian President Volodymyr Zelenskyy visited a hospital in the New York City bureau of Staten Island, where he suggested that the United Nations — which he called a "retired superhero" back in 2021 — needed to answer for allowing his country's invader a seat at the tables of power, AP's Jennifer Peltz reported.