The political battle for Wisconsin's supreme court is a reminder that women's issues win elections
What could have been a local contest came to assume national political significance, writes John Bowden
Wednesday 05 April 2023 19:17 EDT
Comments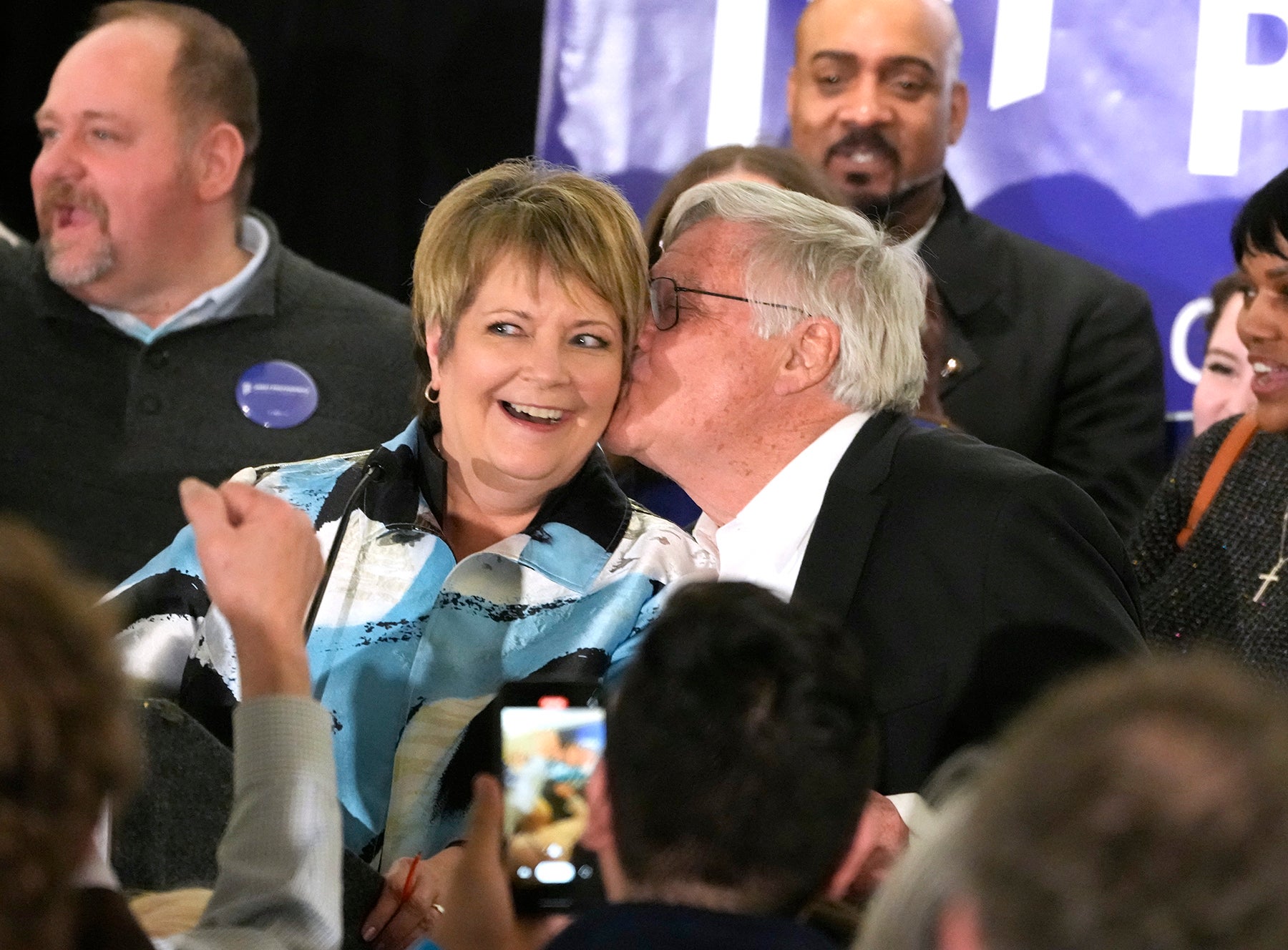 Janet Protasiewicz is headed to Wisconsin's state Supreme Court after a non-traditional election battle which saw her vocally standing behind her progressive values on abortion rights, unions, and even Joe Biden's defeat of Donald Trump in the 2020 election.
What could have been nothing more than a local contest between two apolitical judges instead has national political implicatons, especially on the issue of a constitutional right to abortion. Ms Protasiewicz didn't just win — she had a blowout victory, taking 55 per cent of the vote and overperforming Joe Biden's 2020 election night victory by nearly six percentage points.
It's a reminder to the Democratic Party that winning in the Midwest means not running away from the issues of abortion rights and support for organised labour (or, more likely, tacking to the right on them in a hopeless attempt to appease wayward Republicans), but instead embracing and championing those causes, even in deep purple regions.
The Protasiewicz campaign website looks more like that of a traditional politician than that of a member of the judiciary. A lengthy endorsements page touts union backers as well as pro-choice titans like Planned Parenthood and NARAL. While there's no "issues" page spelling out her political beliefs, a biography of the candidate is more than a little revealing of where she stands: "[A]s we can see on an almost-daily basis, our most closely-held constitutional rights are under attack by radical right-wing extremists", it reads.
She takes it a step further from there. "For almost my entire life, the constitutional right to privacy has been settled law. We know it's not up to the government to decide who we can or can't love. We know the 2020 election resulted in Joe Biden's election. We must restore confidence that judges aren't just trying to reach their favored outcomes, but actually applying the law and the constitution."
In her public comments, she is just as candid about her views. Speaking to Pod Save America last week, Ms Protasiewicz explained that she was unabashedly pro-choice, and added that if she won her race, expected to have a chance to reaffirm the right to an abortion in the state of Wisconsin.
"I think you all know what my value is. People should have a right to choose. That is my value. And I think that that is paramount," she told a cheering crowd in Madison. "And I certainly expect that we will be looking at that issue in the near future."
Her victory was no intangible win for the abortion rights movement in the state. Abortion procedures were outlawed last year after the rollback of Roe vs Wade by the US Supreme Court's new Trump-borne conservative supermajority, thanks to an 1849 state law snapping back into place with the fall of federal protections. Ms Protasiewicz's victory likely seals the doom of that law and means that millions of women will likely see their rights restored before the next election cycle.
The obvious political boon for Democrats in the state aside, her win reinforces lessons that progressives have argued that the party ignores with its support of anti-abortion (or at the best, hesitantly supportive) Democrats across the nation, many of whom are still touted by Washington pundits and the professional political sphere as supposedly more electable thanks to their more centrist (read: more conservative) views.
Wisconsin Supreme Court Justice candidate lashes out in concession speech
And as the Republican Party's top prospects for 2024, Donald Trump and Ron DeSantis, lean further into the conservative culture war, progressive leaders tell The Independent that now is the time for Democrats to seize their advantages and win over crucial voting demographics.
"I think across the board...Democrats have an incredible opportunity to keep leaning into the GOP war on women's rights," Our Revolution executive director Joseph Geevhargese said on Wednesday after Ms Protasiewicz's victory.
"I think there's a resonance, you know, with voters around [it]," he added. "The top line takeaway is the issues...Whether it's voting for abortion or collective bargaining, I think that was what was really on the ballot."
A handful of voices in on the conservative right, most notably author Ann Coulter, have urged their party to back off the race to implement restrictive bans on abortion procedures since the Republican Party failed to take the Senate in a surprise 2022 stalemate with Democrats. But those voices have failed so far to resonate, as a Republican base fired up by decades of descriptions of the procedure as "murder" have taken their toll and leaves little room for compromise on the issue with the left.
As the Republican presidential primary begins later this year, abortion (and the topic of bans) will likely be thrust back into the national spotlight. And if Tuesday's results in Wisconsin are any indication, there will be celebrations in the campaign offices of every local Democratic politician in states where the issue is not just a DC talking point but a real, tangible right that affects Americans of both genders and has real economic implications for millions of people.
Join our commenting forum
Join thought-provoking conversations, follow other Independent readers and see their replies