Trump told DOJ to say election was corrupt and 'leave the rest to me' and GOP, Jan 6 hearing told
Top DOJ officials detail stunning pressure White House put on supposedly independent agency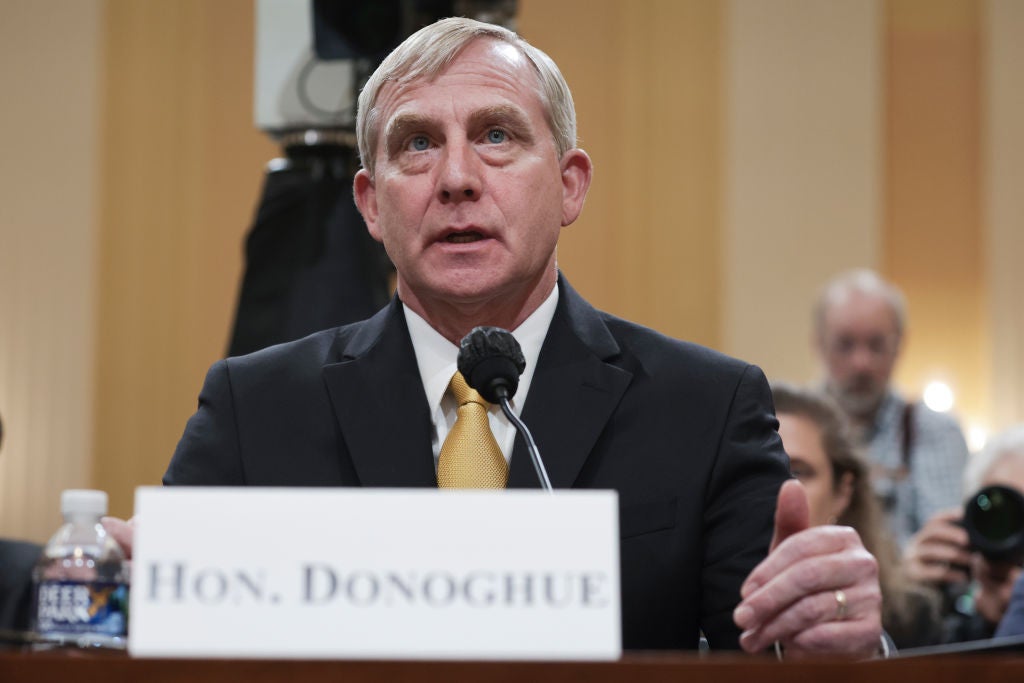 Top officials at the Justice Department testified on Thursday that then-President Donald Trump put enormous pressure on them in near-daily phone calls and statements demanding that they declare the results of the 2020 election fraudulent with zero evidence.
Former acting deputy Attorney General Richard Donoghue told the committee that Mr Trump instructed him personally to say that the election was "corrupt", and that he would use that as the impetus for Congress to act and refuse to certify the results.
"Just say it was corrupt and leave the rest to me and the Republican congressmen," Donald Trump said, in words read aloud by Jan 6 committee member Adam Kinzinger, who then asked: "That's a direct quote from President Trump, correct?"
"That's an exact quote from the president, yes," Mr Donoghue responded.
The conversation illustrates how unconcerned Mr Trump was with the issue of his own campaign as well as the Justice Department both being unable to find any evidence to back up his unwarranted claims of voter and election fraud.
Still, as the Jan 6 committee laid out this week, Mr Trump went forward with potentially illegal efforts to pressure state lawmakers and elected officials in states that he had lost to nullify or overturn the results, while also pressing for Vice President Mike Pence to interfere with the election certification effort on Jan 6.
The former president's pressure on the Justice Department was one more unprecedented aspect of his efforts to overturn the election; the Justice Department typically operates independently from the White House and takes great strides to avoid the appearance of outside influence in its investigations.
Join our commenting forum
Join thought-provoking conversations, follow other Independent readers and see their replies