The 21-year-old National Guardsman suspected of leaking secret Pentagon documents
Reports suggest links to an online gaming community, write Joe Sommerlad and Graeme Massie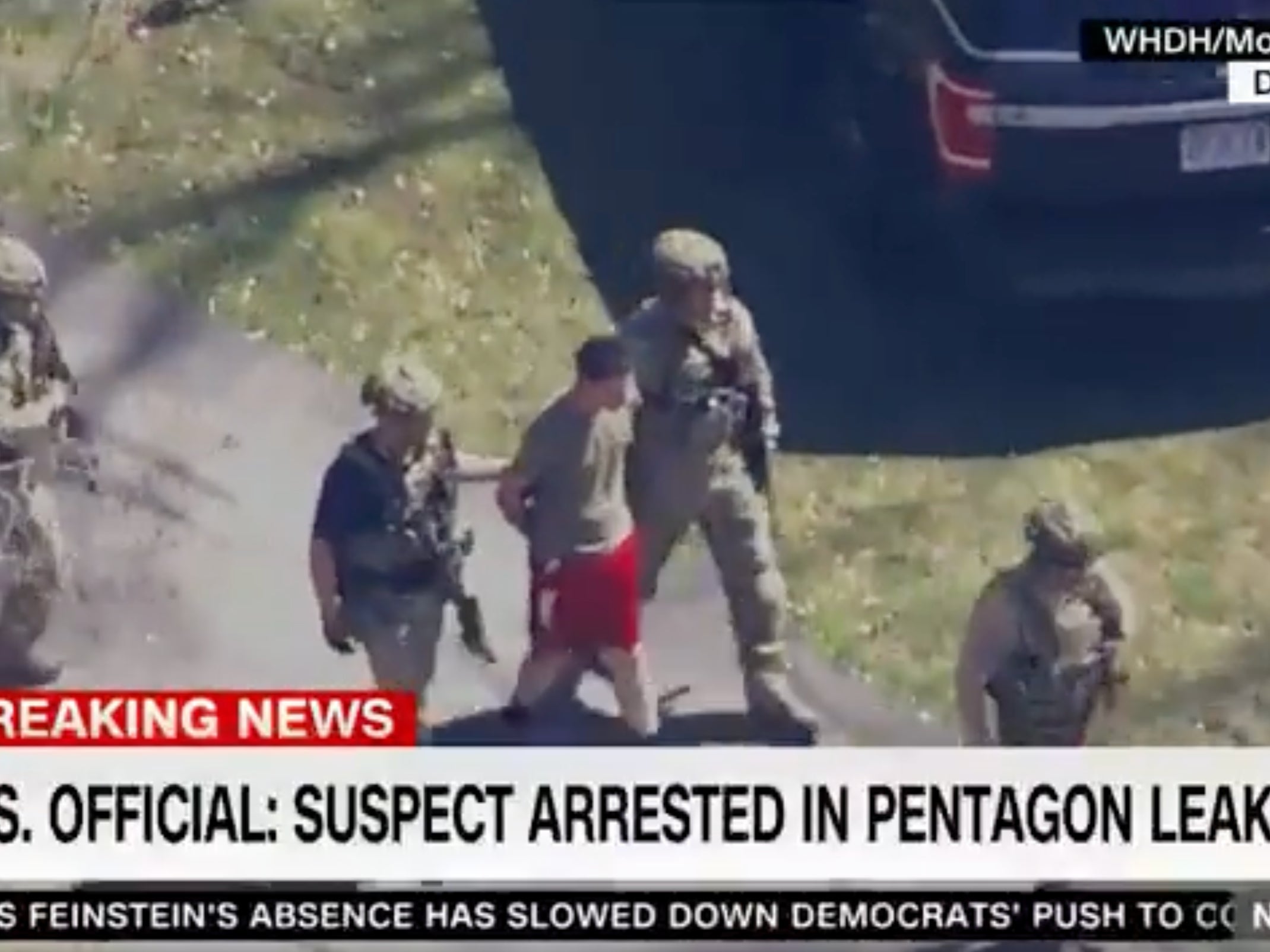 Armed FBI officers have arrested a member of the Massachusetts Air National Guard over the alleged leak of classified military intelligence online.
Authorities raided the Massachusetts home of 21-year-old Jack Teixeira, a member of the Guard's intelligence wing, on Thursday 13 April.
Video showed the suspect in handcuffs as he was marched by heavily-armed federal agents from a home in North Dighton, Massachusetts, wearing shorts and a t-shirt.
Following the arrest, the Air Force released the suspect's service file. It shows that he is an enlisted airman for the Massachusetts Air National Guard who joined in September 2019.
The suspect's official job title is Cyber Transport Systems journeyman. The Air Force says that the job of Cyber Transport Systems specialists is to ensure that the service's "vast, global communications network" works properly.
The suspect had also earned one Air Force Achievement Medal.
The US intelligence community has been racing to track down the person who leaked scores of highly-classified documents online about the Ukraine war, and much else, a week after their existence was first revealed.
The so-called "Pentagon Papers", widely shared and leaving many in Washington ashen-faced with embarrassment, have yet to be officially authenticated but appear to contain details on deeply sensitive matters pertaining to national security and foreign affairs.
The slides of photographed files that were made public include detailed battlefield maps from Russia's war in Ukraine and the alarming suggestion that the US believes Kyiv will soon run out of missiles for its air defence systems, in addition to awkward revelations about America's attitude towards many of its allies around the world, including the UK, South Korea, Egypt, Israel and the UAE.
Precisely how many documents were leaked is not known, with estimates varying from 50 into the hundreds.
The Department of Justice has announced it is opening a criminal investigation into the matter while the Pentagon conducts an internal review and senior diplomats reach out to reassure their allies overseas, many of whom feel their trust has been sorely abused.
The New York Times first broke the story on 6 April while the movement of the documents has since been tracked by Bellingcat to a Discord server for gamers known as Thug Shaker Central.
It is believed that a member of that community, known only as "Lucca", began posting several dozen images of the documents to another Discord server affiliated with the YouTuber wow_mao on 28 February.
From here, they were seemingly posted to a Minecraft Earth Map forum on 4 March, before gradually making their way to the messaging platform 4chan and to Russian Telegram channels such as Donbas Devushka, before finally ending up on Twitter by 5 April.
"I can sort of understand how sharing big, private, military secrets could be a funny thing to do among your internet friends. But c'mon, take care of yourself and stay away from doing stuff like this," wow_mao himself said in a YouTube video on Monday.
Distancing himself further from the leak, he told The NYT: "I'm a s*** posting, internet, micro-celebrity and I'd like to keep it that way."
But the real mystery, rather than how the top secret files spread online, has been who exactly uploaded them in the first place.
"We will continue to investigate and turn over every rock until we find the source of this and the extent of it," US defence secretary Lloyd Austin vowed on Tuesday.
Three US officials originally told Reuters that they believed Russian hackers or a pro-Kremlin agent was behind the release, only for Michael Mulroy, a former senior Pentagon official, to tell the same outlet: "The focus now is on this being a US leak, as many of the documents were only in US hands."
That appeared to be born out by an account from The Washington Post, which obtained an interview with a member of the Thug Shaker Central community, who the newspaper said was aged under 18.
The gamer declined to name the leaker, shrugging off the possible personal repercussions, but said he had been known as "OG" among their Discord community, which was formed as an "invitation-only clubhouse" for around two dozen members during the pandemic in 2020 as a place to discuss video game tactics, bond over shared interests like military hardware and exchange jokes and memes amid the enforced isolation of lockdown.
The friend said he knew OG's real name and what state he lived and worked in but would not tell, describing him as "in his early to mid-20s".
"He's fit. He's strong. He's armed. He's trained. Just about everything you can expect out of some sort of crazy movie."
The interviewee told The Post OG worked at a military base and had been something of a "strict" father figure to the group, upholding "a pecking order".
Once the server was established as a predominately male fraternity, OG had begun to post near-verbatim transcripts of what he said were classified intelligence documents he had brought home from his place of work, seemingly to educate his young acolytes about global politics but which the interviewee admitted might have had more to do with "showing off".
"He's a smart person. He knew what he was doing when he posted these documents, of course. These weren't accidental leaks of any kind," he added.
Originally typing up the papers, a laborious practice that allowed him to add his own exhaustive annotations, often explaining complex jargon, OG would occasionally  express anger when his posts were ignored by his teen audience, many of whom were more interested in discussing video games than state secrets.
Later, OG reportedly began to photograph the documents, his living room furniture often visible in the shots posted, the new approach at least as risky as it was time-saving.
The young man interviewed by The Post insisted the leaker was not hostile to the US government, nor was he a whistleblower motivated by public interest, dismissing comparisons with Edward Snowden.
"He is not a Russian operative. He is not a Ukrainian operative," he added.
The interviewee did concede that OG had something of a cynical, conspiracy-minded outlook, having suggested at one point that he believed New York law enforcement had known in advance about the Buffalo mass shooting of last May, in which 10 African-Americans were shot dead in a supermarket, but had allowed it to happen with one eye on arguing for additional departmental funding in future.
The speaker said that Thug Shaker Central had been shuttered following the eyebrow-raising events of the last week and its members had reconvened elsewhere, with many worried about what the future holds for OG.
"He's fully aware of what's happening and what the consequences may be. He's just not sure on how to go about solving this situation… He seems pretty distraught about it," the friend said.
Join our commenting forum
Join thought-provoking conversations, follow other Independent readers and see their replies