Ivanka Trump and Jared Kushner shared private email account that received hundreds of White House messages
Email account is believed to have been used by the couple's personal staff for scheduling and travel arrangements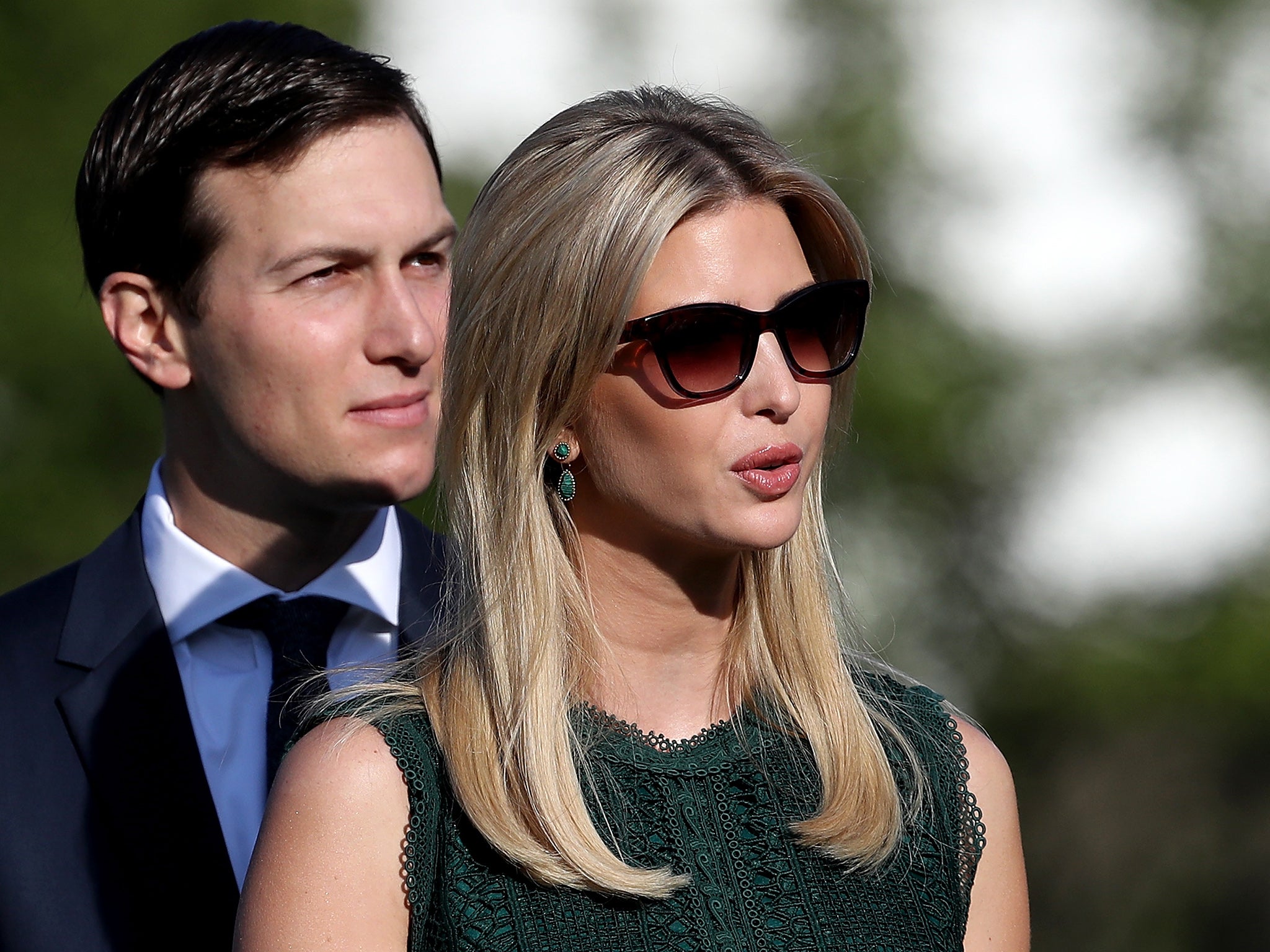 White House officials are examining a third, previously unknown, email account belonging to Jared Kushner and Ivanka Trump during their investigation into the Trump administration's use of personal email servers.
In an echo of the scandal which dogged the presidential campaign of Donald Trump's rival Hillary Clinton, hundreds of emails have reportedly been sent from White House addresses to an account the couple and their personal staff had access to for personal scheduling.
The emails, which include travel documents, internal scheduling and some official White House materials, were in many cases sent from Ms Trump, her assistant Bridges Lamar and other people who work with the couple in the White House.
An unnamed source told Politico said the some of the emails sent included work related "data" appeared "daily".
"They've pretty much been using it since they got here," he added.
The revelation of a third email account comes after several members of the Trump administration, including the couple, have been criticised for their use of personal email accounts for White House business.
Concerns have been raised about the vulnerability of these personal emails' servers as they are handling potentially sensitive government documents.
At least half a dozen White House officials, including former aides Reince Priebus and Steve Bannon, are believed to have used their own emails since Mr Trump entered the Oval Office.
The biggest names involved in the Trump-Russia investigation
Show all 17
Officials are supposed to use their government emails for their official work so their non-classified conversations will be available to the public or people conducting oversight at a later date.
It is not illegal to use a personal account so long as the information is forwarded to an official account so it is visible.
But many have raised concerns on security grounds in recent years after many commercial email clients and websites have been successfully infiltrated by hackers.
During the campaign, Mr Trump repeatedly attacked Ms Clinton for her use of a private email account during her time as Secretary of State under Barack Obama.
He accused her of criminal deception and at one point appeared to ask Russian hackers to find her "30,000 emails that are missing" at a press conference in July 2016.
The repeated haranguing of "crooked Hillary" eventually led to Trump supporters chanting "Lock her up!" at campaign rallies.
A spokesman on behalf of Ms Trump said: "Her White House assistant did not and does not work on these matters.
"Her personal and work obligations, schedule, travel arrangements and contacts were and are coordinated in accordance with this separation, as she was advised to do."
Mr Kushner's lawyer, Abbe Lowell, said that he "uses his White House email address to conduct White House business" and claimed he exchanged fewer than 100 messages with government officials on the account.
Join our commenting forum
Join thought-provoking conversations, follow other Independent readers and see their replies