IRS 'whistleblower' who claimed Hunter Biden case was mishandled won't cooperate with Senate probe
EXCLUSIVE: Whistleblower has cut off communication with the Senate Finance Committee even as he prepares to testify before a GOP-led House panel, writes Andrew Feinberg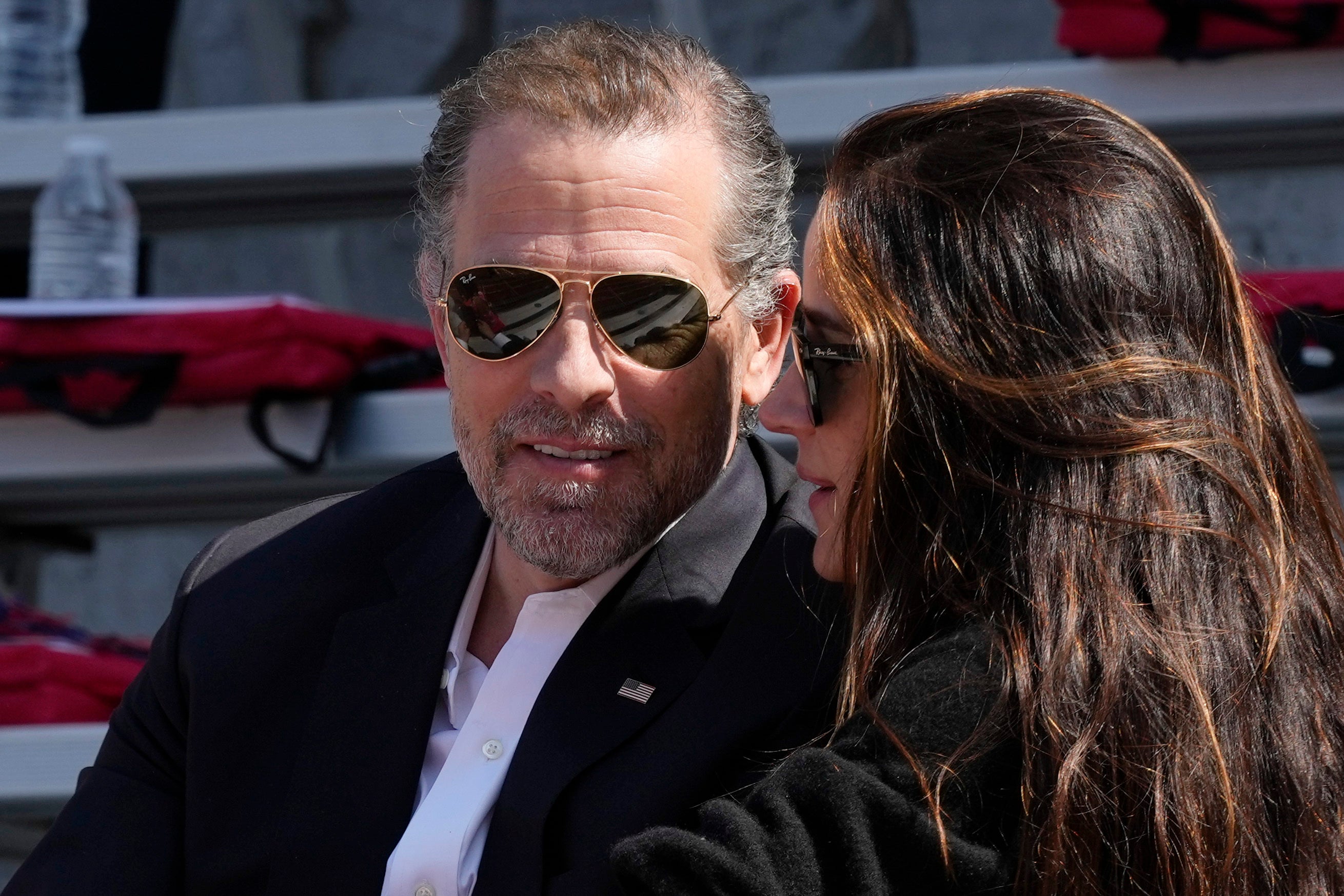 An Internal Revenue Service criminal investigator who has accused Justice Department officials of slow-walking a long-running probe into President Joe Biden's son Hunter's tax affairs has cut off communication with a key congressional committee amid questions about the veracity of his claims and his motivations for coming forward.
The special agent, Gary Shapley, is a veteran of the IRS criminal investigations department who on Thursday revealed his identity in an interview with CBS News.
Mr Shapley is set to give evidence in a closed session before the House Ways and Means Committee on Friday. That panel, which has jurisdiction over the IRS, is led by Representative Jason Smith, a Missouri Republican.
But even as he is poised to testify before the House panel, the 14-year IRS veteran has now cut off communication with the Senate Finance Committee, which oversees the Internal Revenue Service, after his attorney met with committee representatives.
Mr Shapley has also cancelled a scheduled interview with that committee, which is led by Democratic Senator Ron Wyden of Oregon.
A Finance Committee source told The Independent that staffers from both the GOP and Democratic sides of the committee had met with one of the attorneys known to represent Mr Shapley, a former federal prosecutor named Mark Lytle.
"Democratic and Republican Finance Committee staff previously met for several hours with counsel representing an IRS whistleblower, and counsel were made aware of the committee's investigative procedures. Committee staff on both sides agreed with counsel to meet directly with the whistleblower next week, however the whistleblower has since backed out of that agreement and declined an attempt to reschedule," they said.
The source added that Finance Committee Chair Senator Wyden and his staff are "ready to arrange a meeting on terms that comply with laws protecting taxpayer data and ensure a fair and rigorous investigation".
In his interview with CBS, Mr Shapley claimed that "multiple steps" in the long-running probe into Hunter Biden were "slow-walked" at the behest of Justice Department officials, and said he began raising concerns about the conduct of the investigation shortly after he was first assigned to it in early 2020.
"When I took control of this particular investigation, I immediately saw deviations from the normal process. It was way outside the norm of what I've experienced in the past," he said.
That probe, which began under the Obama administration, has long been under the supervision of David Weiss, a veteran federal prosecutor who has served as the US Attorney for the District of Delaware since 2018.
Mr Weiss, whose nomination was approved by a Senate voice vote, was one of two US attorneys appointed by President Biden's predecessor who was asked to stay on after former president Donald Trump left office in January 2021. According to Biden administration officials, the president chose not to ask Mr Weiss to resign — the customary fate of all US attorneys when a new administration takes office — to avoid any appearance of meddling in the investigation into his son.
The younger Mr Biden disclosed the existence of the investigation shortly after his father won the 2020 election in a statement, and said at the time he believed "a professional and objective review of these matters will demonstrate that I handled my affairs legally and appropriately."
The IRS criminal probe into Hunter Biden has focused on whether he violated US tax laws by not paying required taxes on income he made from several foreign business ventures, as well as examining whether he possibly violated the Foreign Agents Registration Act and other federal laws.
He reportedly paid off a massive tax bill in 2021 after receiving a $1m loan from a friend who also serves as a member of his legal team. Although paying off an unpaid tax bill doesn't obviate a violation of tax laws, prosecutors have often had trouble securing indictments or convictions of defendants who paid off any taxes they may have owed.
Although Hunter Biden has not been charged with any crime as a result of the probe being overseen by Mr Weiss, The Wall Street Journal reported late last year that federal prosecutors were weighing whether to seek an indictment against him from the grand jury that has been hearing evidence in the case.
Biden's presidential run and the Hunter Biden baggage
His attorneys reportedly met with prosecutors to dissuade them from seeking an indictment against their client last month. Such a meeting is generally a sign that the investigative work performed by special agents has been completed and a case file has been handed off to prosecutors.
Separately, persons familiar with the investigation have told other media outlets that the criminal investigators working on the case believed there is enough evidence to support seeking charges against Mr Biden. But ultimately, the choice of whether or not to ask a grand jury to indict a target of a given investigation is the sole province of prosecutors in the US Attorney's office and the Department of Justice. 
Experts cast down on investigator's claims of 'slow-walking' probe
In a letter to the Senate Finance Committee and House Ways and Means Committee chairs that was first reported on by the New York Post, Mr Lytle said his client — now known to be Mr Shapley — could speak about "examples of preferential treatment and politics improperly infecting decisions and protocols that would normally be followed by career law enforcement professionals in similar circumstances if the subject were not politically connected".
Mr Shapley also has alleged that he and his team were removed from the Hunter Biden investigation to punish him for speaking out.
The allegations of favouritism towards Hunter Biden are consistent with grievances expressed by prominent Republicans such as Donald Trump, who as recently as Tuesday had his legal team send a letter to Attorney General Merrick Garland claiming he has been treated unfairly by the special prosecutor probing his alleged unlawful retention of national defence information because the president's son has not been charged with a crime.
But Mr Shapley's claim that the reassignment of him and his investigative team is either retaliatory or evidence of favouritism towards the Biden family was met with scepticism by veterans of Justice Department and IRS investigations who spoke to The Independent.
The former prosecutors and investigators say there's nothing unusual about sending investigators on to work on their next case when prosecutors are ready to make charging decisions, as they appear to be in the case of Mr Biden.
Because federal criminal investigators have no formal role in prosecutors' decisions to seek charges or decline to prosecute in a particular case, it's not unheard of for conflicts to arise between special agents and US attorneys, especially when the agents feel prosecutors are reluctant to bring evidence they've gathered to a grand jury for indictments.
Yet even when investigators feel there is sufficient evidence to support charges, prosecutors often balk at presenting that evidence for indictments because they better understand the legal requirements to obtain convictions that can be sustained on appeal.
Nick Akerman, a former federal prosecutor who worked on tax cases in the Southern District of New York for many years, told The Independent it's likely that the IRS agents assigned to the Hunter Biden probe were reassigned because the investigation is over and there is nothing more for them to do.
"They [special agents] do a very detailed report… that's done with all certain information … and that's really it. And then the prosecutor looks at that and takes it from there," he said. "At that point, they've got no role — if you go to trial, you might want to use him for certain things, but that's it".
Mr Akerman also noted that the US Attorney supervising the probe, Mr Weiss, is an appointee of Mr Trump, and suggested that it would "make no sense" for him to consent to having agents pulled off the case for any reason except there was no more investigative work to be done on it.
Another federal law enforcement veteran, ex-FBI special agent Peter Strzok, told The Independent in a phone interview that the most likely explanation for why an entire IRS CI team would be removed from the Hunter Biden investigation en masse is that they've completed the investigation and it is now up to prosecutors to decide what to do with the evidence they've obtained.
He said it is a "frequent occurrence" for there to be disagreements between agents and prosecutors over whether the agents have brought them enough to form a case that will withstand the scrutiny of a jury trial.
"The agents are just trying to investigate what happened, and prosecutors are thinking: 'Okay, how do we get this admitted into evidence? What's the credibility of the source? What's other information? Is it going to be undercut?' So prosecutors usually are much more cautious," he said.
He added that in his experience, prosecutors "usually" win arguments over whether to bring charges in a particular case, even in politically sensitive matters such as an investigation into a sitting president's son.
Mr Strzok, who once served as the Deputy Assistant Director of the FBI's Counterintelligence Division, also suggested that the fact that only two of the investigators have chosen to go to Congress with allegations of favouritism towards Hunter Biden is a sign that the special agents in question have an axe to grind.
"There's a whole team of people … if there was a real problem, I would have expected to see more," he said.
"It sounds very much like at least this one [agent] believes that charges should be brought. But at the end of the day, it's not his call. He's not trained as a prosecutor, he's not thinking about, the Federal Rules of Criminal Procedure, he doesn't know what hurdles are going to exist in the courtroom".
Mr Strzok added that if the concerns raised by the agents in question were valid, it's highly likely that prosecutors in Mr Weiss' office would have already resigned over a decision not to charge Hunter Biden if improper political influence was being exerted over the probe.
Identity of Mr Shapley's other attorney raises alarms
In his interview with CBS, Mr Shapley said he is a registered Republican and suggested that he should be thought of as "not a political person" because he has never been involved in political campaigns, though his position as an IRS criminal investigator means participating in political campaigns would be a violation of federal law.
He also told the television network that his legal efforts are being aided by a nonprofit staffed by former Republican congressional staffers in addition to Mr Lytle, a former federal prosecutor who has experience representing federal employees who've been accused of political bias as well as white-collar criminal defendants.
But it is the involvement of that nonprofit, Empower Oversight, that has raised suspicions of political motivations among people close to congressional oversight efforts, particularly after Mr Shapley declined to speak to the Democratic-led Finance Committee.
In addition to Mr Lytle, Mr Shapley has also been represented in his whistleblower matters by the president of Empower Oversight, Tristan Leavitt.
Mr Leavitt served as the general counsel and active chief executive officer for the Merit System Protection Board during the Trump administration, and was appointed to a seat on that board by President Joe Biden in 2022. He also spent time during the Trump administration working for the Office of Special Counsel, an independent federal agency charged with enforcing whistleblower protection laws as well as the Hatch Act, a New Deal-era statute which prohibits federal employees from engaging in certain partisan activities while on the government payroll.
Since leaving government service, he has been involved with representing a group of former FBI special agents who call themselves "The Suspendables".
The ex-agents claim they were unlawfully retaliated against for expressing what they describe as conservative political viewpoints and for voicing concerns about excessive use of force when arresting suspects charged with crimes stemming from participation in the January 6 attack on the Capitol.
Mr Leavitt testified alongside several of the agents at a congressional hearing last week, during which two of his fellow witnesses admitted to receiving funds from a prominent ex-aide to former president Donald Trump, Kash Patel.
While Mr Leavitt claimed in his testimony that his clients were unlawfully retaliated against for making protected disclosures of alleged wrongdoing, a top FBI official stated in a letter reported by The New York Times that one of the agents in question had his security clearance revoked for having "espoused an alternative narrative about the events at the US Capitol" in communications with supervisors, as well as refusing to carry out orders to join an FBI Swat team to aid the arrest of a suspect known to own multiple AR-15-style rifles and who belonged to the Three Percenter anti-government extremist movement.
According to sources familiar with congressional efforts to verify Mr Shapley's allegations, Mr Leavitt's involvement raised "a big red flag" because of allegations that his clients may have lied to the House Judiciary Committee regarding their receipt of funds from Mr Patel and in their description of events leading up to their dismissal from government service.
The sources say Mr Shapley's use of Mr Leavitt as an attorney and the nature of the allegations — which they described as appearing to be a run-of-the-mill dispute between criminal investigators and prosecutors over whether the former has collected enough evidence for the latter to justify bringing charges against a target — give them reason to believe the IRS special agent is part of a coordinated effort to browbeat prosecutors into charging Hunter Biden and weaponise dispute between investigators and prosecutors against both the Biden administration and President Biden's family.
One person with knowledge of Mr Shapley's efforts told The Independent that members of Congress and staff have also been troubled by the way legally protected taxpayer information — information which House and Senate committees take great pains to keep secret — has made it into the right-wing press at the same time it has been provided to the House and Senate panels with jurisdiction over the IRS.
They noted that he was previously represented by a prominent Washington, DC attorney with extensive experience in representing law enforcement and intelligence whistleblowers and said Mr Shapley appeared to change attorneys because his first attorney appeared more concerned with following the law than getting his allegations into the press. 
While this person commended Mr Shapley for his years of government service, they suggested that he is being taken advantage of by Mr Leavitt, who they described as a partisan actor whose goal is to further negative narratives about the Biden administration — not protecting his client.
In a statement, Mr Leavitt's organisation disputed that Mr Shapley had "backed out" of an interview with the Finance Committee and said the panel never committed to a date on which the IRS agent would have given evidence.
This story has been updated to correct an earlier version which described Tristan Leavitt as a Trump appointee to the Merit Systems Protection Board by specifying that he served in multiple leadership roles at the agency under the Trump administration before being nominated for a seat on the board by President Biden
Join our commenting forum
Join thought-provoking conversations, follow other Independent readers and see their replies