Angela Merkel meets with Trump in latest European attempt to preserve Iran nuclear agreement
Ms Merkel is the second European leader to visit the White House this week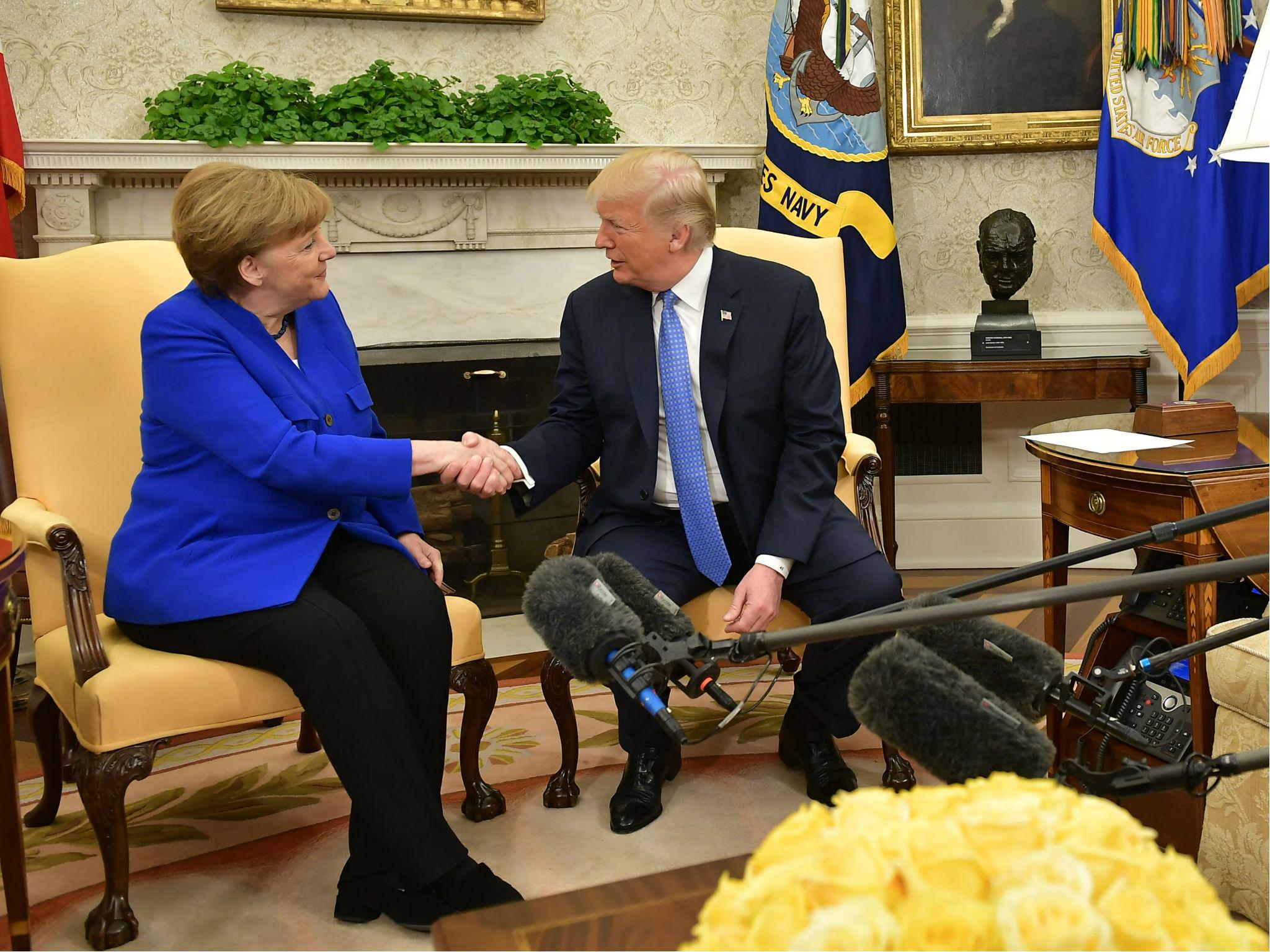 German Chancellor Angela Merkel is in Washington to meet with President Donald Trump in the latest attempt by European leaders to try and steer the American away from some of his political instincts that they worry could do grave damage to the world political balance and the institutions and agreements that have shaped today's international landscape.
Ms Merkel arrived Friday for what German officials and aides have stressed is a "working meeting" between the two world leaders, and not intended to be the kind of jovial meetings seen earlier in the week when French President Emmanuel Macron touched down in the American capital.
Sitting in the Oval Office Friday, Ms Merkel and Mr Trump appeared much warmer than in previous meetings, when the two have seemed tense with one another. Mr Trump, after congratulating her on her recent electoral victory, said that they have a lot of issues they plan on considering.
"We'll be having discussions on Iran. We'll be having discussions on trade," Mr Trump said. "We'll be having various discussions."
Mr Trump, during a press conference later in the day, declined to discuss the potential for military intervention in Iran if a new deal is not decided — even as Ms Merkel agreed that the deal was inadequate and described it as a first step towards a better international agreement.
"They will not be doing nuclear weapons. That I can tell you. They're not going to be doing nuclear weapons, you can bank on it," Mr Trump said.
The visit comes ahead of a looming May 12 deadline to preserve the Iran nuclear agreement, which Mr Trump has called frequently criticised in the past. He is publicly undecided on whether he will choose to reimpose sanctions on the country, and has called for changes to the deal to make it stronger. That was underscored Friday when Mr Trump's newly appointed Secretary of State Mike Pompeo said in Brussels that there had been no decision made in Washington regarding the Iranian deal.
It also comes after the president has threatened to imposed trade tariffs on steel and aluminium imports, which have not impacted the European Union yet because the trade bloc was able to get a temporary exemption to the policy.
Donald Trump 'working visit' to UK confirmed
Donald Trump's first year: in pictures
Show all 29
"Macron has a good personal relationship with Trump and Merkel has a bad relationship with him, but it's not necessarily a problem. In fact, I don't actually think she cares that much about it," Charles Lichfield, an analyst at the consultant company Eurasia Group, told CNBC ahead of the visit.
"This trip is about damage limitation. We are almost in crisis mode with tariffs being threatened, so her focus has to be on that," he continued.
The German chancellor's trip to Washington included none of the pomp and circumstance afforded to Mr Macron earlier this week, who was the honored guest for the first state dinner of the Trump presidency. The two did embrace when Ms Merkel arrived
Mr Macron, who has a notably warmer relationship with Mr Trump than Ms Merkel, similarly arrived to try and persuade the American president on a range of issues that are priorities for Europe.
But, while the two presidents acted amicably in front of reporters during the visit — they kissed upon meeting, and Mr Trump made a show of brushing something off of Mr Macron's lapel as they met in the Oval Office — it is uncertain how much ground the French president was able to gain.
Mr Trump, shortly after Mr Macron left the United States, bragged on Fox & Friends that he thinks he had been able to sway his French counterpart's opinion on the Iran deal. Mr Macron offered during his trip that he was open to a "new" Iran nuclear deal that built upon the deal spearheaded by Mr Trump's predecessor.
"He is viewing, I believe, Iran a lot differently than he did before he walked into the Oval Office, and I think that's important," Mr Trump said during a phone interview on the show. The president then continued to say that he still thinks the Iran deal is a "horrible deal".
Donald Trump: Iranians no longer chant 'death to America'
Before that, Mr Macron had delivered a sweeping speech to a joint session of Congress in which he largely repudiated Mr Trump's political world view, while at the same time linking his country and the United States in past, present, and future.
In that speech, Mr Macron urged the United States to resist the isolationist and nationalist temptations that he said runs counter to the free world values that the US had itself established.
"This requires — more than ever — the United States' involvement, as your role was decisive for creating and guarding today's free world. The United States is the one who invented this multilateralism. You are the one now who has to help preserve and reinvent it," Mr Macron said.
Mr Macron also touched upon trade — urging, as Ms Merkel did, for open trade between the United States and Europe — framed the Iran deal as one of national security that France will not step away from, and said that he hopes the US will one day reenter the Paris climate change agreement.
"We signed it at the initiative of the United States," Mr Macron said of the climate accord. "We signed it, but the United States and France — that is why we cannot say that we should get rid of it like that."
"I am sure one day, the US will come back and join the Paris Agreement," Mr Macron said. "Let us face it: There is no planet B."
Join our commenting forum
Join thought-provoking conversations, follow other Independent readers and see their replies