Ilhan Omar: Foreign affairs chairman says congresswoman should remain on committee amid Republican effort to remove her over Israel comments
'I don't know that that would do anything except exacerbate the situation even more,' Eliot Engel says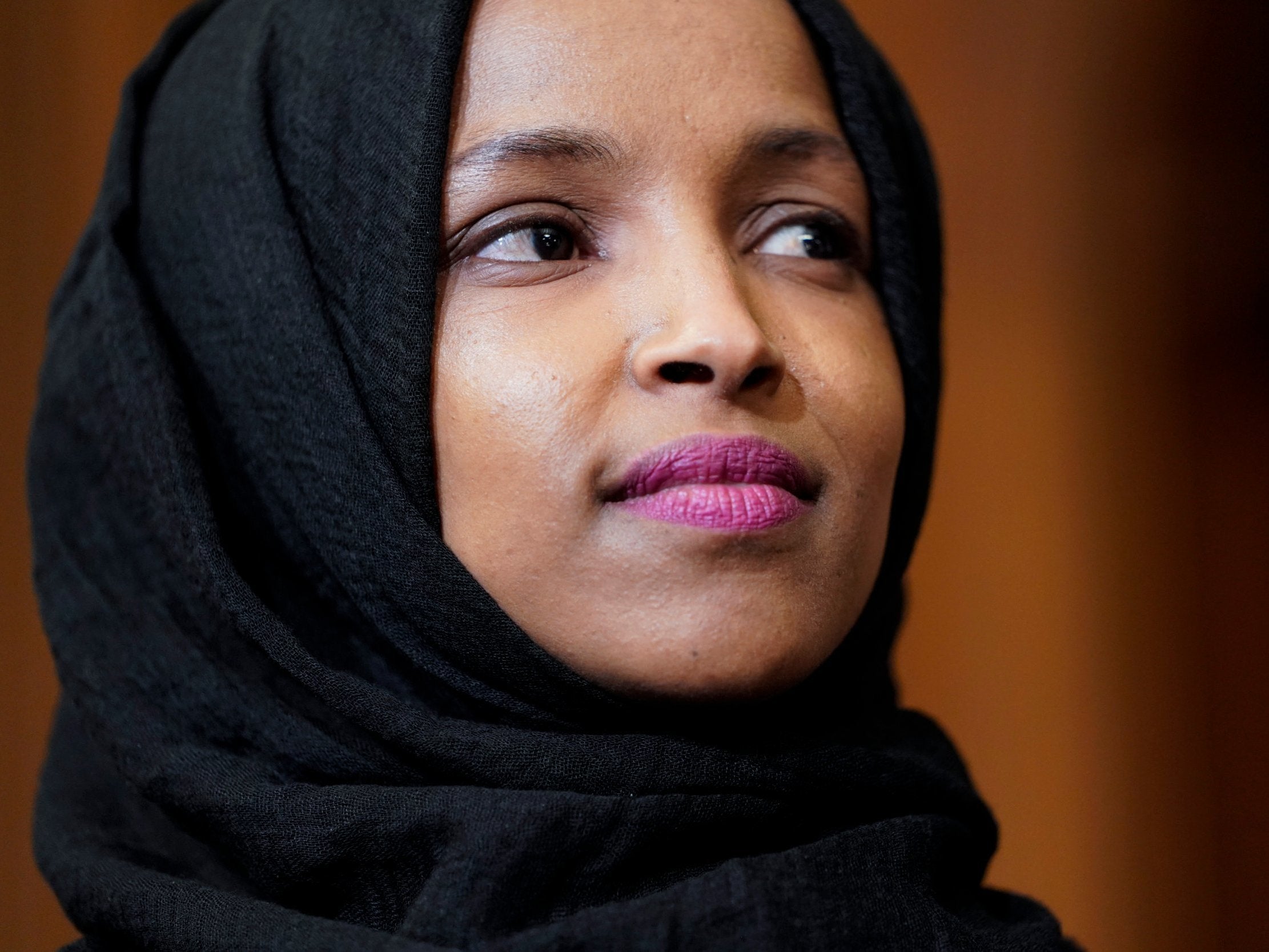 Ilhan Omar should not be stripped of her position on the House foreign affairs committee, the panel's chairman has said amid an effort mostly by Republicans to have the congresswoman removed.
Eliot Engel said such a move would only "exacerbate" a row that has developed in the wake of recent comments by Ms Omar about the US-Israel relationship.
"No, I'm not close to it," Mr Engel told CNN when asked if he was considering stripping his colleague of her position.
After clarifying it would be up to House Democratic leadership to remove a committee member, Mr Engel added: "I don't know that that would do anything except exacerbate the situation even more.
"I'm looking to get rid of antisemitism, not looking to punish anybody."
A number of Republicans and some Jewish groups ramped up their calls earlier this week for Democrats to remove Ms Omar from the committee after she claimed she was being pressured to pledge "allegiance" to Israel.
Mr Engel called Ms Omar's remarks antisemitic, though stopped short of labelling the congresswoman an antisemite.
"I want to talk about the political influence in this country that says it is OK for people to push for allegiance to a foreign country," Ms Omar told an audience in Washington last week.
On Sunday, she doubled down on her comments, tweeting she should not have to "have allegiance/pledge support to a foreign country" in order to serve in Congress.
President Trump: a year of high drama at home and abroad
Show all 36
Donald Trump said Mr Omar's comments were a "dark day for Israel", while Andy Biggs, a Republican congressman, claimed Ms Omar was "clearly antisemitic" and that "she needs to be removed from her committee assignment".
Eleven pro-Israel groups, led by the Endowment for Middle East Truth, sent a letter on Monday to House speaker Nancy Pelosi requesting she "immediately remove" Ms Omar from the committee.
Ms Omar's comments were also criticised by a number of Democrats, with some claiming the suggestion of "allegiance" to Israel invokes antisemitic tropes.
But Ms Omar received support from Alexandria Ocasio-Cortez, who said the criticism of Ms Omar was "hurtful" and that "discussion and debate on this issue is fair and merited".
Donald Trump says Ilhan Omar should resign over Israel comments: 'Anti-semitism has no place in Congress'
"One of the things that is hurtful about the extent to which reprimand is sought of Ilhan is that no one seeks this level of reprimand when members make statements about Latinx + other communities (during the shutdown, a GOP member yelled 'Go back to Puerto Rico!' on the floor)," Ms Ocasio-Cortez tweeted on Tuesday.
"I remember a time when it was 'unacceptable' to question the Iraq War," she also tweeted on Monday evening. "All of Congress was wrong, including both GOP & Dem Party, and led my generation into a disastrous + wrong war that virtually all would come to regret."
Israeli journalist Mairav Zonszein was among those who implied Ms Ilhan's criticism of Israel and US foreign policy was being wrongly conflated with antisemitism.
Responding to Mr Trump's tweet, she said: "Another admission it's about criticising Israel and US foreign policy. Nothing to do with Jews.
"This is why I can't believe the American Jews doubling down on Ilhan Omar. Do they really not see the real danger?"
Additional reporting by AP
Join our commenting forum
Join thought-provoking conversations, follow other Independent readers and see their replies