'Dysfunctional' race for US House speaker in chaos as Scalise drops out
'We're disorganised and we're broken,' admits a Republican representative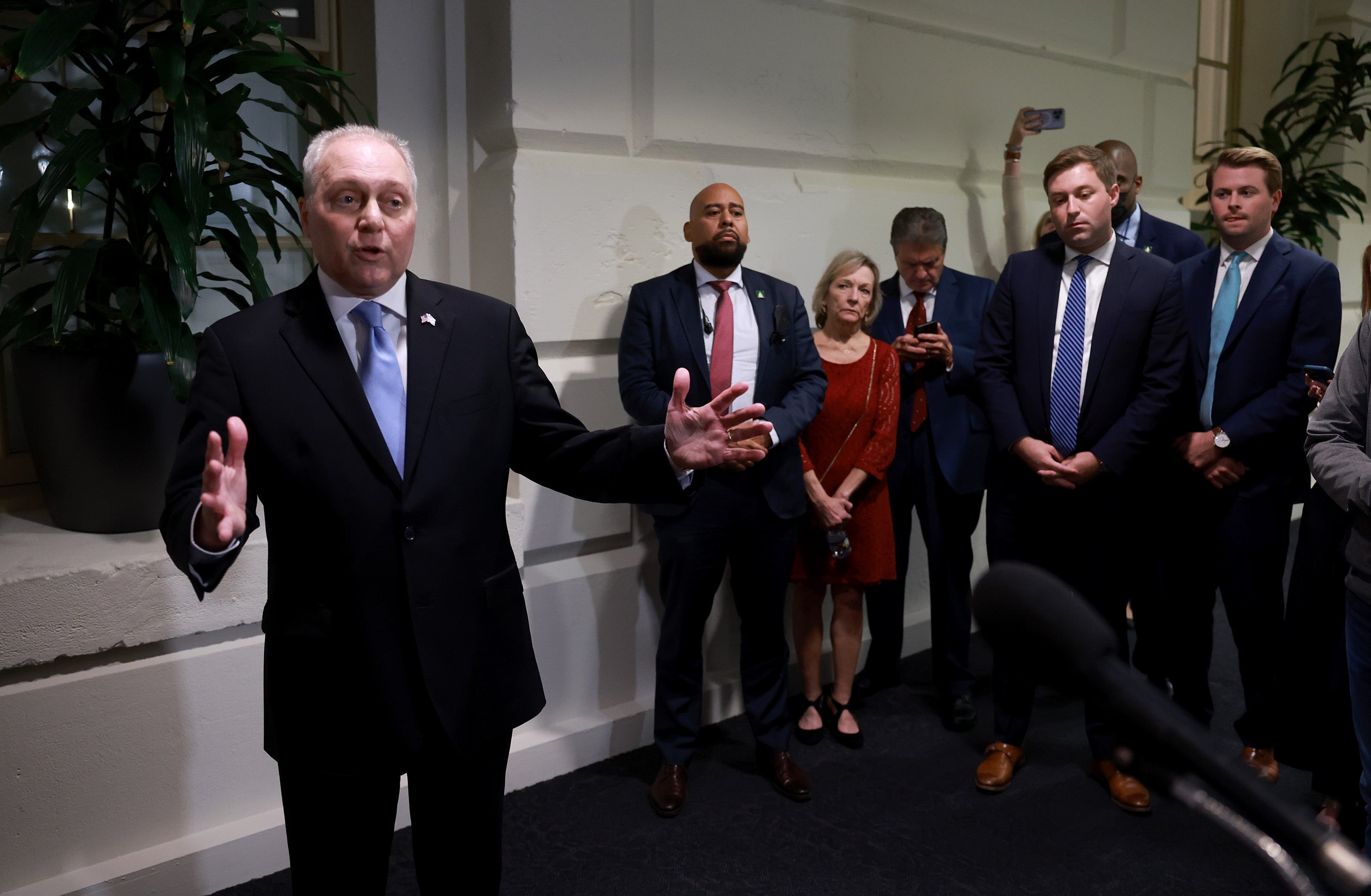 A Republican race to become the next speaker of the US House of Representatives was mired in chaos on Friday after party divisions scuppered the first choice of candidate, Steve Scalise.
He dropped out of the race after it became clear that internal opposition would leave him short of the votes needed to be elected on the House floor.
It sent the House of Representatives into its 10th day without leadership, which means the chamber has been unable to act to support Israel's war against Hamas militants or pass government spending bills before funding runs out on 17 November.
Republicans have such a slender majority that opposition from just four representatives is enough to stop a party nominee from getting the necessary 217 votes.
"There are still some people that have their own agendas," Mr Scalise told reporters as he quit the race.
They were due to meet again on Friday.
Republicans had hoped to avoid a repeat of the embarrassing spectacle that occurred in January when hardline conservatives forced Kevin McCarthy to endure no fewer than 15 floor votes over four days before winning the gavel.
Several Republicans said they would stick with Mr Scalise's rival, Jim Jordan, who lost out in a secret ballot on Wednesday. Mr Jordan had encouraged his supporters to vote for Scalise.
Representative Greg Murphy said it was not clear that Mr Jordan could win enough support to succeed on the floor.
"It's going to be hard," Mr Murphy told reporters. "Personally, I think it may end up being a compromise candidate."
Mr Scalise, 58, gained near legendary status within Republican circles by surviving a severe gunshot wound after a gunman opened fire during practice for a charity baseball game in Alexandria, Virginia, in 2017.
He also commands widespread respect as a veteran legislator who has spent years in party leadership positions.
But he also faces new health concerns as he undergoes treatment for multiple myeloma, a form of blood cancer, which some Jordan supporters cited as a reason not to vote for him.
New York representative Nicole Malliotakis initially backed Mr Jordan but got behind Mr Scalise… although she was unable to explain why, except to say Mr Scalise is a nice guy.
"Steve Scalise is a good person," she said. "He's a good man. He's is a person who I think can be a good communicator and leader for this conference."
Rep Troy Nehls of Texas has suggested nominating Donald Trump to be the leader of the House. (The US constitution does not explicitly require the speaker to be a member of the House of Representatives, but every speaker so far has been. The speaker is second in line to the presidency, after the vice-president.)
But he acknowledged his plan was unlikely, not least because the party is too divided.
"We're dysfunctional, we're disorganised and we're broken," he said after yet another meeting broke up without agreement. "One of the members said in there, you know, I don't think the Lord Jesus himself could get 217."
Join our commenting forum
Join thought-provoking conversations, follow other Independent readers and see their replies