Capitol Police drag disabled protesters out of wheelchairs during Trumpcare protests
Forty-three people were arrested in connection with the protest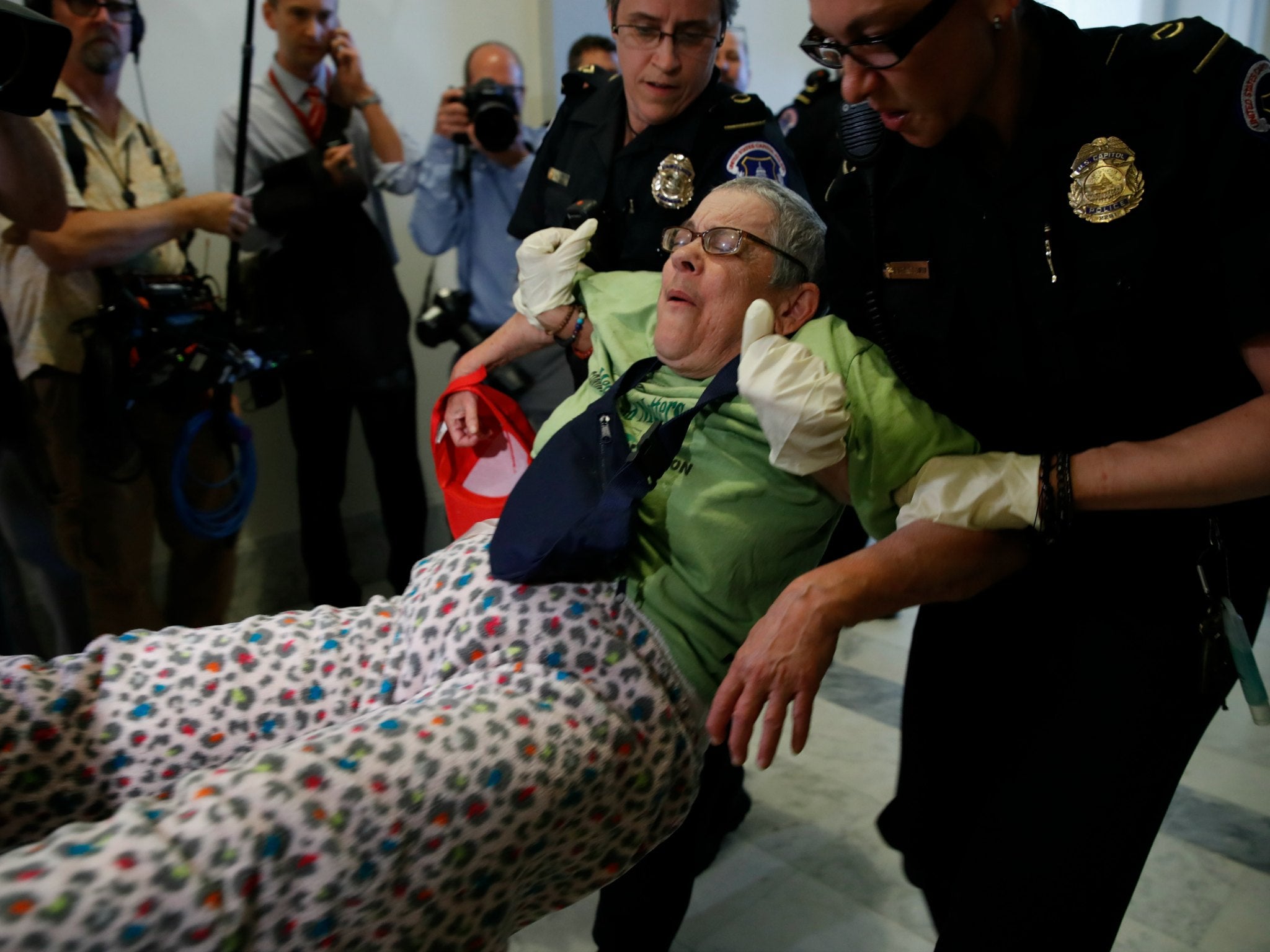 Capitol Hill Police have forcibly removed protesters in wheelchairs from Senate Majority Leader Mitch McConnell's office on the same day Republicans released their latest healthcare plan.
ADAPT, a disability rights organisation, staged a "die-in" outside Mr McConnell's office to protest the legislation, which would generate cuts to the Medicaid services used by many disabled individuals.
Approximately 60 protesters – many of them in wheelchairs – flooded Mr McConnell's office around 11 am on Thursday. Some made their way inside the office, lifting themselves out of their chairs to lie across the Senator's floor.
The purpose, according to an ADAPT press release, was to "dramatise the deaths" they say the American Health Care Act (AHCA) will cause.
"We're hanging out there like a ripe cherry to be plucked," Mike Oxford, one of the protest organisers, told The Independent of the disabled community. "Not only will people lose their freedom, but people will die if they do this."
Mr Oxford said Capitol Police began following the protesters soon after they entered the Capitol.
"Sixty people in wheelchairs are pretty noticeable," he said.
Soon after they reached Mr McConnell's office, Mr Oxford said, officers threatened to arrest those who did not leave of their own volition. When the protestors did not comply, officers began wheeling them out of the area.
One person being rolled out by a police officer called out, "Don't mess with my Medicaid!" Another walked out of the officer with her hands tied behind her back, followed closely by an officer.
Yet another was pulled from her chair by police officers trying to remove her from the area.
Capitol Police said forty-three protestors were arrested and charged with crowding, obstructing, or incommoding.
The recently released draft is the first the public has seen of Senate Republicans' healthcare plan, which is slated for a vote next week.
Mr McConnell wrote the bill largely in private over the last few weeks, shielding the draft even from members of the Senate healthcare working group.
The draft released on Thursday would cut government funding for Medicaid, a government service that provides healthcare for low-income Americans, to 57 per cent of the program's operating costs. Under Obamacare, the program was funded at 90 per cent.
Among other things, Medicaid helps fund in-home care that allows many disabled people to live in their own homes, rather than a nursing home or other institution.
Thursday's protestors came from as far away as Colorado and Kansas to rally against what they see as a threat to their freedom.
"We're protesting the American Health Care act cutting hundreds of billions out of Medicaid to gives tax breaks to the wealthiest," Mr Oxford said of the die-in.
He added: "Our members actually use Medicaid to be able to work in the community; to be free and independent; to live on this planet."
Join our commenting forum
Join thought-provoking conversations, follow other Independent readers and see their replies