Judge calls new Texas election law unconstitutional but state says it will appeal ruling
A judge has called a new law unconstitutional that passed in the GOP-led Texas Legislature that will dictate how elections are run in the state's most populous county
Judge calls new Texas election law unconstitutional but state says it will appeal ruling
Show all 2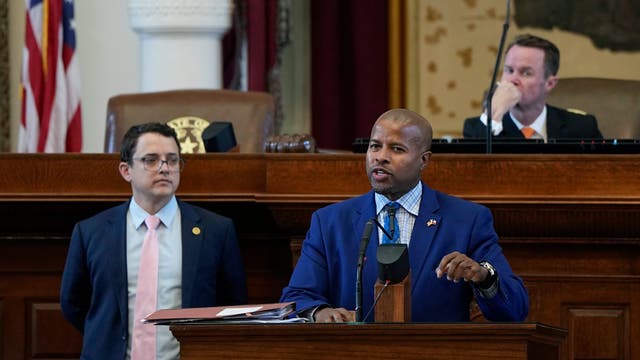 A judge has called a new law unconstitutional that passed in the GOP-led Texas Legislature and will dictate how elections are run in the state's most populous county, which is a Democratic stronghold and home to Houston.
The law, which would abolish a position that oversees elections in Harris County, was temporarily blocked by state District Judge Karin Crump in Austin after county officials filed a lawsuit earlier this month.
But the judge's order, issued Monday, was short-lived. It was put on hold on Tuesday after the Texas Attorney General's Office filed a notice that it will appeal to the Texas Supreme Court.
The new law, set to take effect Sept. 1, was pushed through by Republican lawmakers who accused Harris County officials of mismanaging recent elections. Democrats accused Republicans of singling out the county because, like other large urban areas around the state, it has increasingly voted Democratic.
In a statement, the Texas Attorney General's Office said the new law was passed "to ensure that elections in the state's largest counties are properly managed by individuals who are accountable to the voters, not by unaccountable bureaucrats."
But in her orders in the lawsuit, Crump said the new law only applies to Texas counties with a population of 3.5 million residents. Harris County, with 4.7 million residents, is the only Texas county with that large of a population. According to the law's language, no other county would be subject to the law even if their population were to ever surpass 3.5 million residents, Crump wrote.
The Texas Constitution prevents the Legislature from passing any laws that are not uniform throughout the state and only target a specific location, Crump wrote.
The new law is "unreasonable, arbitrary, and simply a means of singling out one county," Crump wrote.
"We aren't surprised by (Monday's) injunction. Nonetheless, we are confident this case will go to the Texas Supreme Court and they will rule that (the new law) is constitutional," said Cindy Siegel, head of the Harris County GOP.
Harris County officials said they planned to ask the Texas Supreme Court to also temporarily block the new law while their lawsuit is litigated.
"At the end of the day, we know that this is not about making elections better ... It's about undermining confidence in our elections," said Harris County Attorney Christian Menefee, a Democrat.
The new law stemmed from problems during November's elections in Harris County. Local officials have acknowledged problems that included paper ballot shortages and delayed poll openings.
Almost two dozen Republican candidates have filed lawsuits, alleging their losses in Harris County during last year's election were due in part to the various problems as well as to illegally cast votes. A ruling is expected in the next few weeks in one of the lawsuits, the first to go to trial earlier this month.
There has been no evidence that the issues affected the outcomes.
The elections were run by Clifford Tatum, Harris County's elections administrator, a position created by the county in 2020.
The new law would return elections oversight in the county to the tax assessor and county clerk, which are both elected offices currently held by Democrats.
"When the Texas GOP can't win a race, they get very Trumpy: Either change rules, change the referee or cry in their spilt milk," said Harris County Commissioner Adrian Garcia, a Democrat.
Harris County officials have said the new law would not give them enough time to prepare for November's mayoral election in Houston. It was a concern echoed by Crump.
"Without this order, the state ... will likely disrupt the upcoming election and cause havoc," Crump wrote.
___
Follow Juan A. Lozano on the X platform: https://twitter.com/juanlozano70